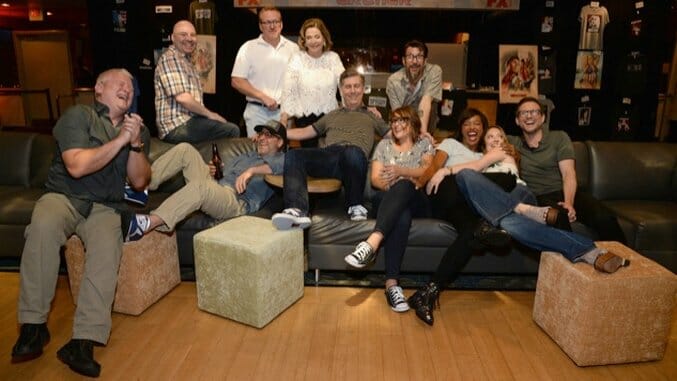 Over the course of seven seasons, Archer has reinvented itself a number of times with our team of international spies changing vocations from drug dealers to private investigators. But when creator Adam Reed teased that Season 8 would be "even more of a departure" than the "Archer: Vice" adventure before heading into his San Diego Comic-Con panel Satruday, he wasn't kidding. Next season will take place in the mind of a comatose Sterling Archer. "Archer: Dreamland" will follow our hero as a 1920s PI, trying to solve the murder of his partner, Woodhouse, an homage to Archer's butler (played by the late George Coe).
The rest of the ISIS crew will appear in Archer's extended dream: Cyril Figgis (Chris Parnell) and Pam Poovey (Amber Nash) will be playing fellow detectives, with Pam living as a man. Malory (Jessica Walters) will be pulling the strings as "M," in a nod to the Bond movies Archer has so wonderfully spoofed. Lana Kane (Aisha Tyler) will sing in a nightclub, where Krieger (Lucky Yates) works as a bartender and Ray (Reed) plays trumpet.
"It's going to be even more serialized than we've done in the past," said Reed. "And also in French, so that's been hard to write since I don't speak French," he added jokingly.
While he said that Malory's role will be very different this season, he promised that she'd still be drinking martinis. "Well, we only have her drawn with a martini, so she has to have it. Otherwise we'll have to draw a whole new hand."
Jessica Walters will once again be reunited with her Arrested Development co-star Jeffrey Tambor, who'll play mob boss Len Trexler. "One of the big things that excites me about this season is getting back to one of the characters that we kind of lost touch with over the years, and that's Len Trexler," said executive producer Casey Willis. "[He's] gonna play a huge part in this season of Archer. We've always been huge fans of Jeffrey Tambor, and we called him up before we made these plans, like "Hey, we want Len Trexler to be heavily involved this season. Can you stuff away your awards for five seconds to come do our cussy, farty, sex show?"
While Season 6 saw Judy Greer's character Cheryl Tunt climbing the charts as a country music singer, it's now Lana Kane's turn behind the mic. Except unlike Greer, Tyler will be doing her character's singing. And "People are going to blown away," said Willis.
For H. Jon Benjamin, he was just glad that the title character still has a part to play. "I was nervous that it was the end of the line for Archer," he said. "I think I got the news that he was gonna die and I was like, well, there goes that job. There are so many actors who suffer that fate—there's that poor guy from Game of Thrones who got killed, like, in the first season. That sucks, you gotta watch them having the best time of their lives for seven years. That's the worst feeling in the world, 'I got killed in like the third minute of the pilot, I was really good in that.'"
In the trailer for Season 8, Lana is standing over Archer with his mother, who wonders what he's dreaming about. Tyler has her own ideas about the robot Archer who survived the Season 7 finale, though. "Maybe the robot-person will show up more often and maybe feed the fucking baby once in a while. Might be an improvement."
Reed also addressed the rumor of a live-action Archer and who would play the lead role. "Everybody talks about John Hamm when they say, 'Who would you have play Archer in a live action movie?' And in all seriousness I say, "Jon Benjamin." And they're like, "No, seriously." But Jon Benjamin! No one else I think could [do it]. One of the things I love about Archer the character is that he says such terrible things, but Jon has this magic quality to his voice that makes it sympathetic, even when he's being the most jerkiest that he can be—something about Jon's voice. It must have been maddening to be his mom as a kid. You could probably get out of everything."
Archer Season 8 ("Archer: Dreamland") will premiere in early 2017.