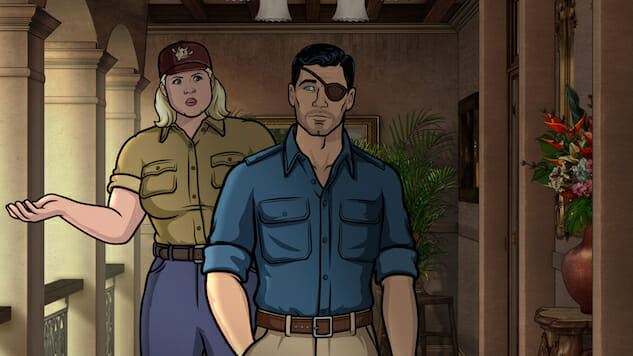 Archer creator Adam Reed will do basically anything to keep himself interested in the series he's almost single-handedly run for almost a decade. Sometimes that means making the show suffer dark consequences for its typical devil-may-care attitude towards… well, everything in the world of spycraft. Sometimes, that means adding a talking parrot. That's what happened here, because, with no transition, everything has changed. Danger Island is the latest of the themed seasons of the satirical animated spy show, this time reinventing the James Bond/BoJack Horseman blend that is Sterling Archer and friends as something ripped from a pulp novel.
In the three episodes (of eight) provided to critics, it's not hard to see how Reed could be getting tired of his own series. (Reed has said that Archer will end after its 10th season.) Anyone who's stuck with it over nine seasons will recognize most of the jokes and character dynamics immediately from past iterations of the group—even if the setting and accents have shifted. Poonhound Archer (H. Jon Benjamin) has screwed up someone else's honeymoon, pursues the equally-competent Lana (Aisha Tyler), and is harangued by his overbearing mother (Jessica Walter) and a cohort of miscellaneous weirdos, including a German spy (Chris Parnell), an heiress-turned-courtesan (Judy Greer), and the aforementioned parrot (Lucky Yates, whose utter gameness for anything makes the casting gag the best joke of the season).
In fact, the only notable changes are the continued absence of housekeeper Woodhouse (after last season's dedication to the character's late voice actor) and Archer's unexplained missing eye. Otherwise, these are all the same voice actors playing the same cast as in previous seasons, only with a fresh coat of tropical paint that the show just won't stop talking about. We get it, Archer characters, you have a timeshare on the beach.
There's so much set-up and explanation—totally unnecessary for anyone who's stuck with the series' absurd twists and reboots over the years—that the humor's pushed off to the side, eschewing show's ample historical references and wild wordplay for an air of general bemusement. You know, the kind of thing where you sit there and don't laugh, but aren't quite as sad as when you're watching a drama, or a comedy they write about in The New York Times.
Archer made its name with its outrageousness at when and how it chose to buck (or meticulously follow) convention, but this season's conventions overrun its anarchy. Laughs take a backseat to plotting because the conversations don't have room for much more than setting up satirical genre references like freeze-framed cliffhangers that are immediately resolved.
This time around, those references are pretty much straight Doc Savage and pre-war, Casablanca-esque riffs. And I mean straight from Casablanca: Reed's character Ray is just Captain Louis Renault. The animation is really the only thing that benefits from the change of pace. The action is crisp and beautiful, with its clean lines and dense backgrounds making komodo dragon fights and plane crashes pop off the screen like you just bought the comic for a nickel in the 1930s. But as for the plot, it's surprisingly samey. Archer's got an eyepatch and a knack for aviation calculation instead of obscure inventors, but otherwise it's the same series of problems: Nobody has any money, so they have to get some in the most dangerous ways possible. That makes it much closer to the mix of pastiche, deep plotting, and absurdism of The Venture Brothers, but it also means that the show sometimes errs on the side of pushing longtime fan recognition over actual joke-writing.
By that I mean that even though fans can recognize Archer's developed friendship with Pam (Amber Nash), little is built up besides islander Archer fan-fiction. I'll be the first to admit that Reed might have some wild twists in store after the languid, hazy build-up, but getting there (if they exist) is like hacking through a viney undergrowth. For example, there's a long-standing tradition in the show that, after all the wisecracks and profanity fly by, someone (usually Archer) is left grasping for that perfect zinger he had just a second ago. In Season Nine this geriatric condition is so much more prevalent than the humor that actually makes the construction work, it makes clear that TV comedies age in something like dog years. Archer is left limping along, toothless, in its tropical paradise—more Florida retiree than jungle adventurer.
Archer: Danger Island premieres Wednesday, April 25 at 10 p.m. on FXX.
---
Jacob Oller is a writer and film critic whose writing has appeared in
The Guardian, Playboy, Roger Ebert, Film School Rejects, Chicagoist, Vague Visages,
and other publications. He lives in Chicago, plays Dungeons and Dragons, and struggles not to kill his two cats daily. You can follow him on Twitter here: @jacoboller.