Comedy Bang! Bang!: "Amy Poehler Wears a Black Jacket & Grey Pants" (Episode 1.02)
TV
Reviews
Amy Poehler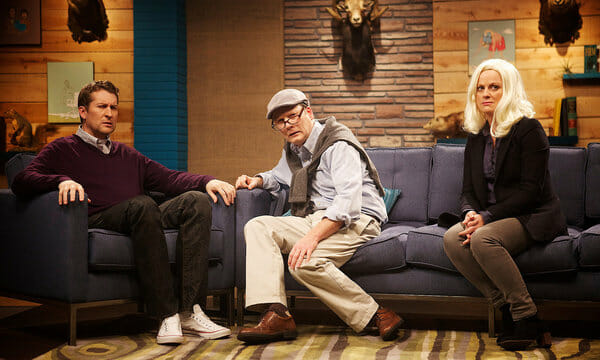 For those who tuned in last week to Comedy Bang! Bang!'s premiere episode and found it a bit more conventional than what was imagined, I'm sure this second episode, "Amy Poehler Wears a Black Jacket & Grey Pants," comes off much more like the absurdist talk show that was expected—sort of like a demented Pee Wee's Playhouse, full of weird characters (such as Scott Aukerman's bookie, a talking book that along with the rest of his bookshelf has faith in Aukerman), surprise guests and fun little skits.
The second episode starts on a somber note, mourning the loss of Carl Langer, a man who was with the show from the very beginning. Of course since this is only the second episode, this clearly is a stunt. Throughout the episode, Langer gets into more ridiculous and dangerous predicaments, always explaining huge future events in his life he surely doesn't want to miss. After Aukerman and co-host Reggie Watts share that they each had dreams about each other last night, we cut to them dreaming. Unfortunately there isn't a camera that can film dreams, until Dr. Clinky shows up, announcing he does have this technology, because we are currently in a dream. After several wake-ups, Aukerman introduces his guest Amy Poehler, who claims to not be wearing a wig (which is clearly a lie) and is currently in feeling pretty blue, what with all her stealing and mental problems.
I admittedly got pretty excited seeing that we would finally get to meet Don Dimello, theatrical director, one of the podcast's best recurring and easily most disturbing characters. Andy Daly returns two episodes in a row to bring Dimello to life, a man who directed the Rockettes' Radio City Christmas Special for 18 years, and he explains that even though it is for kids, the Rockettes' presence means that there is also "something for daddy." He also supplied the Rockettes with heroin in order to control them. Since then, he has made shows for "children," which also allow something for the adults as well. His latest show is an adaptation of Pinocchio where Geppetto dry-humps the marionettes, and for a few extra dollars, you can be the one to "pull the strings," if you get what he's saying. Dimello is creepy as hell in audio form, but watching Daly bring him to life with extra touches, such as getting awkwardly close to Aukerman, makes him even more exciting to see on the show.
When Aukerman has to go pick up some dry cleaning, David Koechner stops by to be the substitute host, Mr. Doublebutt. Dimello, Poehler and Watts become little kids in school, immediately trying to see how much they can get away with, like Watts chewing tobacco instead of gum. Poehler says that Mr. Aukerman lets them watch movies, and Watts just happens to have one. In the film, Watts plays Duncan, a dad who can't keep up with his son's 28 soccer practices for every 26 days. Claiming to be a failure, he wishes he had never been born. The next morning he finds out he has never been born, but instead has spent the last 35 years still in his mother's womb. It's a great parody of terrible body-switching films and in the second episode overall, Watts is given plenty more to do and succeeds in pretty much everything he does.
At the end of the episode, everyone gets on stage in a Saturday Night Live style send-off, but once the credits start crawling up the screen, everyone runs away, except for poor Carl, who can't move fast enough and is squished by the slow-moving credits, bathing the cast in blood.
This second episode improves upon the pilot in many ways, probably a reason why IFC made this episode available to watch online weeks early. Even the weird skits work better than before, such as Watts and Aukerman trying to find a lost contact and the cast playing a new game called "What's The Song Title."
With the improvised podcast, things can either tie up nicely by the end or just become a series of hilarious, yet not connected bits. With the TV show though, the same spirit is alive, but in a structured way that allows for all the loose ends to come together into a cohesive episode that makes all the ridiculous directions the show goes in work in a satisfactory way.