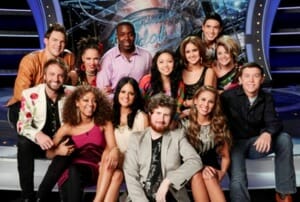 When was the last time Jennifer Lopez was relevant as an artist? You'd have to go back to "Jenny From the Block," right? At the top of tonight's episode of American Idol, Ryan Seacrest announced that J. Lo's new single, "On the Floor," was iTunes' No. 1 seller, and it began to become clear why she took this judging gig. But Lopez has grown into her role as a mentor to these kids, as has Steven Tyler. Crazy as this sounds, I'm starting to not miss Simon Cowell at all. As merciless and consistently on-the-money as he was, I feel like this year's judging panel is more focused on the task at hand—identifying the contestants' individual strengths and developing them into something viable for a recording career—than they are on their own personas.
However, the new set of judges isn't the only reason Idol's 10th season is its best in years. By its nature, this show is only as good as its talent, and top-to-bottom, this may be the most impressive set of finalists it's ever had. I didn't love all of these performances, but the vast majority impressed, and even the night's few missteps had more to do with ill-advised arrangements of songs than the shortcomings of the kids performing them.
The theme of the night was songs by each contestant's personal idol, and they were each given the opportunity to work on their performances with not only Interscope president Jimmy Iovine but also a big-name producer such as Don Was, Tricky Stewart or Polow Da Don. These segments mostly came off as excuses for product placement for Dr. Dre's Beats headphones, but could we really expect anything less from the show that's traded in Coca-Cola and Ford tie-ins for its entire existence?
Lauren Alaina opened the night with Shania Twain's "Any Man of Mine." I'll forgive Lauren for describing Twain as "the first artist to mix country and pop," but only in light of Lopez' worse comment moments later. Not only did she stay on key all the way through, but she handled the song's transition from a rock arrangement to a country one without skipping a beat. I'm not sure what exactly Steven meant when he told her her performance needed to be "a little more kickass," but the general consensus was that she needed to try harder now that she was on the big stage.
Casey Abrams followed with far and away my favorite performance of the night, singing Joe Cocker's version of "With a Little Help From My Friends." What made his performance was the way he was able to build from a soft, stripped-down first section to a full-on Cocker impersonation at the end, keeping impressive control of his high notes the whole time.
Ashthon Jones followed with "When You Tell Me That You Love Me," a direct nod to the Diana Ross comparison the judges threw at her last week. It's a testament to the strength of this year's set of contestants that this was one of the least memorable performances of the week. She started a little out of tune, but figured it out quickly and brought the song home. She's a likeable enough performer, but it just felt overly safe to me, especially following Casey. The judges seemed to agree. My money's on Ashthon to go home tomorrow night.
Paul McDonald chose Ryan Adams' "Come Pick Me Up," which led to the revelation that J. Lo has never even heard of him. Yikes. That's not quite as bad as Simon having never heard "Free Bird" a few seasons ago, but it has to be at least on par with last year's implication that "This Woman's Work" was a Maxwell original, which denied one of my personal idols, Kate Bush, the national TV exposure she was due. Paul's performance didn't quite work, and unfortunately, I doubt that much of Idol's audience will get behind it either. That'd be a shame, because if Paul goes, we may never get to see Thom Yorke's "Lotus Flower" dance on American Idol again. Plus, he was featured on a Paste sampler in 2009, so it would be pretty cool if he got far. He did make "Ryan Adams" a trending topic on Twitter, but I'm not getting my hopes up.
If Idol wants to play it safe, Pia Toscano has to be a near-lock to win the competition. She sang Celine Dion's "All By Myself" as well as anyone ever has without even breaking a sweat, cementing herself as the most technically skilled singer on the show, save for maybe Jacob Lusk. With that said, it's hard for me to get excited about an Idol contestant singing Celine Dion the same way it is for me to get excited about the millionth tribute to Mariah Carey or Whitney Houston.
Fresh off introducing Judas Priest into the Idol lexicon, James Durbin turned in an excellent performance tonight of Paul McCartney's "Maybe I'm Amazed." He hit all his notes, displayed stellar dynamic range, and did basically everything you'd ever want from an Idol performance. But at the same time, I can never watch him without that nagging voice in my head reminding me that Adam Lambert did this kind of thing better two seasons ago.
Haley Reinhart's reading of LeAnn Rimes' "Blue" more or less shattered the yodeling quota for this entire season, and while this was more than a little grating at times, I can't deny that she controlled it well and stayed on key. Still, though, I thought it was one of the more boring performances of the night, and the judges seemed to agree. She could go this week and I wouldn't complain, but I wouldn't begrudge America wanting to give her another chance either.
When Jacob Lusk named R. Kelly as his personal idol, I was secretly hoping he'd sing "Ignition (Remix)," but he went—of course—with "I Believe I Can Fly." It's a safe choice, but any excuse for Idol to name-check Space Jam is cool with me. I thought his performance was a bit over-the-top (was the gospel choir really necessary?), but he sang phenomenally as always, and the judges ate it up. He hasn't yet shown an ability to sing anything outside of this sort of R&B ballad, but that will come. My guess is he'll be fine.
Fifteen-year-old Thia Megia sang Michael Jackson's version of "Smile," and acted surprised when told it was originally by "Charlie Chapman" (her words, not mine). She sang well, and displayed tremendous poise for someone so young, but as with Jacob and Scotty McCreery, I'm worried that she may be a little one-dimensional.
Stefano Lagone did Stevie Wonder's "Lately," and while his vocal itself had nothing to criticize, I absolutely hated the techno arrangement. I mean, I know Randy is always talking about the importance of not doing karaoke renditions of well-known songs, but there are certain things that should be left as-is, and "Lately" is one of them.
Karen Rodriguez sang Selena's "I Could Fall in Love With You," a risky choice given that J. Lo—as we were reminded by seemingly every other hopeful in the audition stages—starred in Selena's biopic. It was apparent that Jennifer was conflicted about giving feedback, but this was probably the weakest performance of the night. And on top of that, now I'm really afraid that someone will break out "I Don't Wanna Miss a Thing" at some point. I had hoped we'd be past that now that Steven is on the panel.
I've leveled the "one-trick pony" criticism at a few of these contestants, but none merit it more so than deep-voiced country boy Scotty McCreery. To his credit, he knew well enough to stay in his lane, and his performance of Garth Brooks' "The River" was a home run, but he is going to get absolutely annihilated the minute he's forced to step out of his comfort zone. He may well have a career as a country singer—he's got the right skillset for that genre, and he's charismatic enough—but you can already tell that he has no versatility whatsoever.
Naima Adedapo ended the night with "Umbrella," clearly having not learned from Ta-Tynisa Wilson's disastrous "Only Girl" in the semis that Rihanna doesn't exactly specialize in "singer's songs." She tried to put a reggaeton spin on it, but the entire thing came off as rushed and unfocused. The judges praised her for her originality, but I thought it was a mess. She'll probably survive, because for all her performance's faults, one thing it couldn't be called is boring.
Ashthon and Karen are the two likeliest candidates for elimination, but they would have been standouts in any other season. That probably says more about how anemic the last few years of Idol have been, but regardless, this year's finals are off to a strong start.