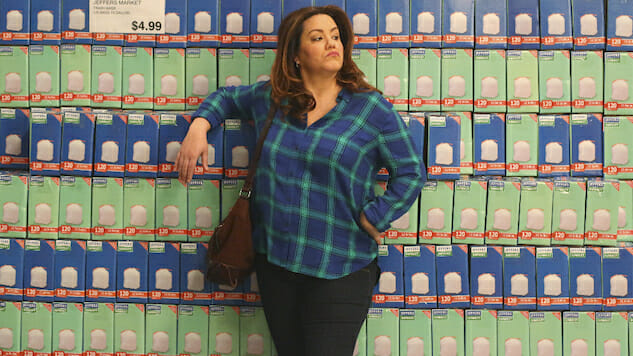 Years ago I was at a press party when someone asked a comedy actress, who was on a short-lived show in between two very successful, long-running ones, how she stayed so thin. She looked at the reporter and deadpanned, "I don't eat." Now, I don't think she was talking about not eating in an eating disorder kind of way. I think she meant her diet was one of denial—no carbs, salads without dressing, plain grilled chicken and a half a Hershey kiss when you want a treat.
I cannot stress enough how accurate the phrase "the camera adds 10 pounds" is. Actresses who seem like they are healthy thin are waif-like in person. On my first trip out to Los Angeles for work, I was positively gobsmacked by how thin the women are. You don't need me to tell you about the injustice of how women are treated on television. Just like men are allowed to age, they are also allowed to come in many different sizes. Very few female actresses are allowed the same generosity.
The pilot for Amy Sherman-Palladino's new Amazon series, The Marvelous Mrs. Maisel, begins with a fat joke. The title character, Midge (Rachel Brosnahan), relays that she was excited to have a fat roommate in college because "I'll have someone to eat with who won't steal my boyfriend." It's a throwaway line that immediately implies no one would want to love or sleep with someone who isn't thin.
The next shot shows said roommate ogling the butter as she lavishly spreads it on a roll. We aren't laughing with the poor plump Petra, we're laughing at her. This continues a trend Sherman-Palladino started in the recent Gilmore Girls revival, in which Lorelai (Lauren Graham) and Rory (Alexis Bledel) sit poolside and poke fun of the fat bodies parading in front of them. It's something I don't remember from the original Gilmore Girls, which featured Melissa McCarthy (not yet famous) as Lorelai's best friend, Sookie. Sookie's weight was never an issue, but now Sherman-Palladino seems to have a bee in her pen about women's size. And don't even get me started on how Lorelai and Rory are able to eat gobs and gobs of food, shun the very idea of exercise, and remain rail thin.
It's a common TV trope for the fat, slovenly husband to have a beautiful, thin wife (I believe this is technically called the Kevin James-Leah Remini syndrome). And when TV does give us characters who aren't size two, they struggle with not making that aspect of the character her—because it's almost always a woman—entire storyline.
I mean, we live in a society in which pregnant celebrities brag about not needing maternity clothes (no, Gisele Bündchen, I'll never forget) and others tweet out pictures of their flat stomach just days after giving birth. I suddenly found myself defending Kim Kardashian when people called her fat during her pregnancy. She was growing another human being with her body. Last time I checked, that is, no matter what your belief system or how you feel about people who are famous for being famous, a freaking miracle.
ABC's American Housewife, which I will, without shame, freely admit that I love, was originally titled The Second Fattest Housewife in Westport. The early episodes of the series' inaugural season focus on Katie's (Katy Mixon) size. And that's not to say the show hasn't hit upon reality. Like Katie, I'm raising my children in the suburbs. I don't have a frenemy as obnoxious as Viv (Leslie Bibb), but I did once have a mom at a Girl Scout meeting tell me she doesn't eat pizza anymore because she used to look like me. I was less than a year post-partum with my second child, but, you know, thanks for the advice.
However, I find Katie infinitely more relatable when she's griping about how evil half-school days are, dumping her purse out to find a receipt or barking orders at her children. Once American Housewife figured out that Katie's weight isn't her distinguishing characteristic, the show became infinitely stronger.
This is Us has some work to do in this department. For Kate's (Chrissy Metz) story lines this season, it often seemed like the writers simply Googled, "How do fat people lose weight?" Kate started off in a weight loss support group, then considered gastric bypass surgery, before finally attending a completely obnoxious fat camp. Kate was a far more interesting character when she was struggling to define her career, dealing with her guilt over her father's death, or romancing her fiancé, Toby (Chris Sullivan).
But the good news is, the tide is turning. Allison Tolman, who broke out in 2014 with Fargo, headlines the new ABC series Downward Dog. In the series, Tolman stars as Nan, a thirtysomething career woman with a romantic life, friends, a pain-in-the-neck boss and a dog who narrates her every move. But here's the thing: Tolman is not a waif, and the fact that she's not a size zero is never brought up. Nan isn't constantly trying the latest diet. She doesn't make self-deprecating remarks about her size. Her weight doesn't preclude her from having sex.
I almost hesitate to talk about it, because I'm drawing attention to what the series is specifically not drawing attention to. I had a chance to talk to Tolman recently (you'll be able to read that awesome interview here at Paste soon) and Tolman shared my reluctance about even bringing it up. "I don't know if I want people to notice and talk about it or if I want it to just seep into the zeitgeist and then we'll see the fruits of our labor in 10 years," she said.
And that's kind of how I feel. But I think we must talk about it, because it's a seismic shift in the TV landscape. Thanks to groundbreaking shows like Will & Grace, TV is now peppered with diverse gay characters—recognizing the fact that "gay" shouldn't be the only thing that defines a character. In much the same way, women come in all shapes and sizes, and their size does not define them.
There's a children's book I love called Everywhere Babies by Susan Meyers, and it starts off "Every day, everywhere, babies are born. Fat babies. Thin babies. Small babies. Tall babies." TV needs to start thinking the same way, because every day, everywhere, someone is creating a new TV character.
American Housewife airs Tuesdays at 8:30 p.m. on ABC. Downward Dog premieres Wednesday, May 17 at 9:30 p.m.; the series premiere is now streaming at ABC.com. The pilot episode of The Marvelous Mrs. Maisel is now available on Amazon.
---
Amy Amatangelo, the TV Gal®, is a Boston-based freelance writer, a member of the Television Critics Association and the Assistant TV Editor for
Paste
. She wasn't allowed to watch much TV as a child and now her parents have to live with this as her career. You can follow her on Twitter (@AmyTVGal) or her blog .