Amazon Prime's Reacher TV Series Provides the Big Man and Big Fun the Films Lacked
Photo Courtesy of Amazon Prime Video
TV
Reviews
Reacher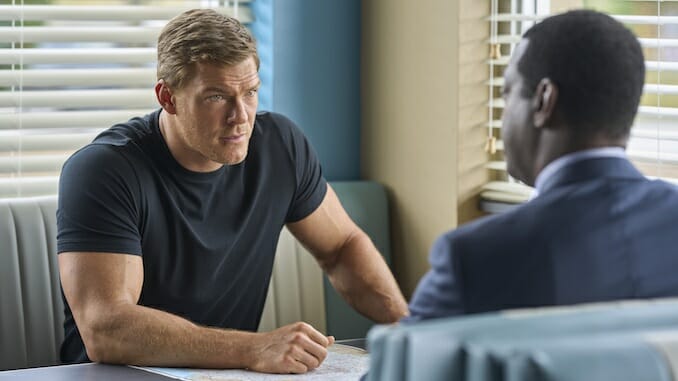 Tom Cruise is no Jack Reacher. Not in the literary sense anyway.
Cruise may have played the titular character in two separate films, Jack Reacher (2012) and Jack Reacher: Never Go Back (2016), but when it comes to the embodiment of Reacher from the popular Lee Child novels, the actor doesn't quite match the description. In the long-running book series, Jack Reacher is described as being 6' 5," around 250 pounds, with dirty blonde hair and blue eyes. That's a far cry from the 5'7" star of Mission Impossible and Top Gun.
The height of a lead actor for a television series may seem unimportant but not in this case. Reacher's imposing size is part of the character's identity, something more appropriately personified in Alan Ritchson (Titans, Smallville), who takes over the role in Amazon Prime's TV series.
While standing "only" 6'2," the brawny Ritchson casts a lengthy shadow over his co-stars and channels the physicality the character is known for. This is perfectly demonstrated in the opening minutes of the pilot episode where Reacher's steely gaze makes a potentially abusive boyfriend repent, and moments later when his mere presence has two police officers arresting him while quivering in fear. Ritchson doesn't utter a word until almost seven minutes into the first episode because he doesn't have to. It's pretty safe to say that in Reacher's case, size matters.
Thankfully there's a lot more to Reacher than looking like an intimidating NFL defensive lineman (Or as my wife referred to him while we were watching the premiere, "a walking tree.") All of Reacher's unique character traits from the Lee Child novels have made their way into the series, as well as his compelling backstory.
The son of a former Marine, Reacher grew up on military bases around the world. After graduating from West Point, he joined the US Army Military Police Corps and was a member of the Special Investigations Unit. An excellent marksman and an expert in hand-to-hand combat, he'd later leave the Army and—because of his nomadic upbringing—now wanders from town to town. Never staying anywhere for more than a few days and traveling with nothing more than a toothbrush, Reacher is an enigma to almost everyone.
So when Jack Reacher, a walking and non-talking colossus, strolls into the small Georgia town of Margrave, people notice. This includes the local sheriff's department, who arrest him almost immediately because he matches the description of someone seen close to where a murder took place.
When asked if he wants a lawyer by detective Oscar Finlay (Malcolm Goodwin), Reacher replies that he doesn't need one, stating, "I didn't kill anybody. At least not recently and not in this town." Reacher may not say much, but when he does be prepared for some witty and dark repartee.
The first season of Reacher follows the plot of the first Jack Reacher book, Killing Floor. In Child's 1997 debut novel, Reacher eventually partners up with Finlay, sheriff's deputy Roscoe Conklin (Willa Fitzgerald) and a medical examiner (Harvey Guillén) to solve a murder. I won't spoil the plot but expect to see plenty of fist fights, gunplay galore, corruption at all levels of law enforcement, and an overly complex money laundering plot.
Though you may need a giant cork board, pictures of the cast, a box of tacks, and a spool of string to keep everything straight, don't let this series' intricacies or slow start deter you from diving in. By the third episode the show hits its stride, and with a clever cliffhanger at the end of each episode, this series is made for bingeing. I watched the first two episodes one day and was so hooked after Episode 3 that I devoured the rest of the eight episode season the day after. A big reason for that is the chemistry of the three leads.
Finlay, Roscoe, and Reacher are all distinctive characters. Finlay is a fish out of water in a southern town with a population under two thousand. A former Boston detective, the tweed-suit-wearing vegetarian sticks out like a sore thumb. He and Reacher are immediately at odds but eventually come to like each other. They poke fun at one another in a way that feels authentic, almost brotherly.
Roscoe, who's lived in Margrave her entire life, is Reacher's equal. Although small in stature, she earns his respect with her toughness, sarcastic sense of humor and intelligence. But the glue holding this trio together, not surprisingly, is Reacher.
Although he can come across as robotic at times (he'd make a great Terminator), Alan Ritchson is perfectly cast. Brusque, arrogant and a bit of a smartass, Reacher lacks interpersonal skills. As one character describes him, he's "an emotional dumpster fire." These are the kinds of traits Ritchson can pull off in his sleep thanks mostly to his physicality, but what makes the actor unique is his ability to inject subtle humor into the character. His deadpan delivery takes a few episodes to click, but once it does Reacher becomes an even more enjoyable ride.
Reacher the TV series doesn't have the star power of the films that preceded it, but in many ways, it has the potential to be even more successful. By providing a deeper look into a complex character, Reacher could do for Jack Reacher what Tom Clancy's Jack Ryan did for its titular character in another Amazon series: take an existing franchise beloved by many in a fun new direction.
Reacher premieres February 4th on Amazon Prime Video.
---
Terry Terrones is a Television Critics Association and Critics Choice Association member, licensed drone pilot and aspiring hand model. When he's not headbutting hired goons, you can find him hiking in the mountains of Colorado. You can follow him on Twitter @terryterrones.
For all the latest TV news, reviews, lists and features, follow @Paste_TV.