With Alexa & Katie, Kid TV's Female Friendship Tsunami Has Reached Netflix
Photos: Netflix
TV
Features
Alexa & Katie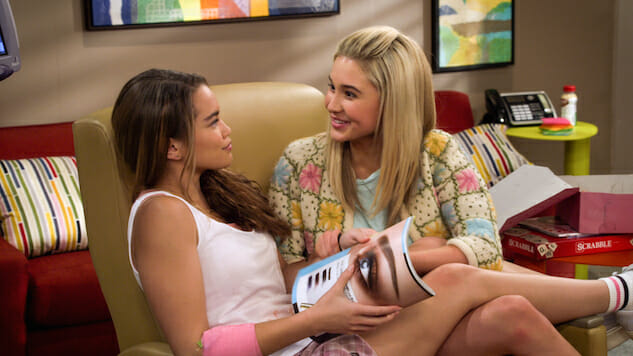 In one, they live somewhere magical in New York City where windows attached to fire escapes never need to be locked, so all highly emotional BFF processing can be done in the cozy tightness of one friend's bay window, at any hour of any day.
In another, they live in Portland next door to a mad teen scientist (#KeepPortlandWeird) whose latest experiment explodes and imbues them with the power to travel—but only when hugging each other—through time.
In another, they are an off-the-wall professional vlogging duo in California; in another, Odd Couple twin sisters in Wisconsin. In yet another, they are, amazingly, thirtysomething women channeling the (psychic) Marx brothers while raising their tween kids together in Chicago, who we first got to know a decade ago as teenagers in San Francisco.
And that's just on Disney, and just in the last five years. Over on Nickelodeon, they are another pair of professional vloggers, and Odd Couple babysitting roommates, and wunderkind videogame developers, and a four-girl boarding school K-pop group, and a human and a secret android, and even a teen VP of a fashion company and her BFF assistant. A country mouse/Hollywood mouse pair will join their ranks later this month.
There is, this is all to say, neither shortage nor lack of variety when it comes to strong female friendships as the central relationship in kids' sitcoms these days.
But while the kids' networks have long had the memo that this is a rich well for the broad comedy of sitcoms to draw from, female friendship has not had such central success on other, more mainstream (read, adult) sitcom rosters. CBS had 2 Broke Girls recently and The Golden Girls long ago, and still has Mom; Freeform has Emily Osment's Young & Hungry and Yara Shahidi's grown-ish. Other than that, though, female relationships tend to exist on mainstream sitcoms as ancillary elements in a full-cast workplace (NBC) or family (ABC) setup, or as even more ancillary elements to the bro-y setups of CBS. (I started to make a list, but after three seconds of scanning the Wikipedia page listing CBS programming confirmed that I would have to include Man With a Plan, Two and a Half Men, and We Are Men, my eyeballs exploded.) Television's current Number One sitcom, Big Bang Theory, took years to get Penny some female friends, and years more to incorporate their stories as effectively unique from the dudes' many misadventures.
As a well-documented fan of the (especially Disney-sourced) girl-forwardsitcomformula, let me just say: Mainstream audiences are missing out.
Which is why Alexa & Katie, Netflix's newest teen-oriented multi-cam offering, is such a big deal. There is nothing more mainstream, at this moment in television time, than Netflix. And now Netflix has joined Disney and Nickelodeon—and, to a lesser extent, Freeform—to give us "the one where they are best friends engaging in every kind of hijinks to deal with the one friend's cancer while also freaking out over starting high school."
For its first foray into the genre, Netflix is not messing around. In addition to newcomer Isabel May as Katie and Disney XD vet Paris Berelc (Mighty Med, Lab Rats: Elite Force) as the cancer-stricken Alexa, Netflix has tapped teen sitcom royalty Tiffani Amber-Thiessen for the role of Alexa's mom (obligatory Oh god, we're all old moans), Nickelodeon vet Jack Griffo (The Thundermans) as Alexa's crush, Dylan, Disney XD vet Nathaniel J. Potvin (Mech-X4) as Katie's crush, and boy band member Emery Kelly (Forever In Your Mind) as Alexa's pretty-boy brother, Lucas. The rest of the main cast is rounded out by Jolie Jenkins (recently of Disney's Liv & Maddie and Netflix's One Day at a Time) as Isabel's single mom and Eddie Shin (of more dramatic fare like Man in the High Castle and Westworld) as Alexa's pilot dad. If a new sitcom lives or dies on its cast's street cred, Alexa & Katie is ready to live forever.
At the same time, Netflix isn't trying just to meet Disney and Nickelodeon on their home turf: By positioning Alexa's leukemia as the series' central (though, not only) ongoing conflict, they're aiming to soar past the fences of what is, if not allowed, then at least conventional on network television.
"I appreciate what Netflix does," May tells Paste, "in the sense that they take something that would feel very normal on television, a very kind of typical storyline that every other network is creating over and over again because they know they will get an audience, and they're sticking something in there that kind of makes it more realistic.
"They're awesome to work with," Berelc agrees. "I have cancer on the show, and they've done it in a way where kids can watch it and understand it and learn more about it and also not be afraid to talk about it. Netflix definitely isn't afraid to take risks, that's for sure."
"You know, we're acknowledging a topic that's kind of taboo," May adds, "but frankly everyone in the world knows someone or has a connection to someone with cancer, or who has had cancer in their lifetime. It is an incredibly difficult thing to go through, but I mean, I have a friend, she was fourteen when she got lymphoma—so the same exact age [as Alexa and Katie], which is a crazy coincidence—and she is the most vivacious, outgoing girl I've ever met. So I'm so glad we have someone like Paris, who is so outgoing and strong and has a good head on her shoulders, to portray a character with cancer without making it seem like she's weak in some way."
The trick for the series, then, was finding a way to treat cancer with respect and care without letting it turn into something sad or demoralizing or poignant. Because while cancer can definitely be all those things, at the end of the day, Alexa and Katie are two teenage girls living goofy, teenage lives, caring about goof,y teenage things, and getting into goofy, teenage scrapes.
Cue the wigs.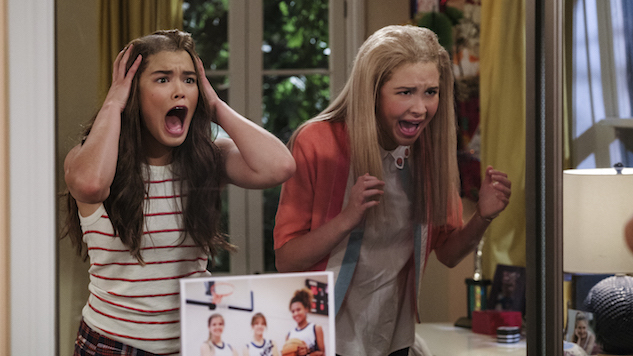 This is not a spoiler: In the series' first episode, the comic catharsis to the dramatic tension of Alexa discovering that her hair has started to fall out from chemo the night before the first day of ninth grade is Katie picking up an electric buzzer and, without thinking twice, running it straight over the top of her head. "OOOOOHHHHHHMYGOD, KATIE!" Alexa exclaims, hands to her cheeks, horrified, overwhelmed, impressed. "Ohhh, you just DID that."
What follows is both girls shaving their heads together, setting up the BFF conceit for the whole series: What one goes through, the other goes through. It also sets up a large percentage of the sight gags/reminders of Alexa's cancer that are to follow, as Alexa and Katie mix up their headwear as regularly (and with keen teen discernment) as they mix up the rest of their wardrobes.
Just how many wigs did they each end up wearing in all?
"Six," May laughs. "I don't think people will realize, but in the first episode, that looks like our real hair, but it's not—that's a three-quarter wig. Then we wore a wig that was their nice lace-front wig, that's their realistic hair wigs. Then we wore different colored wigs, because—I don't think people realize how expensive wigs are, but my character's family, they're more on the poverty side of things, with a single mom, in school, tighter finances—so we wear a pink and blue wig [when Katie can't afford a lace-front wig], so that's three. And then we had the cap, so that's four, and I had a shaved hair look, so that's five, and then a pixie cut, which is six!"
As for getting the maximum comic effect of shaving the wigs in the premiere? All practical effects, using magnets and ingenuity.
The hair-based gags aren't the only tools the series uses to keep its approach to Alexa's cancer appropriately light, though. The parents' reactions to every new twist and turn in their daughters' lives—when it's the hospital calling or when it's the principal whose house they just TP'ed—let them participate fully in the show's emotional narrative, while simultaneously letting them keep the exuberant broadness that is a hallmark of the sitcom form. Dave Mendoza reacts to his daughter's shaved head by going on a marathon training run every time she walks into the same room he's in, while Lori rises to the challenge of Alexa needing her more at home by moving her office there… and not wearing any pants under her blouse and blazer. Katie's mom, Jennifer, meanwhile, leans so hard into making sure Katie's little brother isn't neglected while Alexa—and by extension, Katie—get the lion's share of the adults' attention that she ends up nearly addicted to his zombie videogame during a backyard campout.
In the end, though, it is the central female friendship, whose model has been so firmly established by Disney and Nickelodeon, that gives Alexa & Katie the framework with which to make cancer funny.
"I really liked the story," Berelc says about what drew her to the project. "It's about two friends, and when I read it, I thought about me and one of my best friends, my best friend McKayla. The show has a lot of heart, and shows such great support between two best friends, and has a lot of love."
"I think that female friendships are so amazing and there's nothing like it," May says. "You know, we're constantly just holding in things, holding in thoughts and feelings and frustrations, and to have someone that doesn't care when you cry or when you act weird or when you tell a joke and it does not land and they laugh anyway for you—you know, one of those people—that's just so awesome. I'm really happy that we get to portray two young girls who, as different as they are, they are completely balanced and equal. It's amusing and it's entertaining, but it's also so heartfelt and real and honest."
Netflix has a lot of ground to make up if it wants to truly bring the fight to Disney and Nickelodeon's door, but with Alexa & Katie, the streaming giant has made a solid start—a start which will, hopefully, show other mainstream networks just how viable a female-fronted sitcom can be.
Alexa & Katie premieres Friday, March 23 on Netflix.
---
Alexis Gunderson is a TV critic whose writing has appeared on
Forever Young Adult
,
Screener
, and
Birth.Movies.Death
. She'll go ten rounds fighting for teens and intelligently executed genre fare to be taken seriously by pop culture. She can be found @AlexisKG.