6 Toronto Restaurants for Vegetarians and Vegans
Photos via Iconosquare/@FreshRestaurants & Flickr/Candice Eisner
Travel
Lists
Toronto
Home to the largest vegetarian food festival in North America (it's also free), it's no wonder Toronto's veg-friendly food community is blossoming. It also helps that the local vegetarian association provides its members with discounts at dozens of local eateries, soy milk is offered at cafes across town, and most restaurants—no matter how meat heavy their other offerings—have vegetarian or vegan options.
Restaurants with veggie-focused menus are sprouting all over Toronto but these six have dishes so satisfying, they can convert the most devout meat eaters.
Bunner's
This local vegan and gluten-free bakery (pictured above) began as a small shop in the booming Junction neighborhood, and has since expanded to a larger space in Kensington Market. The magic of Bunner's' cupcakes, savory patties, muffins and cinnamon buns is not that they melt in your mouth (which they do), but that you'd never guess they were made without wheat, dairy, butter or eggs.
Glory Hole Doughnuts
Most doughnuts are vegetarian—with the exception of Glory Hole's bacon-topped confections—but it's not as easy to find a doughnut made without butter or chocolate. The small Glory Hotel Doughnuts in the west-end Parkdale neighborhood offers vegan doughnuts in flavors like hibiscus tea that taste just as sinful as the butter-heavy alternative.
Udupi Palace
Toronto is home to a sizable Indian diaspora, and the city's excellent culinary offerings from the subcontinent that run the gamut from budget-friendly to high end are proof. While Indian food is usually vegetarian, Udupi Palace in the city's Gerrard Indian Bazaar is 100 percent vegetarian and has many vegan options. Picky eaters will love the onion, cashew, and chili pakoras; the variety of dosas; and rich curries like aloo mutter and kadai bhindi. Not to mention, it's dirt-cheap; all regular menu items are $10 or less.
Fresh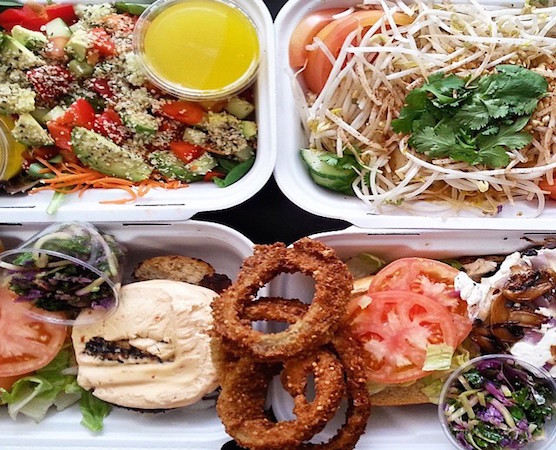 Photo via Iconosquare/@FreshRestaurants
This family of stylish—and perennially busy—eateries offer delicious options from brunch to dinner, including desserts and made-to-order juices. Yes, you'll find the redundant rice bowls that seem to be every restaurant's answer to vegetarians, but you'll be too busy drooling over the gluten-free banana pancakes and quinoa-crusted onion rings to notice.
Hogtown Vegan
Hogtown Vegan offers vegan versions of comfort dishes from brunch to dinner, in a low-key, casual atmosphere. Hogtown's brunch includes unchicken and waffles and tofu-based omelets. The waffle dish also shows up on the dinner menu along with vegan mac and cheese and tempeh phish and chips.
Urban Herbivore
In Eaton Centre's swanky downstairs food court you'll find the second location of Urban Herbivore, a vegan eatery that offers salads, soups, sandwiches, grain bowls, curries and cupcakes (which are also gluten-free). The best part is that most meals cost about $10. If you aren't a fan of malls, Urban Herbivore has College Street and Kensington Market locations as well.
Terri Coles is a freelance writer living in St. John's, Newfoundland. She's a recovering picky eater.