Chicago has no shortage of things to do and see, but many of the surrounding suburbs are packed with attractions that warrant a venture beyond the city's borders. Some, like Evanston and Oak Park, feel like extensions of the city. Others, like Geneva and Wilmette, offer an escape to a more quaint destination, if only an hour from the city. Visit for the temple, theaters and top-notch food and nightlife, but stay for an entirely unique perspective of the area. These seven suburbs are worth a trip out of Chicago.
1. Oak Park
Distance from Chicago: 10 miles
Located along Chicago's western border, Oak Park is a quick trip from the city via rail, as both the Metra and CTA Green Line pass through the village's center. This culturally significant suburb was the birthplace of Ernest Hemingway and served as home to Frank Lloyd Wright. Both have dedicated museums in Oak Park, and a number of Frank Lloyd Wright homes are still standing within the village. The downtown consists of several blocks of bars, restaurants, a vintage movie theater (pictured above) and serves as home to a packed calendar of year-round festivals. Stop by Lake Street Kitchen and Bar for an impressive beer menu and food that won't disappoint. Marion Street Cheese Market, honored in the past with a Bib Gourmand in the Michelin Guide, is a swanky but not pretentious wine, beer and bistro that often features live music. Pop into the BeerShop to sample a changing assortment craft beer. The place feels like the communal living room of Oak Park. It's BYOF (bring-your-own-food), dog-friendly, and there's a stack of board games near the bar begging to be played.
2. Wilmette
Distance from Chicago: 14 miles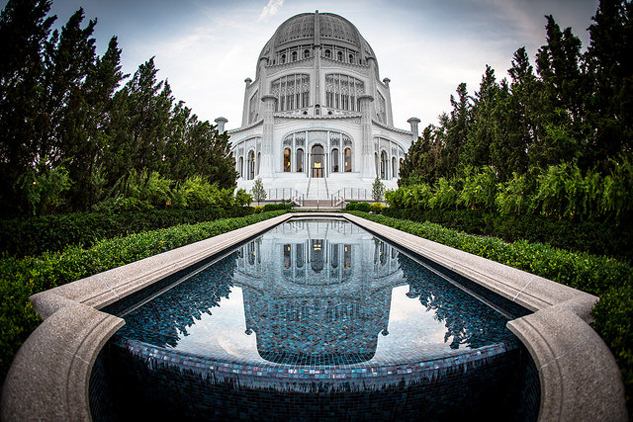 Photo by Esteban Monclova, CC BY-NC 2.0
Wilmette, located along the north shore of Lake Michigan, is home to the stunning Baha'i House of Worship. This not-to-be-missed temple has been deemed one of the Seven Wonders of Illinois and upon first glance you'll see why. The architecture will likely elicit thoughts of the Taj Mahal. The ornate concrete and quartz structure is carved with incredible details and features a 138-foot dome. As the only Bahá'í House of Worship in the country, it serves as the North American center of the Bahá'í faith and remains the oldest surviving Bahá'í temple in the world. The Baha'i House is worth a visit, but Wilmette has other merits, including the Wilmette Theatre and Plaza del Lago, the second oldest shopping center in the country. If the season is right, you can also take a dip in Lake Michigan at Gillson Park.
3. Geneva
Distance from Chicago: 44 miles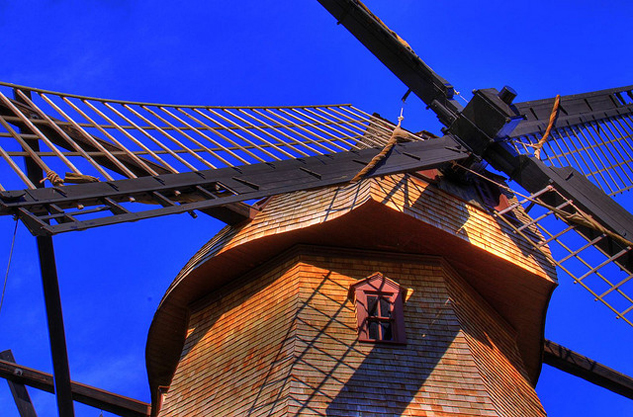 Photo by Scotriani (Scott Evans Photography), CC BY-NC-ND 2.0
Situated on the banks of the Fox River in Chicago's west suburbs, Geneva offers a number of worldly attractions. There's the nearby Fabyan Windmill, an authentic 1850s Dutch windmill that still functions, a Japanese tea garden designed by Taro Otsuka in 1910, a French market on Sundays between April and November, as well as the popular Swedish Days festival during the summer. Geneva's Metra train station is right in downtown, surrounded by an assortment of travel-worthy restaurants and shops. There's Bien Trucha for tacos, Nosh for brunch, as well as Graham's Fine Chocolate and Ice Cream, the local favorite for dessert and all-around indulgence.
4. Evanston
Distance from Chicago: 13 miles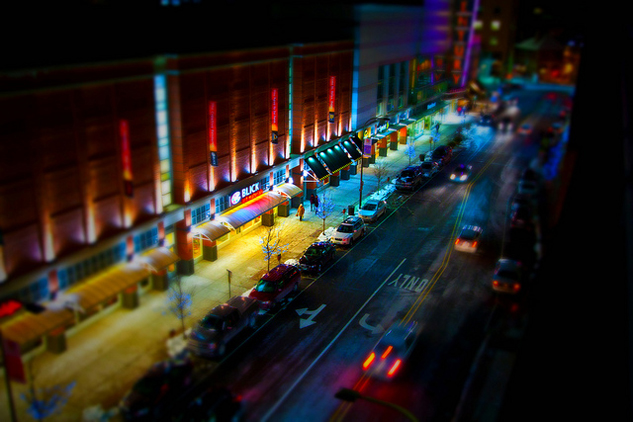 Photo by Sara B., CC BY-NC-ND 2.0
Evanston, at varying times home to such notable names as Bill Murrary, Jeremy Piven, Marlon Brando, Eddie Vedder and an impressive list of countless others, is a bustling community directly to Chicago's north and located along Lake Michigan. It carries many of the amenities of its neighboring city, but maintains the culture of a college town. Northwestern University calls Evanston home and its 74-acre campus is worth a tour. You'll also find the =">Grosse Point Lighthouse, a historic structure from 1873 that helped safely guide ships on Lake Michigan. There are plenty of worthy options for eating, shopping and entertaining yourself while in the downtown, including the ambiguously named Space, an especially popular jazz and roots music lounge. Evanston is accessible from Chicago via CTA and Metra trains. Pace buses and, starting next year, Divvy bikes can help you get around once you arrive.
5. Aurora
Distance from Chicago: 41 miles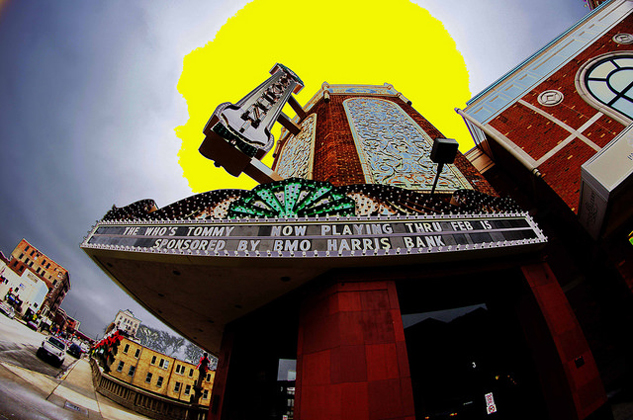 Photo by Mike Steele, CC BY 2.0
For Paste readers, you might recognize Illinois' second largest city thanks to the Wayne's World, the Saturday Night Live skit turned movie, which takes place in Aurora. While little of the movie was actually filmed there, it does serve as Wayne and Garth's home. Pop culture relevance aside, Aurora is home to a substantial itinerary of attractions. There's a thriving theater scene concentrated around the iconic Paramount Theatre, which first raised its curtain in 1931. Their current schedule includes a mix of Broadway classics like West Side Story and Oklahoma!, as well as more contemporary offerings like stand-up comdedy from Jay Leno and $1 movie showings of cult favorites like Dazed and Confused. Grab a meal at Two Brothers Roundhouse, located in a 157-year-old limestone facility, which offers a menu of pub grub and local craft beer. After dinner, cross the street to RiverEdge Park where the outdoor pavilion hosts a summer concert series that included Hall & Oats and Earth, Wind & Fire this past season. Aurora is accessible from Chicago via Metra trains, which conveniently drop you at the city's station next to Two Brother's Round House.
6. Joliet
Distance from Chicago: 40 miles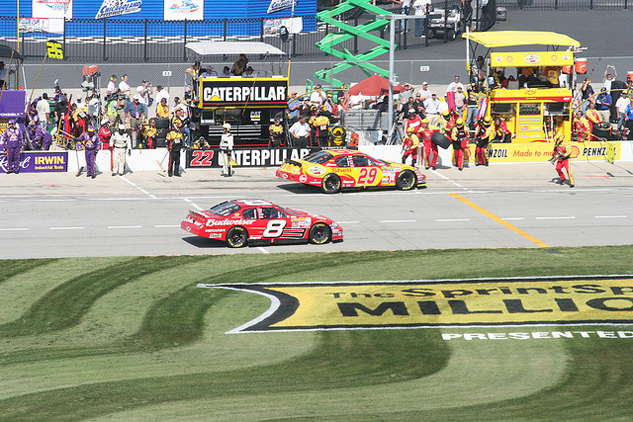 Photo by Mike Rollinger, CC BY-NC-ND 2.0
The southwest suburb of Joliet is a great destination for gearheads, and not just because it's located along historic Route 66. The city is home to both the Route 66 Raceway and the Chicagoland Speedway. The latter has a 1.5-mile speedway that hosts NASCAR events. If that's not your scene, visit Joliet for the architecturally stunning Rialto Square Theatre and its calendar of concerts, theatrical performances, movies and stand-up comedy.
7. Naperville
Distance from Chicago: 33 miles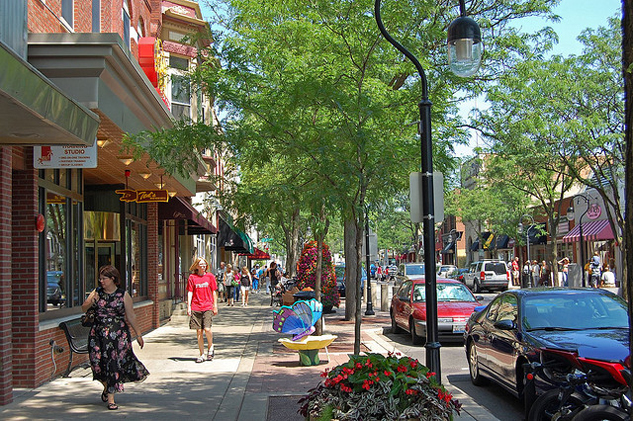 Photo by Ian Freimuth, CC BY-NC-ND 2.0
Once voted the second best place in the country to live, Naperville is also worth the short train ride west of Chicago for a visit. Its lively downtown district has local shops and national retailers, along with an abundance of restaurants. Be sure to pop into Solemn Oath Brewery. Located a few miles from downtown, its taproom offers pints, flights and growlers to go. They don't serve food, but you're welcome to bring your own. The city's riverwalk makes for a nice stroll. Be sure to stop at Moser Tower and its Millennium Carillon along the way. You can climb the 253 steps within this 16-story structure for views of the surrounding area. If you're visiting in July, Naperville's summer Ribfest is a great opportunity to taste some of the best barbecue the Midwest (and beyond) has to offer.
Other Suburbs Worth Visiting
Arlington Heights: where you can bet on horse races at the Arlington International Racecourse. Brookfield: home to the expansive Brookfield Zoo and its 2,300 animals. Schaumburg: where you'll find Level 257, a Pac-Man-themed restaurant, bar, bowling alley and arcade. Highland Park: where you can enjoy a concert and picnic under the stars at Ravinia, the oldest outdoor music festival in the world.
Top Photo: David Harmantas, CC BY-NC-ND 2.0
Paste Travel's Bucket List columnist Lauren Kilberg is a Chicago-based freelance writer. Her travels have found her camping near the Pakistani border of India and conquering volcanoes in the Philippines.