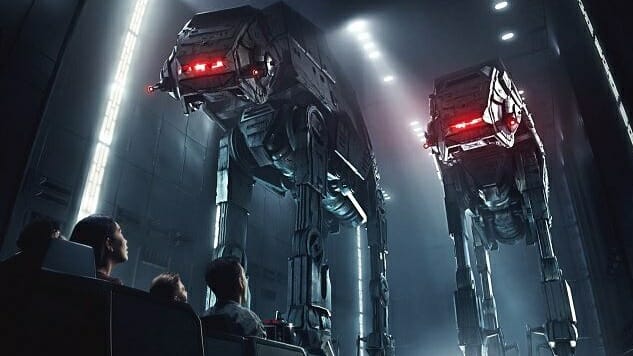 When Star Wars: Galaxy's Edge opened at Disneyland in May, it was missing one of its main attractions. It was announced in March that Star Wars: Rise of the Resistance, a sprawling dark ride that takes you onto a Star Destroyer, would be delayed to phase two of Disneyland's 14-acre Star Wars expansion, with the Disney World version at Disney's Hollywood Studios seeing a similar delay. No new opening date was announced, and since Galaxy's Edge opened in May Rise of the Resistance's side of the park has essentially been nothing more than a walkway connecting Critter Country to the rest of Galaxy's Edge.
That'll be changing in a few months. Yesterday the Disney Parks blog announced when Rise of the Resistance will be opening at both Disneyland and Disney World. Surprisingly Orlando's getting the ride first, despite its Galaxy's Edge still not opening for another month and a half. You'll be able to ride it at Hollywood Studios in Florida on Thursday, Dec. 5 (Walt Disney's birthday), just about three months after Galaxy's Edge opens there. Meanwhile the California version of the ride will launch at Disneyland on Friday, Jan. 17. The blog post doesn't explain the reason for the delayed openings, or why the Florida one will be finished first, but honestly Hollywood Studios needs this ride way more than Disneyland does, so its version should be the priority.
I actually got to walk through Rise of the Resistance at Disneyland back in February; I wrote about it here, if you want to go check out my thoughts from that time. The size and scope of this ride was legitimately mind-blowing, with multiple ride vehicles, perfectly recreated Star Destroyer hallways and detention cells that you'll be marched through by cast members playing First Order officers, and the promise of appearances by a variety of movie characters, including an audio-animatronic of Nien Nunb. Most amazing was the moment where you step out of a Resistance cargo ship and into a massive Star Destroyer hangar bay, complete with a life-size TIE fighter docked on one side, and a huge 100 foot screen on the far wall that will be projecting outer space images to create the illusion. They weren't installed during our walk through, but there will also be a platoon of Stormtroopers with their guns drawn and at the ready when you disembark. This room was the grandest reveal I've ever seen in a ride in almost 40 years of going to theme parks.
From their we walked down that hallway and into a detention cell, where we were told Kylo Ren would appear in some capacity to interrogate us. Disney wouldn't say if it was going to be an audio-animatronic, a projection, or a live actor like the First Order members who arrested us. I do know that, although our tour ended here, the ride itself continues on for several more minutes, including a trip on a trackless ride vehicle through the Star Destroyer that includes a scene where you go beneath AT-AT walkers.
Based on what I saw back in February, Rise of the Resistance is going to be a groundbreaking ride that shifts the window of possibility for theme park rides. No pressure, or anything, Disney!
If you've been waiting to book a trip to Galaxy's Edge, December and January seem like the best time to go at this point. There's a lot of great things to do in Galaxy's Edge right now—the cantina's my favorite—and Rise of the Resistance will only make a good thing even better.
Disney also released a new poster for Rise of the Resistance. Check it out.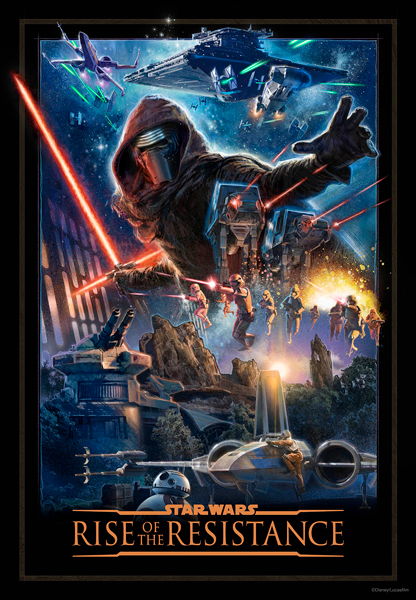 ---
Senior editor Garrett Martin writes about videogames, comedy, travel, theme parks, wrestling, and anything else that gets in his way. He shares stories and photos from his Disney journeys on Instagram at @garrett_goes_to_disney. He's also on Twitter @grmartin.