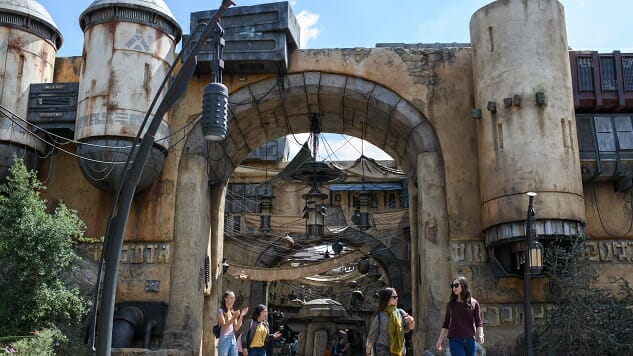 Ever since Disney first announced the Star Wars: Galaxy's Edge expansion at Disneyland, the big question has been how Disney would manage the crowds. Yesterday was the first day guests didn't need a Disney hotel reservation to get into Galaxy's Edge, and by all accounts the park ran smoothly all day.
As we wrote about yesterday, the new virtual queue system that was unveiled to manage the crowds at Galaxy's Edge went into effect yesterday morning, about an hour after the park opened. This system will only be activated when Galaxy's Edge reaches capacity, which it was at for much of the day yesterday. Theme park journalist Carlye Wisel extensively covered the first day on her Twitter account, and went into detail about how the boarding pass system works to gain entry into Galaxy's Edge; she detailed a process that seems to work well, although with a few potential hangups that could result if you use your mobile phone for your boarding pass instead of the physical passes you can get at Fast Pass kiosks. (Uh, keep your phones charged, and your notifications turned on.) Wisel initially reported that the digital boarding pass didn't specify when your two hour window for entry started, meaning that if you had your notifications turned off or otherwise missed the text informing you of your time, you might miss your time slot. By the middle of the day Disney had added that info to the same Disneyland app used to join a boarding group, though, so even if you didn't get that notification you could still find out what time your group entered the land. Wisel's exhaustive coverage from yesterday (and this morning) also included a number of Instagram stories, if you'd like to learn more about how yesterday went.
Internally, Disney is said to be very satisfied with how the first day turned out. They were able to relax the virtual queue requirements shortly before 5 p.m., meaning the rest of the night anybody could enter Galaxy's Edge without a boarding pass. The line for the only ride currently open in Galaxy's Edge, Millennium Falcon: Smugglers Run, averaged about an hour throughout the day, but fluctuated notably depending on the time between new boarding groups. Nobody was turned away from Galaxy's Edge yesterday, and Wisel reported that wait times throughout the rest of Disneyland were shorter than usual; as a Disney source disclosed, the guest experience throughout both Disneyland Resort parks was enhanced by Galaxy's Edge drawing the crowds in that direction.
I just checked the Disneyland app, and at 2:30 p.m. PT today, you didn't need to join a boarding group to enter Galaxy's Edge. Lines throughout Disneyland and Disney's California Adventure seem shorter than usual—Space Mountain is currently at 35 minutes, which is shocking for the middle of the afternoon. Millennium Falcon: Smugglers Run is also at 35 minutes. It's possible that means demand is low, or that blocking out non-Signature passholders for the entire summer has reduced capacity to a more manageable level. Perhaps it's just that Disney's operational plans are working perfectly. Either way the fears over Star Wars turning Disneyland into a perpetual logjam seem to be unfounded.
Oh, and here's another reminder that you do still need to make reservations for Oga's Cantina (the highlight of Galaxy's Edge) and the Savi's Workshop lightsaber experience; that both of those reservations can only be made the day of your visit; and that you need to pay a deposit for both, including the full price of building your own lightsaber at Savi's. So you may not need to plan ahead to get into Galaxy's Edge right now, but you still need to be on the ball to make it into two of its best attractions.
---
Senior editor Garrett Martin writes about videogames, comedy, travel, theme parks, wrestling, and anything else that gets in his way. He shares stories and photos from his Disney journeys on Instagram at @disney_lowdown. He's also on Twitter @grmartin.