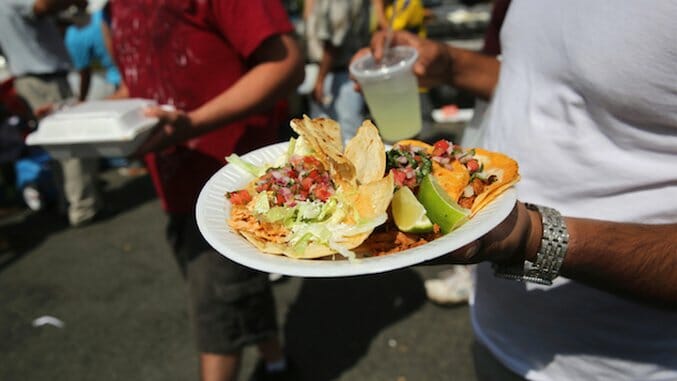 Nothing will compliment a day spent out in San Diego sunshine like some guacamole and fresh Mexican cooking. Good food isn't hard to come by in this Southern Californian city but an unforgettable meal is rarely found without a little luck or local knowledge. Most visitors tend to judge a book by its cover and flock to the nicer looking Mexican restaurants with the trendy crowds and expensive décor, ignoring some of the best comida north of the border.
Here are five small family-owned taco shops located all over the city guaranteed to fire up your taste buds for a low price and give you a bite of some real San Diegan culture.
1. El Indio Restaurant
After an impressive 75 years in business, El Indio's life span is no accident. The food and portions at this family-owned restaurant and catering service are at the top of the charts. Their housemade tortilla chips and tamales are must-order specialties, but all of their food—from the pollo asado to the guacamole—is made fresh to order. Not to mention, this restaurant is the birthplace of the taquito.
Lines are almost guaranteed, but the chefs move quickly and you'll be downing first class Mexican food in no time. The wait only highlights the high demand. It's conveniently situated a short five-minute drive from San Diego's international airport, making it the perfect first stop for any incoming visitor.
2. La Perla Cocina
About three doors down from the Pacific Beach boardwalk, La Perla is an ideal spot to get a bite after a day at the beach. There might be a few surfers or PB locals feasting at the outdoor counter, but the restaurant remains uncrowded so it's unlikely that you'll have to wait to place your order. They serve an impressive selection of gargantuan burritos like "the california" and "the addiction."
The restaurant's hole-in-the-wall vibes compliment the flavor of La Perla's expansive menu, packed with everything from ceviche to steak plates. The taco shop's rough exterior might dissuade some customers, but the food speaks for itself and anyone that's eaten there is guaranteed to be back again. It scores over 4 stars on both Yelp and TripAdvisor, and while it isn't the most popular restaurant in San Diego, it dishes out some of the best food you can get in the city.
3. Los Dos Pedros
Los Dos Pedros sits on a street corner in Bird Rock. Order a basket of carne asada fries to share with someone and bask in the wonderfully greasy combination of guacamole, diced steak, cotija and shredded cheese, pico de gallo, and sour cream. While their lunches and dinners are on par with any Mexican kitchen in The States, their breakfast is what buys loyal customers. You can watch your bacon sizzle on the grill as the chefs fry up eggs, sausage, and potatoes and wrap everything up in a steaming hot tortilla. There's no better way to start the day. Grab your sizzling hot burrito and a cup of joe to go and walk over to Tourmaline, a world-famous surf break, less than a mile away to watch the locals tear it up while you eat breakfast.
4. The Taco Stand
This spot is situated on the busy Pearl Street in upscale La Jolla. Despite the expensive homes and chain restaurants surrounding it, The Taco Stand stays true to its customers and offers an incredible meal. Their Al Pastor street tacos are one of a kind, marinated in a unique spicy and savory sauce and garnished with guacamole, diced onion, cilantro, and a slice of pineapple. Don't forget to take advantage of their salsa bar; their cilantro and chipotle salsas turn an already fantastic dish into a delicacy. If you're not too stuffed after the tacos, ask for a churro and watch them shape the dough, fry it, and dust it with cinnamon and brown sugar while you wait, wondering if you'll ever feel hunger again.
5. Nico's
Easily the biggest hole in the wall on the list, Nico's sits on Newport Avenue in Ocean Beach. Not a regular tourist destination, Ocean beach—or OB—is mainly only visited by surfers and locals trying to get away from the visitors. If you do find yourself in OB, be sure to check out Nico's. Just down the street from the world-renowned burger joint, Hodad's, Nico's always has a line of surfers, hippies, and anyone with an appetite waiting to place an order. The walls are decorated with shots of big wave surfers and the register is cash only. If you wouldn't mind getting away from high society for a bite to eat, go revel in the glory of a Nico's' carne asada burrito. The locals might glare at you a little, but you'll be too full to care.
Alec Walsh is a freelance writer who lives and dies by the avocado.