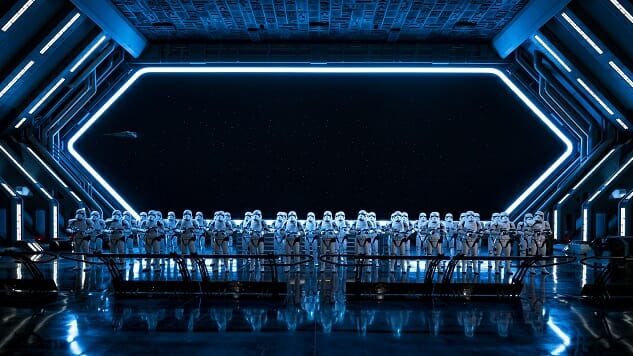 Earlier today I rode Disney's brand new Star Wars ride, Rise of the Resistance, which officially opens tomorrow at Hollywood Studios at Disney World. And then, when I was done, I rode it again, and again, and then three or four more times. It's good.
If you haven't been following the development of Star Wars: Galaxy's Edge, Disney's Star Wars theme park expansion, know this: Rise of the Resistance was always intended to be the main attraction of the land, but for various unspecified reasons its opening was pushed back to months after the rest of Galaxy's Edge launched. Galaxy's Edge opened in Disneyland in May, at Disney World in August, but its major ride is only now opening this week in Orlando and then Jan. 17 in Anaheim. Galaxy's Edge was a great creative success even without Rise of the Resistance, but the land has been operating for months without the heavily hyped, supposedly groundbreaking attraction that should be its centerpiece.
That changes this week, at least in Disney World. And to anybody worried that the buzz about Rise of the Resistance was unwarranted, or that it wouldn't wind up exciting the Star Wars or theme park fan bases, well, you can cut that out right this minute. Rise of the Resistance is an innovative technical marvel and the best new ride at Disney World in well over a decade.
I'm not here to go into detail about it yet, though. I've got to dash out of this hotel room and go ride it another half-dozen or so times tonight, and then write up a full account of the ride for tomorrow or the day after. I'm just popping online real fast to share an animated GIF that perfectly sums up how I feel about Rise of the Resistance right now. This image says far more in three seconds than I could say with any amount of words, and captures the spirit of the ride—and its sense of adventure and unpredictability—as elegantly as possible.
This is what I think about Rise of the Resistance at Star Wars: Galaxy's Edge.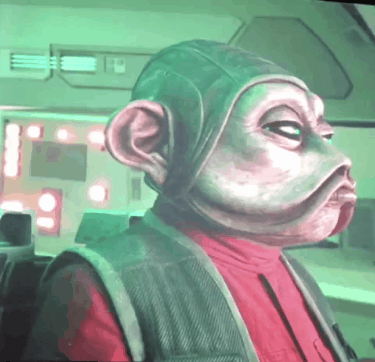 Feel free to use this GIF to congratulate friends and loved ones on any success, from weddings to birthdays to graduations to cult deprogrammings to hall of fame inductions to false alarm health scares to awesome new theme park rides. It's a truly universal depiction of approval, and yes, we approve of it—and Rise of the Resistance—heartily.