Jet-Set Bohemian: Summertime Rooftop Restaurants
Top photo courtesy of Hotel Indigo Lower East Side
Travel
Features
restaurants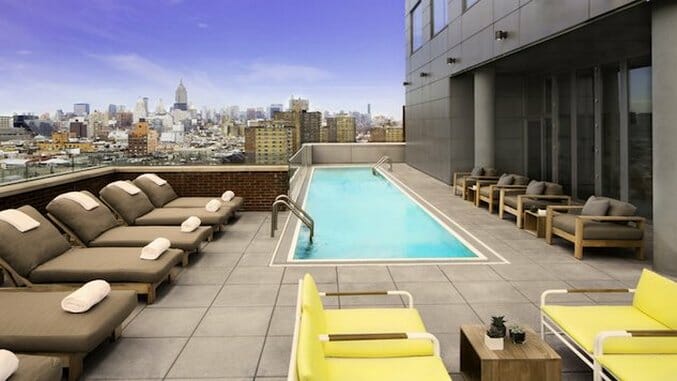 "This bar is incredible," a twenty-something guy in cut-offs says to his friend as the elevator opened up on the 15th floor rooftop bar and restaurant, Mr. Purple. "Could you imagine staying at this hotel?" The pair walked out into a room that was so packed, you would think it was New Year's Eve in Times Square, as opposed to a Saturday afternoon in New York City's Lower East Side.
When I mentioned to friends in the city I was staying at newish Hotel Indigo Lower East Side, everyone responded with the same line: "You'll love Mr. Purple."
I do love a good hotel bar scene and have definitely used this as a justifying factor when booking hotels in the past. Take the perpetually cool Ace Hotel New York lobby or the dimly lit Library bar at The NoMad, whose signature spiral staircase is imported from the South of France. I've never quite walked into a scene like Mr. Purple, though, where practically every inch was filled—from the skyline-facing bar to the rooftop terrace.
After a winter that dwindled on a bit too long, New Yorkers seemed desperate for any sign of summer's start. A bit of sunshine—and weather nearing 70 degrees—was all it took for a crowd to throw on jean shorts and flowy dresses and head to the nearest (and newest) rooftop bar in the neighborhood. The fact that a Kentucky Derby-themed party was taking place didn't hurt, either.
When you have a backdrop like New York City's skyline, it's hard to go wrong, and at Mr. Purple, the rooftop bar and restaurant capitalizes on one of its biggest assets. The indoor bar, stocked with small-batch spirits and regional craft brews, perfectly frames these skyscraper views with free-hanging light fixtures dangling delicately in front. Long wood tables and the modern, silver-tiled bar add an urban feel to the loft-like space. Outside, two terraces flank the rooftop pool. Reclaimed wood coffee tables and beach-inspired chaise lounges make the space feel as causal as joining friends for drinks in their apartment, yet still stylish enough to post on Instagram. Then, of course, comes the highlight of the experience—the cocktail menu. One of the favorites: the namesake cocktail composed of tequila, cranberry liqueur, allspice dram, apple and lemon—served up punch style.
As summer is about to kick off, take your dining—and drinking—up a notch to some of the newest rooftop restaurants to grace the globe, from this New York City hotspot to skyscrapers in Miami, former grainery-turned-boutique hotel The Silo in Cape Town and another one of New York's soon-to-debut hotels, Pod Brooklyn.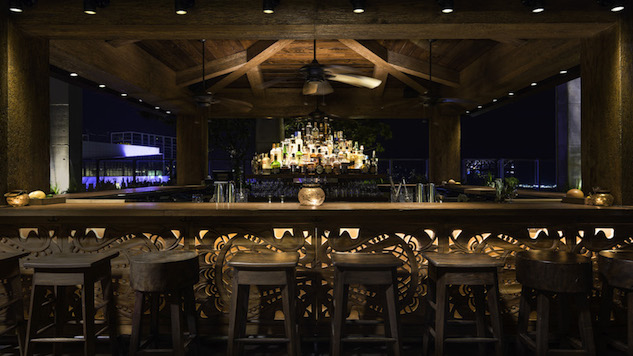 Photo courtesy of Sugar
At Downtown Miami's one-year-old Sugar, you can soak up prime skyline views from the 40th floor of the EAST, Miami hotel, where the rooftop bar and garden feels more like a scene from Southeast Asia than South Florida. The custom-crafted teak bar serves as a strong centerpiece, lovingly referred to as a "temple for drinking" by the restaurant's design director, Christian Schulz. Tables double as chess and checker boards, while tropical greenery adds a forest feel to each of the sofa-lined spaces. The Asian theme goes well beyond the décor here with a menu of cocktails sporting names like "A Night in Hong Kong" and "Sesame Sling," and dishes like braised beef buns and Bangkok spring rolls that fuse elements of Thai, Korean and Indian flavors.
If you're looking for something on the exclusive side, the new 28-room Silo hotel in Cape Town is home to a poolside rooftop restaurant that's reservation-only to the public. When the grain silo opened in 1924 along the Table Bay harbor, it was the tallest building in Sub-Saharan Africa. Now the former grain elevator houses the hotel, set six floors above the Zeitz Museum of Contemporary Art Africa (MOCAA) , slated to open in just a few months. From the Silo Rooftop, you can catch the sun setting over flat-topped Table Mountain, while noshing on bites from the tempura and raw bars. To really have a proper South African sundowner, order up a bottle of local bubbly from the nearby Franschhoek wine valley—whose French heritage dates back more than three centuries—that pairs perfectly with bar snacks like biltong, the country's version of beef jerky.
This summer, modular-style Pod Hotels is opening up its third New York location in Williamsburg. Similar to the group's other rooftop oases in the city, Pod Brooklyn Rooftop will show off views of lower Manhattan from four rooftop spaces. Start downstairs at Salvation Taco, Michelin starred-chef April Bloomfield and Ken Friedman's taqueria, before making your way to the top with light Mexican bites and cocktails in hand.
---
Lane Nieset is Paste's Jet-Set Bohemian columnist and a freelance writer covering all things travel from her home base in Nice, France.