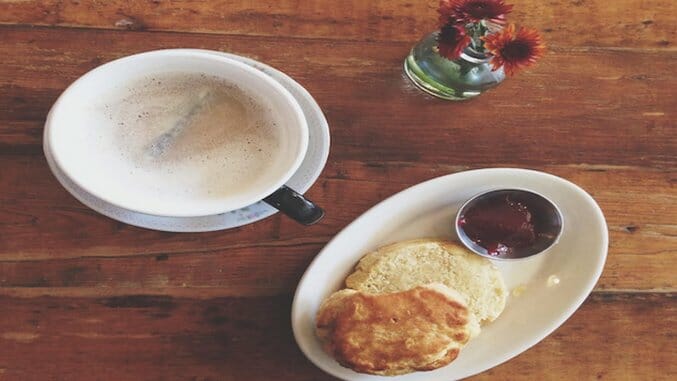 The proliferation of gluten-free options is, paradoxically, a boon and bane to people who are medically intolerant to the protein. Most restaurants treat it as a preference at best, and an annoyance at worst. And then, there's the very real hurdle of finding foodie-worthy fare that doesn't compromise creativity and artisanal standards while being gluten-free. Set your stomachs at ease in Seattle, however, where you'll be able to have your (gluten-free) cake and eat it too. Here, more so than in foodie metropolises like Los Angeles or New York, gluten-free restrictions are taken seriously—and available without culinary compromise. Here are five stand out spots to nibble and nosh at when you're visiting the Emerald City (whether you're gluten-free or not)!
Blue Moon Burgers
Blue Moon is here to fill the fried chicken-shaped hole in your little Celiac heart. At this fast casual eatery with four Seattle locations, the staff uses separate fryers for their gluten-free breaded chicken wings and tenders, as well as fries and onion rings. The wings are a highlight; the crispy breading cracks open in your mouth to reveal a steaming, moist meaty interior. Pair it with their half fries/half onion rings basket with a selection of gluten-free dipping sauces.
Capitol Cider
When was the last time you had gluten-free fish and chips? That's what we thought. At this unsuspecting little haunt on eighth and Pike Street in the heart of Seattle's Capitol Hill, the entire kitchen is dedicated gluten free—but it's quite possible to go through your whole meal and not realize it. From a winter squash soup with balsamic reduction to carrot top pesto gnocchi, their menu simply features American bistro fare, well done. Their fish and chips are a must: crispy, crunchy, flaky cod with a cream (not mayo-based) tartar that's a light complement to an otherwise rich meal.
Oddfellows
Oh, Oddfellows, we want to Instagram you from your head to your toes. Just two blocks away from the above-mentioned Capitol Cider, this wood paneled space (pictured at top) is the classic Capitol Hill brunch spot. Though they do use wheat products, servers take care to avoid cross contamination. Order a round of their gluten-free biscuits with butter or jelly and ask your server to heat them up. Pair them with an Earl Grey latte and their baked egg skillet with ham and spinach.
Flying Apron
Fittingly, this bakery's slogan is, "It's not about what you can't eat." Completely gluten-free and vegan, this is the place to get your wheat-free bread fix. Their pizza, specifically, is a standout; slathered in fresh, herby tomato sauce and piled high with vegetables, it's homey comfort food at its best. Their sweet offerings also deserve highlighting; the apricot thumbprint cookies are justifiably popular.
Homegrown at Melrose Market
This charming Seattlewide sandwich chain has sustainably, largely locally sourced fare that includes gluten-free sandwiches with Beecher cheese. This bread gets mixed reviews, but the real highlight is their melt-in-your-mouth chocolate cookie sourced from Kent, Washington-based WOW Bakery. Chewy, rich, generously studded with melty chocolate chips, we dare you to offer them to your friends without telling them they're gluten-free. They probably won't notice.
Gowri Chandra is an LA-based writer who's probably stuck in traffic right now, dreaming of vegan nachos.