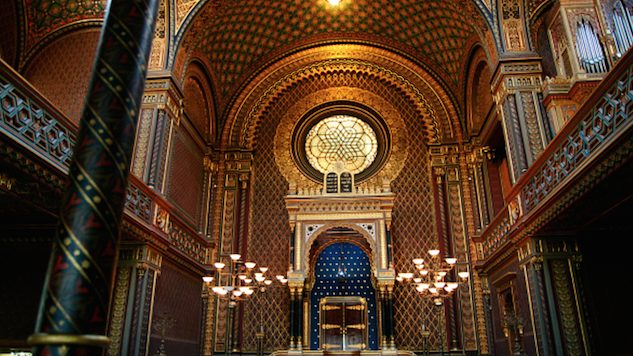 Beneath Prague's ethereal architecture, steadily flowing taps and crystalline splendor lies a taste of the surreal unearthed by Franz Kafka, master of the nightmare and champion of 20th-century literature. Kafka spent most of his tragically short life in Prague, and while it may not be overt, the impact it left on his work is undeniable.
Kafka's existence corresponded with an era of prosperity for Prague's artists, intellectuals and Jewish community, slipping away before the next few decades brought havoc to his country and people. However, Kafka plagued himself with the same anxiety he used to warp the human psyche through the medium of words, using the anonymous city to channel his subterranean horrors. Explore Prague's eerie undertones at these spots that impacted or honored one of its most famous residents.
1. Old-New and Spanish Synagogue
Kafka attended services at the Old-New Synagogue with his father a handful of times a year. The structure dates back to the 13th century and is the oldest preserved synagogue on the continent. During Kafka's lifetime, European Jews experienced an epoch of economic and social prosperity that is best illustrated by Prague's Spanish Synagogue. Built in 1868, the house of worship, outfitted in deep hues and Moorish design, honors this period as well as 19th and 20th-century Europe's most notable Jewish figures including Kafka and Sigmund Freud. The Jewish Quarter's unofficial monument to Kafka stands to the right of the synagogue's entrance.
2. New Jewish Cemetery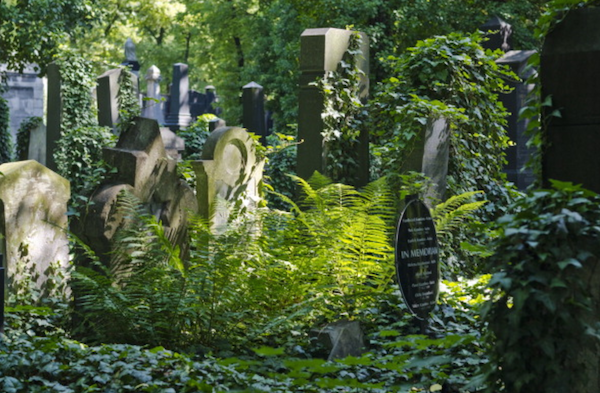 Photo by Frank Bienewald/LightRocket via Getty Images
Pay a visit to Kafka's grave in the New Jewish Cemetery. Diehard Kafka fans congregate at the cemetery every year on June 3, the anniversary of his 1924 death. In addition to the cultural icon, the burial grounds, founded in 1891 and located in the Žižkov district, profoundly commemorate the Czechoslovak Jews who died in Terezin during the Holocaust in their 1985 memorial.
3. Lucerna Palace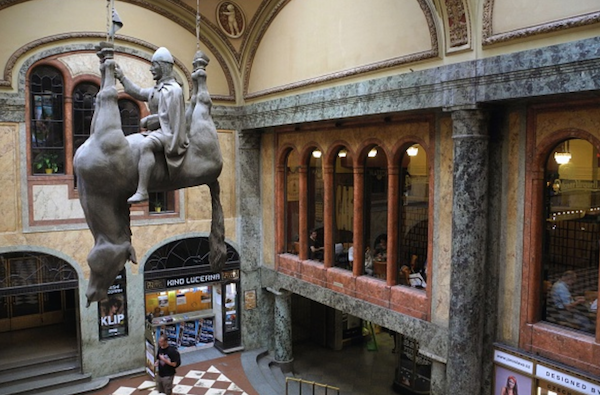 Photo by Meißner/ullstein bild via Getty Images
Vaclav Havel completed this Art Noveau staple, Prague's first multi-use palace, in 1921. Palace attractions include the Lucerna Music Hall, Cafe Lucerna and the Lucerna Cinema, where Kafka's crew drank and saw films. Today, it remains a cultural promenade, serving as Prague's best venue for live music and premieres. Newer additions include the Galerie Lucerna and David Cerny's 2000 hanging "memorial" to King Wenceslas (and possibly former Czech president Vaclav Kraus).
4. Café Imperial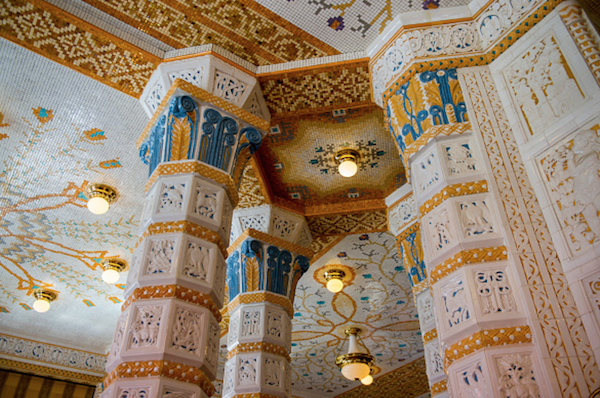 Photo by Wolfgang Kaehler/LightRocket via Getty Images
Several of Kafka and the intellectual elite's old haunts, namely Café Imperial, Café Mozart and Café Slavia, exist today as with Prague's vibrant cafe culture. Stop by all three to grab a coffee, mint tea or drink, but if you're looking for food, Café Imperial has the best, with a Michelin star and dishes that cause a momentary lapse in table manners. Tilt your head back to admire the Art Deco establishment's ornate mosaic ceiling before destroying a bowl of dill soup with poached egg or foamy truffle gnocchi.
5. Franz Kafka Museum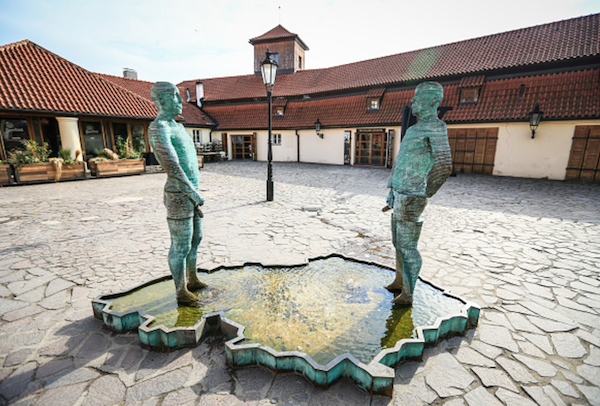 Photo by Aziz Karimov/Pacific Press/LightRocket via Getty Images
Opened in 2005, Kafka's namesake museum in the Malá Strana district puts the dichotomy of Kafka and Prague on display. One side, "Existential Space," examines Prague's effect on Kafka's mind and work; the other, "Imaginary Topography," explores Kafka's weaving of Prague into the surreal. On the way through the museum's dreamscape, you'll encounter first editions of Kafka's work and previously unreleased letters, diaries and manuscripts that offer a glimpse into his mind.
Main photo by PHAS/UIG via Getty Images
Sarra Sedghi is Paste Food's and Paste Science's assistant editor. Her eternal food baby is named Frederick.