Where to Find Great Cannabis Experiences in Portland, Oregon
Main image courtesy of High 5 Tours / Maxwell PR
Travel
Lists
portland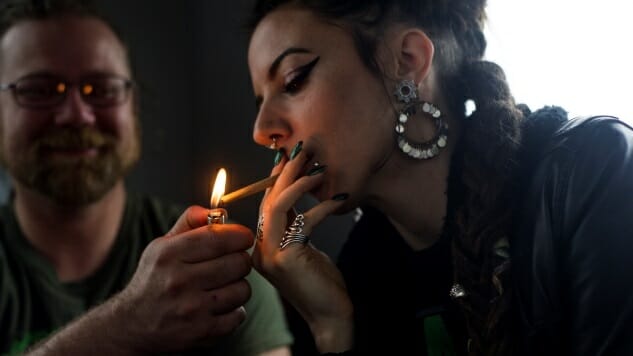 Medical CBD and cannabis might be the best we can do in many states, but these three cannabis experiences in Portland, Ore. are opening up opportunities for education and experimentation for anybody visiting the state. As many as one in four Americans have tried CBD to relieve stress, pain and anxiety according to BioMD+ and the industry is even set to hit $20 billion in the next four years. With innovative tech solutions for growing, harvesting and processing the plant, cannabis tourism is only expanding as interest and intrigue continues to grow.
From all-inclusive-style cannabis hotels and high-end dispensaries, to farm tours and dispensary-studded outdoor adventure activities, there are tons of cannabis tourism opportunities becoming available thanks to Oregon's recreational use laws. The curiously-minded can now dive into the scene to experience and learn more without any inhibition. Thanks to these very welcoming and knowledgable outfits, cannabis tourism is taking off in a wonderfully approachable manner.
Visit a Dispensary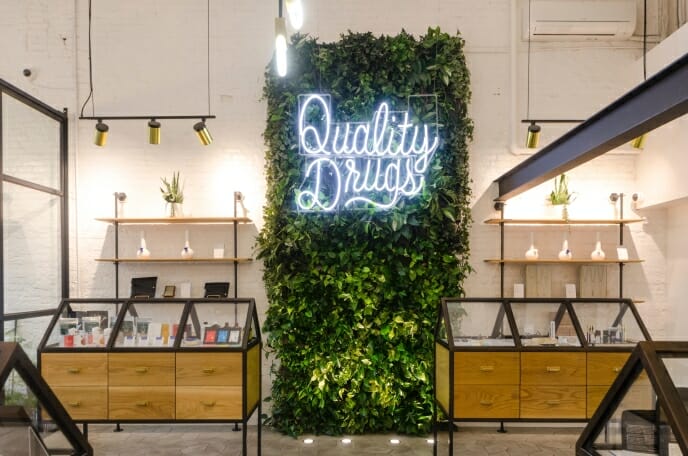 There's no shortage of dispensaries in any of Portland's districts, but even if it's raining, the sometimes soggy walk out to visit a dispensary is worth the experience. Each dispensary has its own personality. Some feel like craft brewing tasting rooms, dive bars, or even highly Instagrammable pharmacies. Whether you are looking for mints, caramels, gummies, pre-rolled joints or just quality flower, you'll find it in Portland's dispensaries.
Serra is one to visit for a high-end, design-forward aesthetic in downtown Portland. Step across the tiled "Quality Drugs" entryway and into the gallery-like space. Serra is great for beginners because of their approachable "Feeling Card" that guests can complete and talk with the staff about in order to find the right strain. Though the card helps you find codified flower by symbols that represent focus, relaxation or happiness, the knowledgeable staff can also assist in directing you to other products that may better suit you.
For those looking for a more down-to-earth and approachable staff, visit Oregon's Finest in the Pearl District. While this shop delivers, the local art on the walls and the incredibly helpful staff are reason enough to go in-person. They are wonderful at directing you to new products that you may enjoy based on past experiences or strains that did not work well for you.
---
Book a 420 Hotel Experience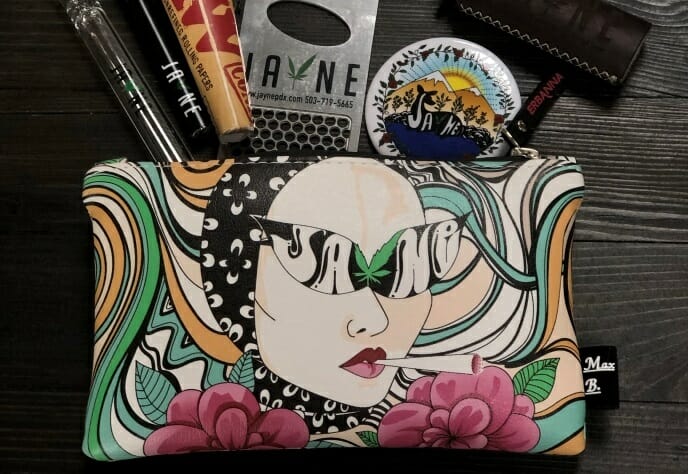 One of the best 420 hotel experiences you'll find in the city is at The Jupiter Hotel. The 420 Overnight Package provides you with everything but the weed and a discount voucher to local dispensaries. You'll also find the most recent copy of Oregon Leaf to better understand local news and culture in the cannabis industry. A munchies kit will also come in hand later in the night too. Head out to a local dispensary to shop around or simply have a dispensary delivery come to you.
---
Take a Tour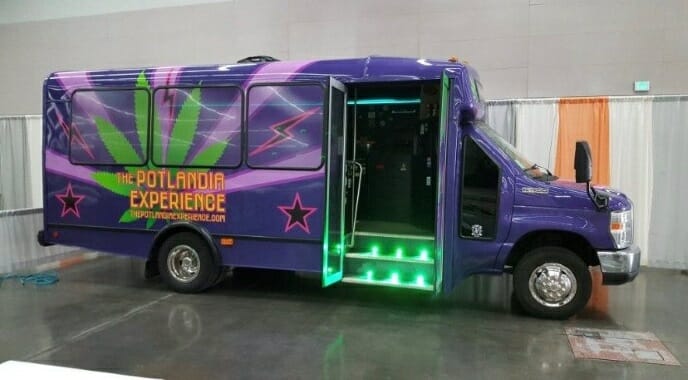 There are quite a few tour experiences to choose from in Portland too. Whether you want to get outside of the city to see some of Portland's best attractions like Multnomah Falls or you're looking for a more educational experience, there's a highly capable and knowledgeable operator out there.
High 5 Tours offers Cannabis Adventure tours that range from farm tours around the region to the ultimate Portland experience: Multnomah Falls. After visiting a few dispensaries and seeing the falls and climbing to the bridge, head to Vista House for an incredibly scenic view across the Columbia River Gorge. Head to Hawthorne Alysum, a row of food carts with tons of great options to choose from, to refuel and feed your munchies.
Another great tour option is the Potlandia Experience—a marijuana and microbrewery tour. This is a favorite for those who are curious and interested in the legal cannabis scene, but who would rather drink than smoke. Hop on the Pot Tour Bus and take off for a cannabis farm where you'll get a Weed 101 class. Along the way, you'll also visit a microbrewery to enjoy a pint or two.
Serra photo courtesy of Serra
Juniper Hotel's "Everything but the Wee" kit photo courtesy of Juniper Hotel / Maxwell PR
Potlandia bus photo courtesy of Potlandia Experience / Maxwell PR
---
Molly Harris is a freelance journalist. You can often find her on the highway somewhere between Florida and North Carolina or taking life slow in Europe.