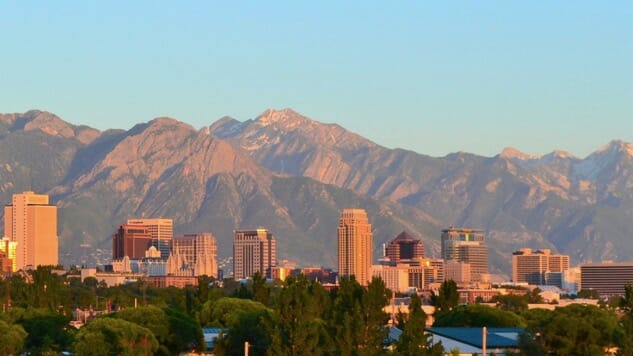 For the outdoor gear industry, the sun has set on Salt Lake City, ending a 20-year love affair with the Utah Capital, host of the biannual Outdoor Retailer show—where all the outdoor and adventure brands you've heard of, and legions you haven't, gather to unveil the latest and greatest outdoor, active and travel products each summer and winter. As of last week, show organizers are looking for new hosts.
This latest move is the culmination of a steady buzz of activity over the last two months, largely in response to Utah's Governor Gary Herbert. The conservative politician recently signed a resolution to urge Donald Trump to rescind the national monument status that Obama granted the Bears Ears region, a 2,112-square-mile parcel of land dominated by two mesas in the southeastern part of the state. The request promoted Patagonia, Arc'teryx, and a handful of other brands to announce that they were withdrawing from participating in the Outdoor Retailer show to protest Gov. Herbert's request.
Others in the industry, like PR vet Jen Taylor, who penned an open letter to Patagonia founder Yvon Chouinard and Peter Metcalf, owner of Black Diamond Equipment, suggest that now's the time not to withdrawal, but to bring the fight to the state itself by attending OR and opening a dialog—in person—with the state.
That approach may be effectively moot now; last week representatives from OR, including Patagonia, REI, The North Face, and the Outdoor Industry Association (OIA), organized a call with Gov. Herbert to ask him to agree to four stipulations (end legal efforts that would facilitate the sale of public lands, end efforts to nullify the Antiquities Act, stop efforts to rescind national monument status, and support other public lands in the state) that would serve to demonstrate that his office was in favor of public land policy. And his lack of commitment to address any of those issues has inspired the OIA to find a new home for OR.
"It is clear that the governor indeed has a different perspective on the protections of public lands from that of our members and the majority of Western state voters, both Republicans and Democrats — that's bad for our American heritage, and it's bad for our businesses," the OIA wrote in a statement. "We are therefore continuing our search for a new home as soon as possible."
The show brings about 40,000 attendees and $45 million to Salt Lake each year, money that several regional businesses and SLC residents rely on to stay afloat. And Emerald Expositions, the show's owner, has indicated that they will no longer consider Utah as an option for the soon-to-relocate Interbike Show, another big industry event for the cycling community that's currently hosted in Vegas.
This marks a wider trend toward activism within the outdoor space, something that's always been part of the industry's DNA, but one that often doesn't get as much attention as the latest leap in waterproof/breathable technology. Back in December 2016, Outside profiled how the industry, which boasts $646 billion annually, according to a 2005 study by the OIA, will start to leverage their economic might to push for regulation that adheres to their core values of conservation and against climate change. And legions of companies like Columbia Sportswear and REI came out in January in adamant opposition to Trump's immigration ban.
OR's departure from Salt Lake will have impacts, as an open letter from the city's mayor articulates. And even though hotel rooms were increasingly impossible to secure during the biannual, four-day event, the city's close proximity to the mountains will be missed. The only way legions of outdoor enthusiasts can survive for days under the fluorescent glow of a conference room is with the promise of hiking, biking, skiing, climbing or running only 30 minutes away. Other cities, like Denver, which boasts that its beer is stronger and mountains are taller, will clamor to fill the void.
Beyond the to-be-determined future of Outdoor Retailer, another trend is emerging in the outdoor space, largely in response to the new administration: As long as politicians strive to reduce and eradicate the protection of public lands and lean more heavily into a xenophobic, us-vs-them ideology, the outdoor space will leverage their voice—and their dollars—to try to make a difference.
Read more about Bears Ear National Monument
Image: Garrett, CC-BY
Nathan Borchelt is a gear-obsessed travel writer and adventurer whose collection of shoes, backpacks, jackets, bags, and other "essential" detritus has long-outgrown his one-bedroom apartment (and his wife's patience).