Few experiences produce more dread in a New Yorker than a visit to Times Square, especially if it includes a stop at the stadium-sized Toys R Us with the 60-foot Ferris wheel. Sidewalk-spreading tourists and Batman meltdowns add to the pain, but the stress mostly stems from the steady stream of visiting friends who all want to see the Empire State building, Lady Liberty and every other attraction promoted in midtown hotel lobbies. Paste's proposed weekend in Gotham has none of that.
A real New York experience includes street murals, pop culture landmarks, emerging art scenes and culinary hotspots that never met a Groupon. The phrase "city that never sleeps" originally applied to the Bowery in lower Manhattan, not the city as a whole, and the neighboring Lower East Side (LES) rarely sleeps within a nine-block micro-hood affectionately called Hell Square. If these spots sound like an ideal home base for exploring NYC, this weekend layover is for you.
Day One
Morning: Art Sick in Bushwick
Start the day with a Montreal-style bagel at Black Seed Bagels on Elizabeth Street (near Spring Street), and then catch the 6 train north to Union Station, and the L train east to Jefferson. One block east of Jefferson Street, take Troutman Street toward St. Nicholas Avenue, and watch the Bushwick Collective street gallery burst off the walls with massive murals.
"The Bushwick Collective spearheaded the rapid change that the neighborhood has seen in the past few years," says Brooklyn artist Beau Stanton, who has a mural on Troutman. "Today the street is almost unrecognizable compared to when the mural project began a few years ago."
After spending a good hour blowing up Instagram with street art, choose a lunch spot based on the day of the week. For weekends, walk up Troutman Avenue several minutes into Queens, turn left on Woodward Avenue and walk another few minutes to Metropolitan Avenue. Across the street, Bun-Ker offers a divine take on Vietnamese street food with menu items like crispy soft-shell crab served up by an Eleven Madison Park alum. Bun-Ker is small and popular, so try to arrive when it opens at noon. If during the week, head west to Moore and Bogart Streets for dishes like braised beef shin at Roberta's, a bearded hipster farm-to-table restaurant whose weekend brunch wait makes a TSA line look snappy.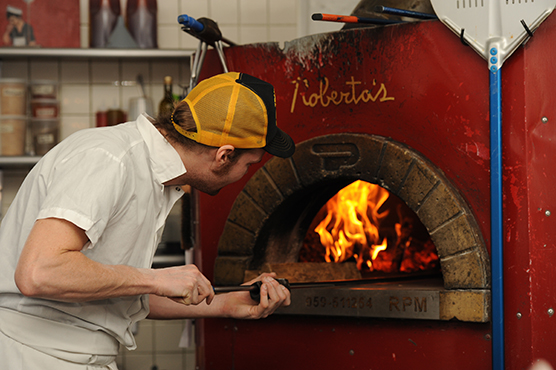 Roberta's in BrooklynPhoto by NYC & Company/Julienne Schaer
Afternoon: The Return of El Barrio
With neighborhoods like Williamsburg going all J.Crew, Brooklyn gentrification priced out young artists untethered from daddy's cash teet, but a fresh new scene is emerging in Spanish Harlem, a.k.a. El Barrio. From Bushwick, take the L train back to Union Station and head north on the 6. The Museum of Modern Art (51st station) and the Metropolitan Museum of Art (86th station) are optional detours, but exit at 110th for a scene in the midst of a comeback.
First, admire the past at the Graffiti Hall of Fame at East 106th Street and Park Avenue (yes, like the BET show), and then take in the future at Jonathan Chanduvi's Studio 323 on East 108th Street (between 1st and 2nd Avenues.). The Peruvian-born artist is a third-generation restorer who worked on Terracotta Warriors and Han Dynasty horses before turning 30, and his multi-discipline skillset now creates original art in a 21st-century Jackson Pollock style.
After the gallery, walk north through SoHa (South Harlem) to East 125th Street to see Harlem's main retail street. More optional detours include the Apollo Theater on West 125th Street and the legendary Rucker Park basketball courts at West 155th Street and 8th Avenue.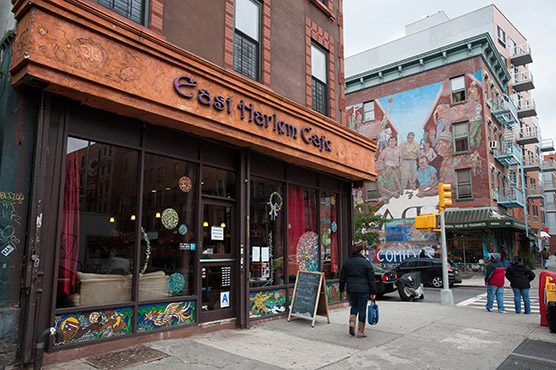 East HarlemPhoto by NYC & Company/Julienne Schaer
Evening: Thai, Lady Gaga & The Beastie Boys
For dinner, head to Spring Street (just off the Bowery) to see how former Per Se cooks transform Thai cuisine into taste-bud gold. Uncle Boons serves up dishes like charcoal-grilled blowfish tails, crispy pork belly-stuffed squid and shrimp-paste pork riblets that appeal to restaurant snobs and non-foodies alike. A regular go-to favorite is the boneless beef ribs with massaman curry and a side of roti. After dinner, see why MTV turned LES into a virtual reality by heading east into Hell Square (Allen Street, Orchard Street, Ludlow Street and Essex Street east-to-west; East Houston Street, Stanton Street, Rivington Street and Delancey Street north-to-south).
At Ludlow and Stanton Streets, Pianos is a bar and live-music venue housed in an old piano showroom, and Lady Gaga—then an LES go-go dancer and singer living on Stanton Street—regularly performed here before going global. From Pianos, head one block south to appreciate the Beastie Boys mural at Ludlow and Rivington Streets, the corner featured on the cover of Paul's Boutique. Ludlow Street is also where Lou Reed and John Cale shared an apartment and recorded the six-song demo that led to The Velvet Underground & Nico. Hell Square has bars like Disney has mouse ears, but Marshall Stack (corner of Allen and Rivington Streets) is the top choice for a well-curated draft selection and a throwback jukebox playing T. Rex and Black Flag.
Day Two
Morning: Bridge It to Brooklyn
Start the morning with a sugar rush at the Doughnut Plant on Grand Street (near Norfolk Street) and ponder the adventure of crossing the 19th-century Brooklyn Bridge on foot. With so many sweets on the day's schedule, the walk might help. Find the bridge entrance at City Hall, or train it on the A, C, 2, 3 or F exiting at the first Brooklyn stop.
Once across the East River, movie buffs should find nearby Washington and Water Streets to recreate the iconic Manhattan Bridge shot from Sergio Leone's 1984 classic Once Upon a Time in America. From there, head to Old Fulton Street under the Brooklyn Bridge for NYC's ultimate pizza rivalry, Grimaldi's vs. Juliana's. With a family pizza tradition dating back to the 1930s, Patsy Grimaldi opened the Brooklyn Bridge Grimaldi's in 1991 and sold it (along with the name) in 1998. Following a rent dispute, the new owner moved the pizzeria a few doors down, and what comes next is vintage New York. After the "non-compete" period, Patsy came out of retirement and opened Juliana's in the original Grimaldi's spot, next to the new location. For the man who bought the name, this went over like Mayor de Blasio hugs at an NYPD picnic. Though the edge goes to Juliana's, both pizzerias make world-class pies, but arrive when they open to avoid long lines. Grimaldi's opens at 11:30 a.m. on weekdays, noon on weekends, and Juliana's at 11:30 a.m. daily.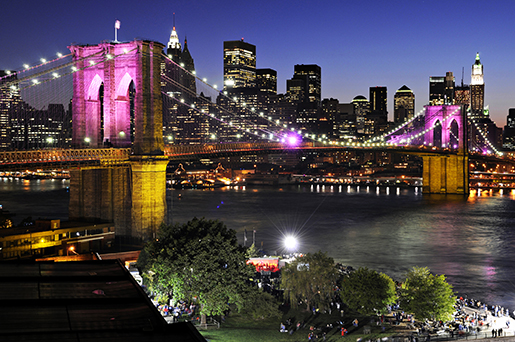 The Brooklyn BridgePhoto by NYC & Company/Julienne Schaer
Afternoon: Ice Cream + Cookie Shots = Heifers
After lunch, continue down Old Fulton Street to Brooklyn Bridge Park for the best views of Lower Manhattan. During the warmer months, Ample Hills Creamery has ice cream carts and a kiosk in the park, and flavors like Snap Mallow Pop (marshmallow with buttery Rice Krispie chunks) and Sweet as Honey (sweet cream with homemade honeycomb) make for the best ice cream in the city. Leaving the park, take the C or E train to Manhattan, exit at Spring Street and head east to Dominque Ansel Bakery for another sweet indulgence. At 3 p.m. each day, the famed Cronut creator serves a limited number of vanilla milk-filled chocolate-chip cookie shots that are addictive enough to get the Cookie Monster turning tricks.
From there, continue on the C or E to 14th Street, go west to 10th Avenue and up the stairs to explore the High Line, an elevated 1.5-mile park that stretches from Gansevoort Street to West 34th Street. Finish the afternoon with a beer at Hogs & Heifers (West 13th and Washington Streets), a rowdy biker bar that helped inspire the 2000 film Coyote Ugly.
Evening: Bugs, BYOB or Kangaroo
In the East Village, stroll down St. Mark's Place (East 8th Street) for pop culture landmarks like the tenements at 96-98 St. Mark's Place. This apartment building graced the cover of Led Zeppelin's Physical Graffiti and provided the backdrop for the Rolling Stones' video "Waiting on a Friend." A few blocks west, the long-lost Electric Circus at 19-25 St. Mark's Place hosted Andy Warhol's Exploding Plastic Inevitable in the 1960s, while the Gem Spa (at 2nd Avenue) provides the backdrop for the New York Dolls back cover. Exemplifying the area's creative heritage, Madonna (East 4th Street), Andy Warhol (East 6th Street), Joey Ramone (East 9th Street), Iggy Pop and Charlie Parker (both Avenue B) are among the artists who once called East Village home.
For dinner, choose from three options that epitomize NYC diversity. First, Panna II on 1st Avenue (near East 6th Street) offers inexpensive Indian food, a liberal BYOB policy (including hard liquor) and about a million Christmas tree lights raining from the ceiling. Second, Black Ant on 2nd Avenue (near East 4th Street) is a high-end Mexican restaurant that specializes in … wait for it … insects. Dishes include ant guacamole, grasshopper-mezcal bisque and the off-menu cricket tacos. Lastly, Flinders Lane on Avenue A (above East 10th Street) serves elegantly prepared modern Australian cuisine with culture-bending dishes like shrimp coconut curry laksa, grilled lamb cutlets and peppered kangaroo loin.
After dinner, finish the evening with a nightcap at the Back Room (102 Norfolk Street) in LES. Once at the address, enter the metal gate for Lower East Side Toy Company, walk through the dark alley and climb the stairs toward the toymaker façade. Step through the door and step back in time with a speakeasy that first opened during Prohibition. The Back of Ratner's, its 1920s name, hosted personalities like Bugsy Siegel, Lucky Luciano and several Roaring Twenties actors. Using the same hidden entrance, the Back Room retains the vintage ambiance and serves cocktails in teacups just like the old days.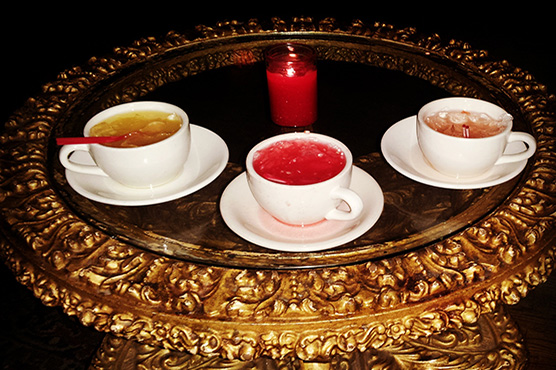 The Back Room
Places like Times Square are for tourists who buy I ? NY shirts and then actually wear them here. Scratch beneath the surface, however, to find the side of New York that attracts innovators, artists, chefs and designers from around the globe.
Getting There
Among the 80 or so airlines operating out of Queens-based JFK airport, jetBlue, Delta and American have the most domestic flights, while Virgin America is a popular choice from left-coast cities like Los Angeles and San Francisco. LaGuardia, a smaller airport in Queens, adds Southwest and Spirit to the airline line-up. Several train and bus lines also connect NYC to most major cities in the U.S. and Canada.
To Stay
The Hotel on Rivington is the type of place where Jay-Z throws a penthouse party for Fabolous and the Killers stay after playing Madison Square Garden. For people who want the energy levels, views and thread counts high, this stylish modern hotel stands tall in the heart of Hell Square. Rooms start at $225.
Mere steps from the old CBGB's, the 17-story Bowery Hotel is the personification of cool with celeb clientele (Blake Lively, Rachel Bilson), ceiling-to-floor windows and art events for trendsetters like Domingo Zapata. Florence Welch (of + The Machine fame) even burned down a room once. Rooms start at $325.
David Jenison is a Los Angeles native. He has covered entertainment, restaurants and travel for more than 20 years as a writer and editor.