It's pretty hard to keep the Big Easy down. Some of the most compelling proof can be found in New Orleans' currently booming culinary scene. Ten years after Hurricane Katrina devastated the city, there are almost twice as many restaurants open and thriving, with more and more new eateries opening their doors all the time. Combine them with longtime favorites like Commander's Palace and Galatoire's, and you've got a lot of dining options.
In a city so known for outstanding cuisine, it's hard to go wrong; you can trust your taste buds with a good percentage of these places. But still, sifting all the choices can be tough, so here's a little help: five of NOLA's best new food-sources (opened in 2015).
1. Willa Jean
Cheery sunshine streams into this airy bakery and cafe through floor-to-ceiling windows where the hungry gather to indulge in hearty breakfast, brunch, lunch and dinner fare. Breakfast and brunch are popular at Willa Jean (pictured at top), so weekend mornings are crowded, but seats at the sparkling quartz-countered bar lit by wire-whisk-like Edison bulb pendants open up pretty quickly. Get your caffeine fix with a latte or pour-over coffee and build your own big biscuit sandwich with choices like country fried steak or chicken sausage (embellished further with a fried egg and American cheese). If it's eggs your craving, opt for Eggs in Purgatory—bites of country sausage and a veggie-laden tomato sauce bubble underneath a layer of eggs in a sizzling cast iron skillet. Break in with your fork to release slightly runny yolks into the goodness below and use the thick slice of crusty grilled bread for soppin'.
2. Balise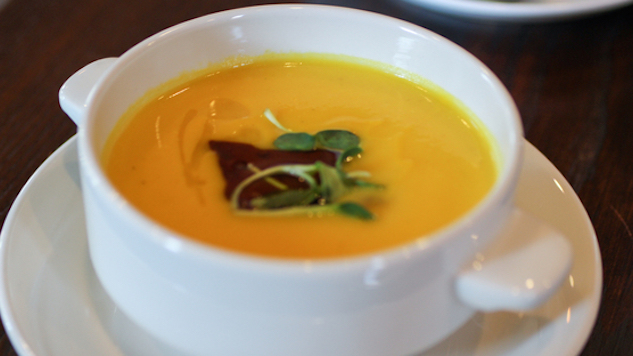 Occupying a corner of a bright coral building (a 19th century townhouse) in the central business district, this new offering from chef Justin Devillier (who also owns La Petit Grocery) is yet another feather in the established chef's cap. Balise's lunch menu is dominated by hot and cold small plate and snack options, inviting diners to mix and match a variety of tastes and textures. Start with soup; selections change daily, but a bowl of silky pureed butternut squash with a sprinkling of salted dark chocolate chips (that melt into a dark swirl, striking against the gourd's bright orange) coats your mouth in a marriage of bitter, rich and sweet. Continue with gifts from the sea; plump oysters are shucked and steeped with wood smoke in-house before being dusted in cornmeal and fried crisp, adding layers of flavor that compliment but don't cover the bivalves' mineral-based brine. Don't leave a drop of the vibrant parsley emulsion that they're sitting on behind. Pair them with hand-cut fries and malt vinegar aioli.
3. Angeline
When chef Alex Harrell, formerly of Sylvain, decided to open his own place, the Alabama native knew he had to call it Angeline, honoring his mother's "charm, hospitality and elegance" by borrowing her name for an eatery he hopes embodies the same qualities. Tucked into a quieter section of the French Quarter, it does. Flickering gas lanterns softly welcome guests into a warm, cozy space composed of two dining areas with a bar in between. A table by windows affords excellent people-watching opportunities while you sip a Promise's Ghost (a fizzy, barely sweet blend of Pimm's, pisco, strawberry and bubbly), nibble on pork-fat cornbread muffins and wait for Harrell's contemporary Southern cuisine that's based on his cooking experiences in South Carolina and New Orleans (as well as his personal food memories of Alabama) and laced with Mediterranean influences. Dip rice-flour battered and flash-fried cauliflower in the aioli salted with black olives, capers and anchovies. Then dig into Mississippi rabbit Milanese—tender meat breaded and bathed in tomato gravy resting on a bed of bacon, braised collards and smoked carrot puree.
4. Shaya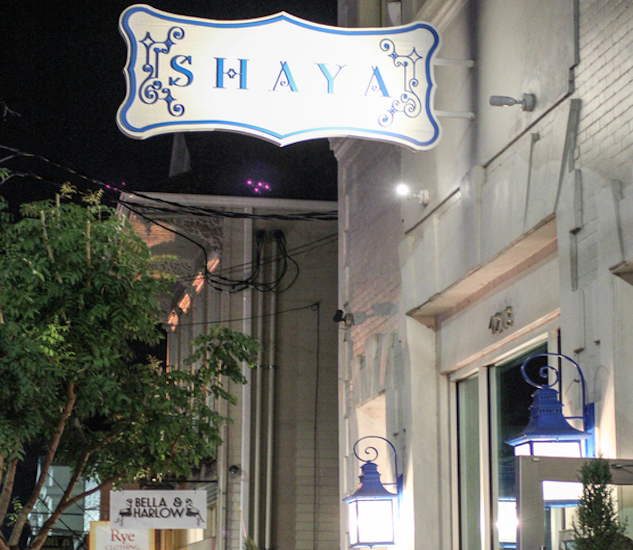 A modern take on Israeli cuisine spiked with some fresh Dixie-sourced ingredients results in a delicious departure from the ordinary at this sleek restaurant resting between the shops of Magazine Street. At Shaya, James-Beard-award-winning chef Alon Shaya brings the flavors of his Israeli heritage to NOLA, including pita bread that is worth the visit alone. Piping-hot rounds, still puffed with steam, arrive at your table seconds after being pulled from the dome-shaped wood-fired oven in the back of the dining room. Rip one open, inhale the intoxicating scent, and then scoop up a mouthful of velvety hummus (choose from multiple varieties), earthy baba ghanoush or housemade yogurt. Ground lamb kabobs with a strong hit of cilantro and a spicy red pepper sauce go well with a golden disk of twice-cooked Persian rice that's crisp on the outside and soft on the inside and tastes like butter with a crunch.
5. St. Roch Market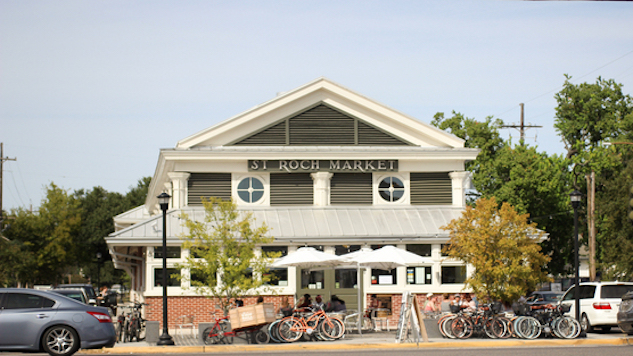 This collection of food vendors occupies an open light-filled space where stalls line the sides and congregate in its center with thick, ornate columns. The circa 1875 marketplace was given new life this year when it reopened as a food hall featuring produce from area farmers, baked goods, and a diverse array of delights that you walk up, order and then eat at the seat-yourself, high-top tables in the middle section. Enjoy oysters on the half-shell from Curious Oyster Company, regional classics from King Creole, cured meats and artisan cheeses from Shank Charcuterie, or made-to-order savory crepes from Dirty Dishes. The chicken enchiladas from La Mezcla are packed with seasoned, shredded yard bird and melted cheeses swimming in salsa verde and topped with a drizzle of crema and crumbles of a piquant cotija.
Jennifer Stewart Kornegay is a freelance writer based out of Montgomery, Ala. She writes about food and travel and traveling for food.