For the longest time, Mexico's beer scene—in the minds of outsiders, at least—has amounted to Corona, Sol and that dapper bearded gent purportedly regarded as the most interesting man in the world. But over the past decade, the country has seen an explosion of cervezas artesanales, many of which measure up nicely to their American and Canadian counterparts.
That said, it's not always easy to track down a bottle or a pint of the good stuff. So far, Mexico's craft beer renaissance has been mostly an urban phenomenon, and the further you drift from metropolises like Mexico City or Guadalajara, the fewer breweries or specialty retailers you'll encounter. And although Mexican beer is readily available at corner stores—and very cheaply, too—the selection there is typically limited to the major brands, most of which are pretty nondescript.
So how do you ensure your Mexican craft beer adventures are both happy and hoppy? Here are five breweries you'll definitely want to seek out next time you head south of the border.
Cerveceria de Baja California
Mexicali's Cerveceria de Baja California is one of the true pillars of the country's craft beer scene. They've been producing their Cucapa line of beers (pictured above and named after an indigenous culture that lives on the Arizona/Mexico border) since 2002. Their Cucapa Obscura, an easy-drinking brown ale with date and raisin notes that clocks in at around five percent ABV, is one of the most widely-encountered craft beers in Mexico. But they also offer more adventurous choices, including a double rye ale and what's possibly the country's only commercially-available barley wine. And if you live in the Southwestern U.S., you might even be able to sample a Cucapa brew before you cross the border, as Baja California's one of the few small Mexican brewers that distributes outside the country.
Cerveceria Calavera
Spend any time in Mexico and you'll soon be swept up in the country's all-encompassing love affair with chile peppers. Thanks to Cerveceria Calavera, located just north of Mexico City in Tlalnepantla de Baz, that obsession extends to beer, too. Of Calavera's standard offerings, their most intriguing is their chile-infused imperial stout: a complex, bewildering potion that hits the taste buds with a wallop of chocolate and coffee before gradually fading into a warm, pleasing burn. They also brew Belgian-style dubbels and trippels, a witbier and a pale ale, as well as a number of seasonals and one-offs. Their bold, psychedelic labels are hard to miss.
Santisima Flor de Lupulo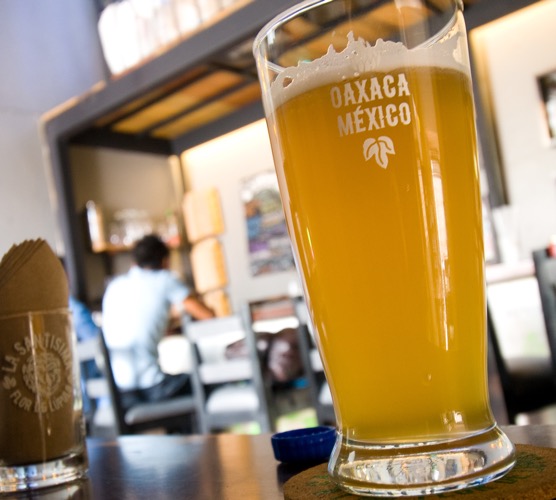 Photo: Trevor Pritchard
You'll have to travel to the charming southern city of Oaxaca to taste Santisima Flor de Lupulo's creations because, at the moment, they're only available en barril (basically, on tap) from their tiny brewpub just a few blocks from Oaxaca's historic centre. They rotate their taps fairly frequently, and if you're lucky you'll show up just as they've cracked open a barrel of their intense "guayawit," a wheat beer brewed with a generous helping of guavas. While Santisima's own brews are a bit pricey by Mexican craft beer standards (prepare to pay about 50 pesos for a half-pint) their inexpensive, delicious tapas more than make up for it.
La Graciela
There are few things better than a pint of impeccably brewed craft beer, but a liter of impeccably brewed craft beer is one of them. That's one of the many reasons to visit La Graciela, a cozy watering hole tucked away on Calle Orizaba in Mexico City's urbane, tree-lined Roma Norte neighborhood. Grab a giant mug of their pale ale and a delicious bistro-inspired sandwich (served with homemade potato chips) and you might soon think you've been transported to Prague or Bruges—until a vendor wanders in off the street and offers to sell you some traditional Mexican weaving. If you don't like what La Graciela's brewed themselves, don't worry … the majority of their dozen or so taps are devoted to other Mexican craft beers.
Cerveceria de Colima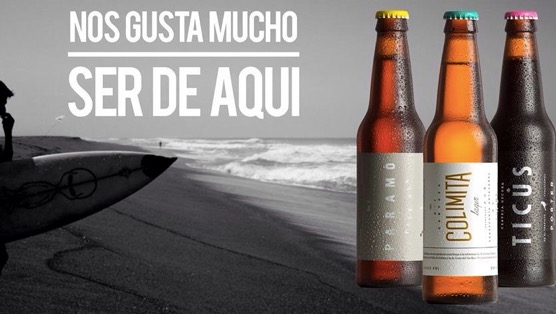 Photo: Flickr/Mario Chavez
One of the few Mexican craft breweries not found in a major urban centre, Cerveceria de Colima is tucked away just outside the Pacific coast city of the same name, in a former lemonade factory resting at the foot of one of the country's most active volcanoes. Although their headquarters might be off the tourist path, Colima's done good job of ensuring their smartly-designed bottles (just look for the pastel-colored bottle caps) are available in the big cities. Try their surprisingly crisp porter, which is bold yet refreshing; if you're not a fan of the dark stuff, Colima also brews a pale ale and a lager. Their head brewer is an American ex-pat.
Trevor Pritchard is a freelance writer and photographer based in Ottawa, Canada.