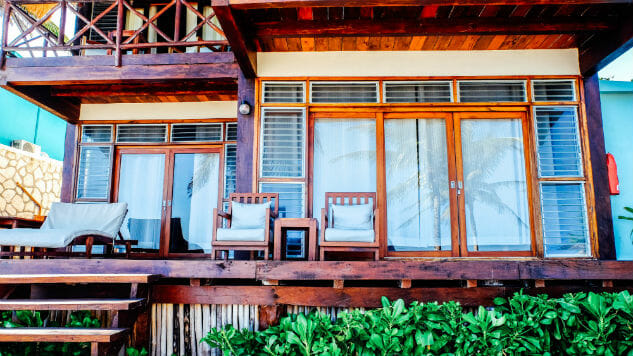 "Tulum is the yoga capital of the world," my guide says as we walk around one of the properties I was visiting during my short time in Tulum, Mexico. It was a declaration to be taken with a grain of salt. Still, the influence of yoga is undeniable in this tiny area south of the more mainstream-famous Riviera Maya.
What's also evident is its bon vivant bohemian flair, with its artsy shops, gastronomic indulgence and boutique hotels. They're all nestled in a rustic stage that treads carefully so as to preserve the natural beauty that makes Tulum an extraordinary, wildly appealing place.
A visit here is a visit for the senses, to reconnect with yourself and your creativity. And one of these five brilliant boutique hotels is the perfect setting to get you started.
1. NEST Tulum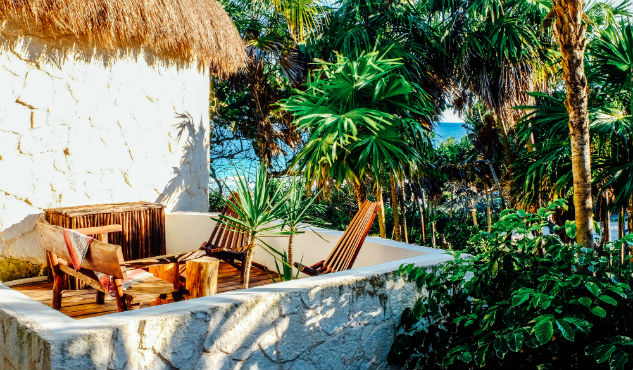 When owner James Chippendale (no relation to the famed male revue) first found this piece of property along Tulum's hotel zone, he wanted to create a unique space where guests could truly feel at home. That's the foundation that NEST Tulum is built on. And it truly does feel like home. The rooms are luxurious yet cozy and very low key. The staff is warm and familiar. And the food, while spectacular, is simply prepared and comforting.
It's the overall atmosphere, however, that makes NEST Tulum irresistible. Nine rooms, a small restaurant and bar, a staff of 20, and a few cabanas on the beach are all that make up the property. As a result, it is tranquil and intimate, and flaunts a minimalist vibe that's almost too good to be true. It feels as if you're miles away from civilization, even though the closest neighbor is steps away. For inspiration, the rooms—each uniquely decorated—are fecund with beautiful pieces of furniture, textile and craftwork sourced from Mexican artisans. It's definitely an ideal place to unspool and create.
2. El Pez Boutique Hotel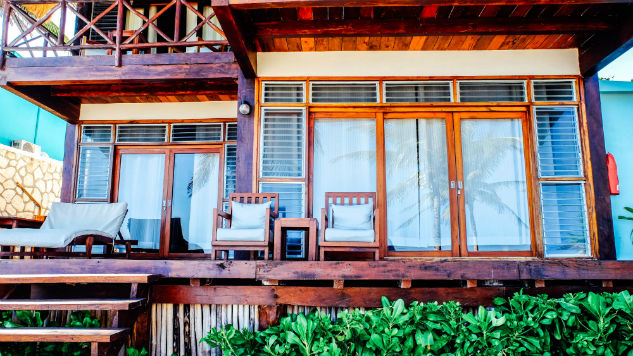 Nestled in Tulum's beautiful Turtle Cove where turtles surface from March to November to nest, El Pez is impossible not to love. It's a concoction of rustic chic and modern luxury, inside and out, and sprinkled with colors as well as tokens of its artistic proclivities here and there. You'll find many spots at this hotel worthy of an Instagram post: the red door behind the Beach House, the picnic tables looking out to the ocean, a tiny turtle making its way out to sea. Yet it has more spots to slip into a creative rhythm, whether you're a writer or a painter looking for the perfect setting, or a musician writing his/her next single.
Best of all, El Pez champions both artistic expressions as well as the community itself. This is evident in its Community Nights. Every Thursday night during the high season, both guests and locals can partake in a family style dinner of delicious fare made with locally sourced ingredients—at a modest flat rate—while enjoying live music and viewing artworks made by local artists.
3. The Beach Tulum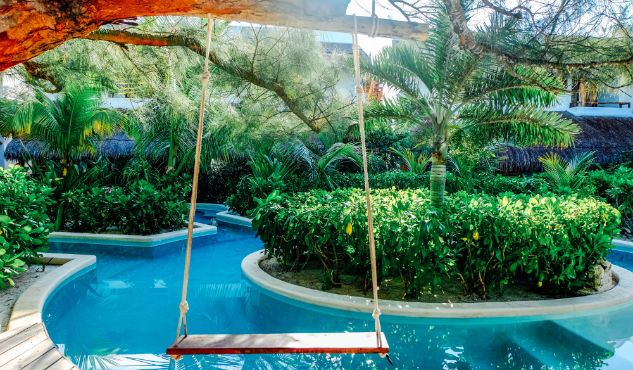 Twenty-eight enthralling rooms in three categories make up The Beach Tulum, which makes this beachfront boutique property one of the bigger hotels in the Tulum hotel zone. That fact, however, hasn't taken away from the intimacy of the place or its bohemian vibe. Luxurious yet expressive and free spirited tones are embedded in its every nook and cranny, and authenticity in service is in its core.
Yet it's the little special touches—a small library where guests can exchange books, a wooden swing over one of its free form pools, its eco-friendly initiatives, breakfast coupons guests need to claim every morning at the front desk so they can chat and check in with the staff, and even a broom as a room amenity so you won't have to wait for maid service to clear the sand off your bedroom floor—that make it truly exceptional. For la vie boheme, The Beach Tulum holds daily yoga classes, complimentary in an open air yoga studio overlooking the sea and the property, as well as Friday night cocktails with a bonfire and live music.
4. Cabañas Tulum Hotel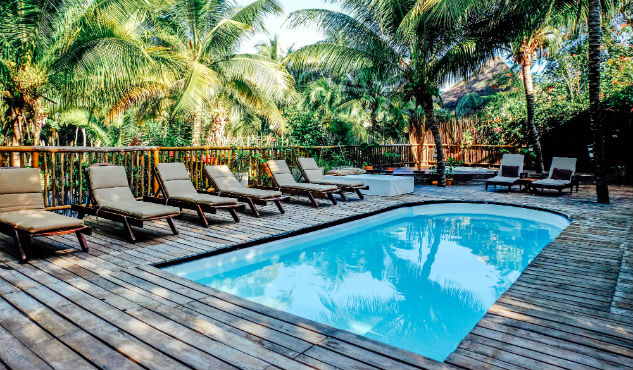 As The Beach Tulum's equally resplendent sister property, Cabañas Tulum Hotel gives its guests access to the same facilities and amenities: the spa as well as the wellness and cultural activities, for example. The difference is it's a tad smaller, having only 25 rooms set in beautifully white, adobe-inspired, two-story buildings. Also, being a slightly less upscale hotel, it offers a more down-to-earth energy—just the ticket for those who are uncomfortable with luxury.
Yet there are opportunities for indulgence as well. Every type of artist can find his or her own bliss here. There's a laid-back Garden View room hidden away from the bustle, if there's even such a thing in Tulum, for privacy; a Sunset View room for light-speckled inspiration; or a Beachfront Rooftop suite to hone your craft or star gaze in comfort. The food is spectacular too, with on-site Frescoes serving healthy options, homemade bread and delicious smoothies.
5. Be Tulum
Breathtaking is one word to describe Be Tulum. In fact, it's considered one of the best (and self-proclaimed most exclusive) boutique hotels in the area. Nestled between the lush jungle and the lapping sea, it's a glorious blend of understated luxury and unaffected simplicity. This all-suite retreat's aesthetic is rich in wood and earthy tones, giving it a feel of being carved out of nature as opposed to being actually built on top of it. Yet the vertical and horizontal lines in its architecture allow it a fresh, modern look.
Reboot your system at its incredible Yaan Wellness Spa; heal and reconnect with yourself in a Temazcal; get centered doing yoga in a tree-top studio; or simply unwind and enjoy a mezcal drink at the outdoor, beachside restaurant. After, retire to your suite and relax in your own private plunge pool. Whatever you do, your trail is yours and yours alone to blaze.
Michelle Rae of Another Spur on the Road is a Los Angeles-based writer, photographer and traveler with a bad case of wanderlust.