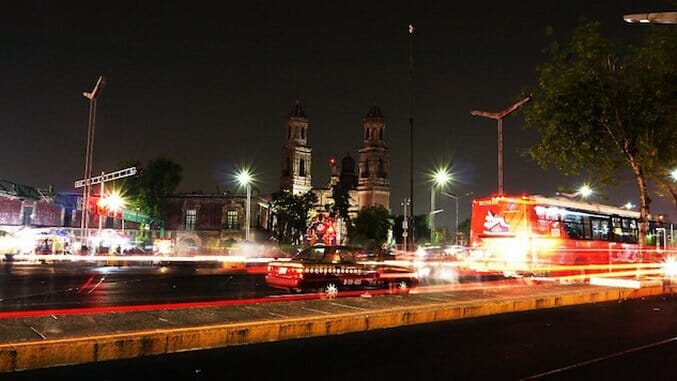 When visiting this sprawling metropolis, home to over 20 million people plus the millions of tourists passing though every year, savvy travelers must wander off the beaten path and away from overcrowded bars replicated in capital cities throughout the world. If you're looking for another adolescent club blasting top 40 hits, this is not the list you're looking for. These are the places that highlight the unique cultural diversity of Mexico City, the urban heart of Latin America. From techno to Stanley Kubrick, from anarchy to the 1980s, this is a selection of the best and unique nightlife in the "Distrito Federal." Wherever you're from, whatever your scene and no matter your budget, there's something here for you.
1. Galaxie Nights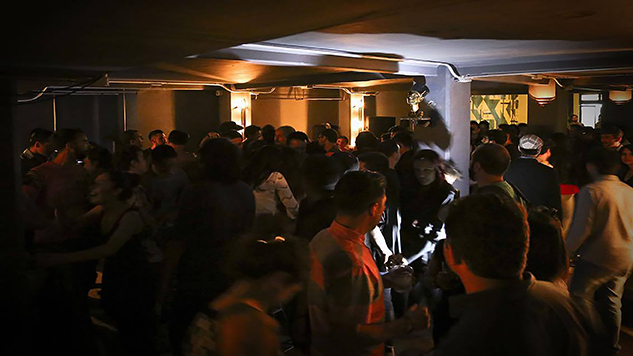 Photo courtesy of Galaxie Nights
If you happen to be in town for one of these bimonthly parties at Bucardón, do whatever you need to—ditch the children, skip the business dinner, whatever—to ensure you do not miss it. Galaxie Nights define party excellence and superiority. I dare you not to dance. In-house DJ and host, DJ DAM, is a wizard on the decks, stringing together absolutely infectious mixes. An alternating cast of guest DJs, doing their part to keep the party groovy, backs up DJ DAM on the ones and twos.
The crowd is lively, beautiful, welcoming and friendly. The sound system at Bucardón is sensitively tuned to a volume where you can still be heard, but also feel the bass in your chest. Hidden like a jewel amid crumbling colonial apartment buildings, the ambiance of the bar is dark, minimal and warm. In short, this is the perfect Friday or Saturday night, and worth planning your trip around.
2. Bang Bang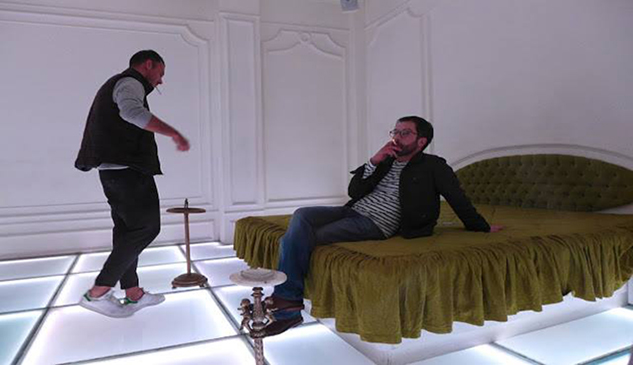 Photo by Jeffrey Bale
One of the city's unique bars, located in the ultra hip Roma neighborhood, Bang Bang is inspired by Stanley Kubrick's retro-futuristic film sets. The 2001: A Space Odyssey-inspired smoking room is something to behold, while the rest of the bar offers a sensual and sultry ambiance.
Walking down palm tree-lined Avenida Álvaro Obregón, you could easily miss the small neon sign announcing the bar, but once you enter you will never forget. At a new expanded location, Bang Bang features DJs spinning widely ranging sounds and a famous cocktail bar offering the classic Birds (made with gin, tonic, tangerine liquor, cardamom and rosemary bitters) and killer whiskey sours. Visit during the week if you want to appreciate the décor, but Thursday through Saturday is when the party pops off.
3. La Burra Blanca
This place is no joke. La Burra Blanca is Mexico City's most famous anarchy punk bar. Though, make no mistake, this is not your average mohawk-misfits-in-studded-jackets punk saloon. This is a true hotbed of Latin American dissident activity and organizing. Not to mention, it's one of the cheapest and wildest parties in Mexico City, with some of the best live music around.
Not for the faint of heart, but the true warriors of the night, La Burra Blanca is the black hole where you go to get lost in an epic bender. Innumerable shots of mezcal and gallons of pulque are poured out every minute in this nest of beautiful chaos. No fancy cocktails. No red wine. Here your options include mezcal, pulque, beer and sometimes mojitos. Get home safely.
4. Hostería la Bota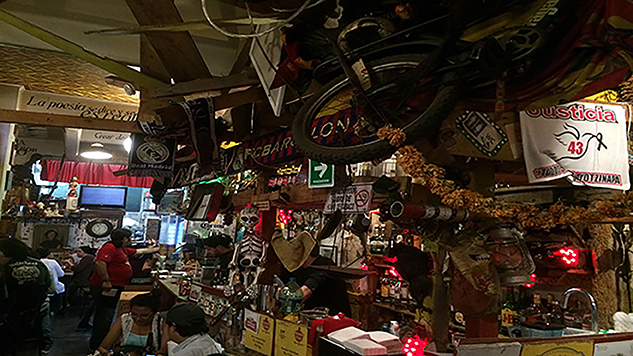 Photo by Devon Van Houten Maldonado
The local watering hole of literary types, poets and introspective artists, Hostería la Bota, more commonly known as La Bota, is the ambient antithesis to the pumping parties composing the rest of this list. Like an Applebee's—if Applebee's was actually cool—every inch of the cavernous space is covered with knickknacks from all over the world. The bar, like its regulars, has a story to tell.
A full and affordable drink menu along with excellent Spanish/fusion style food served in stomach busting proportions makes this place worth a visit. On the weekends, La Bota serves paella, one of the best in the city, and all week you can enjoy tapas, pasta, pizza and tacos Arabes (giant tacos made with pita bread rather than tortillas). La Bota is within walking distance of La Burra Blanca, the perfect place to pregame or have a nightcap.
5. Patrick Miller
Patrick Miller the center of a thriving community of 1980s-loving, spandex-wearing super groupies. This is their church and their temple. If you're not here to cut some rug, then get out of the way. Here people from all walks of life shed their daytime personas and let loose on the dance floor. Dance battles are inevitable.
You may think your local hot spot in downtown wherever gets crowded on the weekends, but you haven't seen anything until you've been to Patrick Miller. The crowds alone are an experience to write home about. Moreover, the throbbing mass of sweaty bodies is beautiful for its diversity. Chilangos of every age, background and style converge on this dance floor and let their bodies do the talking.
Devon Van Houten Maldonado is a writer, painter and runner from Boulder, Colorado, currently living and working in Mexico City.