Take Five: Gourmet Mexico City By Way of Coyoacan
Photo below courtesy of Café Ruta de la Seda
Travel
Lists
Mexico City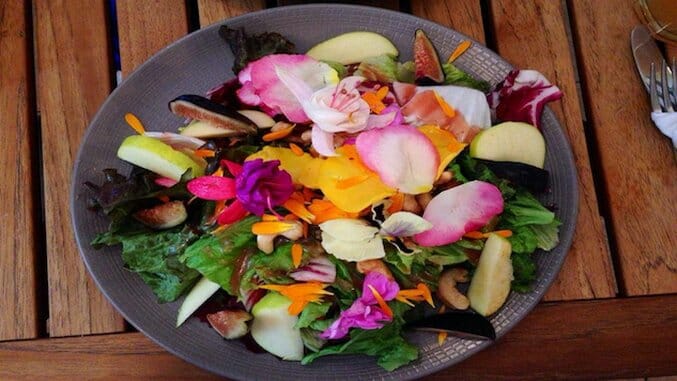 Most tourists visit the Mexico City neighborhood of Coyoacan for La Casa Azul, Frida Kahlo's erstwhile home. You, smart traveler that you are, are saving money, skipping tourist lines and popping into Coyoacan for the vibrant, modern cafe culture that looks like Brooklyn but couldn't taste more like Mexico City. From punk rock pizza to carnitas fresh off the grill, Coyoacan's hidden pleasures are light on your wallet, aesthetically appealing and addictively delicious.
1. Bella Rafaella Panaderia
Start your day at this recently opened, beautiful little white boîte that could grace a Cobble Hill postcard. A chic little oasis in Mexico City, this gluten-forward space provides everything the modern gourmet Coyoacan resident wants, from strong coffee with almond milk to delicious pastries. Sit on one of the benches out front and wake up slowly to the smell of baking bread with a newspaper, a latte and a pain au chocolat. By lunchtime, graduate to an empanada as you gaze wistfully through the glass that separates you from the kitchen where the baker is kneading dough. For dessert, have the famously fantastic Nutella roll, which is essentially a cinnamon roll with Nutella instead.
2. Pizza Del Perro Negro Coyoacán
After filling up on Nutella rolls and a long walk around Coyoacan taking photos of its beautiful old carved wooden doors, head to Pizza Del Perro Negro for the most outlandish pizza Mexico City has to offer. Serving pies topped with mac and cheese or chiles rellenos, this spot doesn't do small—in fact, most dishes seem to ascend vertically to new pizza heights. Their dough is tasty with its artisanal honey, and the mysterious pizza sauce is made with 23 unknown ingredients. You weren't expecting to tighten that waistline in Mexico City, were you? Small chain though it may be, this location is the most fun with its youthful vibe and punk rock atmosphere. From the crazy Bavarian exterior to the divey interior, this pizzeria is a spot where friends gather to clink bottles of cervezas artesanales like Bulldog Frances and dig into monster slices of ranchera (chorizo, bacon, beans, tomato, onion, avocado and jalapeno), mashed potato and pepperoni, and the aforementioned mac and cheese and chiles rellenos pies. If you need extra fuel for the day ahead, ask for an addition of papas fritas to your monstrous concoction. This mural and poster-plastered spot plays frequent host to local rock bands, and is a great place to get to know Coyoacan's residents.
3. Taller Experimental de Cerámica
Spend the afternoon in the loveliest of courtyards in Coyoacan, perusing ceramics, eating a mouthwatering taco fresh off the grill, or taking classes with the masters. Alberto Diaz de Cossio, the founder of Taller Experimental, began a tradition that his family has continued to this day with current cerámista-in-charge Adriana Diaz de Cossio. His love for pottery led him to open the current space in 1967, which was one of the first in Mexico to create high-temperature ceramics. He later opened more than 20 ceramics cooperatives across the country. Take a walk past the living wall of plants and enter the mystical garden. Wander through the courtyard with towering palms and beautiful young things smoking and eating gorditas to a sheltered room where young ceramistos work intently on their pottery and concentration furrows their brows as they smooth small boxes of clay.
The Zen atmosphere pervades on the other side of the courtyard, where several interior rooms shelter powerful treasures, from traditional Mexican ceramics like salserias (salsa dishes) and mezcaleros (small cups for drinking mezcal) to simple, elegant Asian teapots and bowls. A back room hides irregularly-shaped vases that spout off arms and openings willy-nilly, while dreamy glazes of color play across their sides. Finally, having satisfied your curiosity and worked up an appetite, order several tacos with tender carnitas and a gordita from the grill, purchase a cerveza from the kind man with twinkling eyes, and join a conversation at the table.
4. Café Avellaneda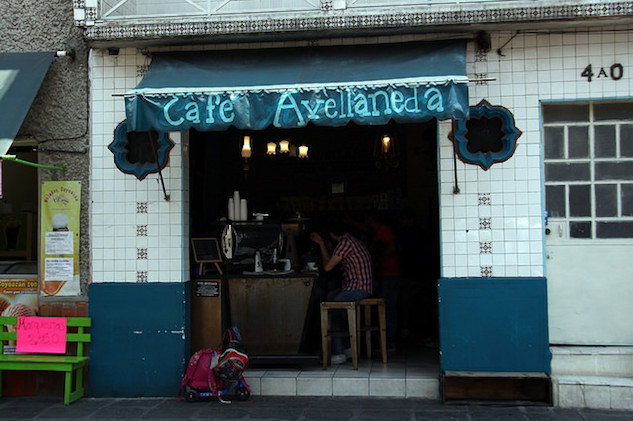 Photo by Bex Walton, CC BY
You may have skipped La Casa Azul, but don't skip this little blue shop. Though the brewing options can make your head spin—French press, AeroPress, Chemex, Japanese siphon, Turkish ibrik, or cold fusion—watching a cute barista clad in varying shades of blue and a porkpie hat work with all his might to press air through an AeroPress makes it worth it. A chalkboard above his head asks you to refrain from asking for a to-go cup if you're having it there, and tells you that the modern urbanite's family of pet, laptop and bike are all welcome at Avellaneda. Origin is a religion at this cafe, so Avellaneda orders beans that are sustainable and come straight from farmers. For sustenance, you've got your choice of vegan almond brownies, endless numbers of chocolate cakes made from in-house chocolate, and flambéed crème brûlée cupcakes.
5. Café Ruta de la Seda
The next morning, start your day at "Silk Road," a charming little cafe on the corner of a residential street in Coyoacan. Opened by a former Asian art professor with a tea obsession, Ruta de la Seda imports teas and flowers from all over the world, including sakura flowers from Japan. This concept cafe opened in 2007 claims to be the first organic bakery in the country, boasting a minimum of 80 percent certified organic ingredients. All the masa used is ground locally, and the cafe sources everything else as locally as possible. From pecan sticky buns shaped like shortcakes to Viennese palmiers made of spelt, Ruta de la Seda is not afraid to innovate. They are known for artfully-foamed matcha lattes and intricately-patterned hojaldrado, but local fashionistas and health fanatics flock to it for gluten-free and spelt pastries, chia parfaits, matcha cakes and edible flower salads (pictured at top). Adventurous eaters love fun dishes like the kimchi omelette and the Zulu rooibos chai, made with intensely aromatic spices. Environmentalists crave the local and organic ingredients. You love it because it's hot in Mexico City, you're thirsty, and you need that strawberry rose lemonade they're peddling.
Dakota Kim is a food writer, gardener, mushroom hunter and burlesque producer living in Brooklyn. She likes to brew strange Korean medicinal teas and bake vegan desserts. She is currently working on a cookbook featuring burlesque performers called Bombshell Bakers.