Ask any Italian about the connection between our overall well-being and what we eat and be prepared for a lengthy discussion revolving around one central theme: good digestion.
It's a countrywide obsession.
Nowhere is the process of achieving la dolce vita of the stomach on fuller display than during the ritual of the multicourse, multihour dinner, where what's heaped on the plate and poured in the glass represents a belief system of keeping the body, therefore the mind, content and productive.
The experience is designed for slow savoring, capped by a vital, not-to-be-skipped element.
The digestivo.
Italians swear by these time-tested elixirs—collectively known as amari—for breaking down a big meal and ensuring a good night's sleep.
The Greeks and Romans documented their reliance on digestivi and medieval monks and herbalists crafted an even wider range of tonics and medicinals.
The potion remains the same; an alcohol-infused mix of herbs, seeds, roots, fruits, berries, and flowers.
There are as many types of digestivi in Italy as there are shapes of pastavo and, just like wine and cheese, each distinctive taste tells the story of a region's landscape, fauna, and climate. Potions produced on the coast often pack a punch of citrus, while mountain varieties deliver the smell and taste of pine.
It's true that you can find digestivi almost anywhere in the world these days, but not until you stand in an orchard ripening in the sun's intensity can you fully appreciate the lush taste and smell of a lemon's liqueur.
From north to south, here's a short glass of distinctive digestives.
1. Nocino, Emilia-Romagna
Fast cars and hearty cuisine are the calling cards of Emilia-Romagna. Producing culinary giants including Modena's balsamic vinegar and the king of cheeses, Parmigiano-Reggiano, might be enough for any region. But in Emilia Romagna, too much is never enough.
Birthplace of lasagna and tortellini, Emilia Romagna is home to Ferrari, Lamborghini, and Maserati as well.
It's not surprising this powerhouse produces a spirit as velvety and rich as nocino. Created by infusing unripe green walnuts in brandy or grappa, with a mix of sugar and spices, the light brown liquor slides slowly across the tongue demanding full attention and appreciation.
Guido Zarri has fond childhood memories of watching his grandmother make nocino and never failing to offer him a taste. "In the past, many families used to make nocino at home, especially in the countryside, where walnut trees grow," he says. His company, Villa Zarri uses his grandmother's recipe as inspiration and harvests on Saint John's Day (June 24), a date believed to mark the perfect seasonal balance of ripeness of fruit and youth of shell.
When it comes to this sweetly pleasing liquor, too much may not be enough indeed.
2. Grappa, Veneto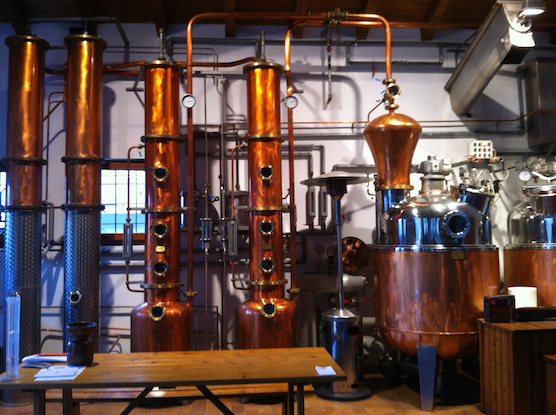 Photo: Maria Keays
"A good digestivo helps to relax, to converse, to share emotions, to stimulate your senses, to travel with the fantasy…" says Jacopo Poli, who family has been producing artisanal grappa in the heart of Veneto, near Bassano del Grappa, since 1898.
Italy's most popular digestivo doesn't fit within the traditional amari description of herbs or flowers infused with alcohol. Instead, grappa is created by distilling the pressed remains of grapes—pulp, seed and stem—from winemaking, ingeniously ensuring no part of the crop goes to waste. Most grappa is clear, although aged spirits with a golden hue are growing in popularity, as are aromatics like pine and pear.
Grappa is produced throughout the country using a wide array of grapes, with those from Veneto most revered. And, like the region itself, grappas from Veneto deliver sophistication and complexity with every sip.
To experience a staggering array of tastes, take a tour of Poli's century-old distillery and museum.
3. Centerba, Abruzzo
Imagine how a drink concocted by an 18th century chemist might look and taste. Centerba fits the bill.
The name means "100 herbs" and the taste is fitting for Italy's wildest region. Bordered by mountains to the west, sea to the east, and protected lands throughout, Abruzzo boasts Italy's highest percentage of green space, explaining the source of herbs.
Antonio Suraci of Centerba Toro, one of the region's top producers, says the brand's closely guarded secret recipe has a direct link to 1700. An apothecary named Beniamino Toro created the liquor from a medicinal and offered the concoction to shepherds crossing the rugged hills who quickly spread the word of its intoxicating power.
"It even is said that during the cholera epidemic that hit the capital city of Naples in 1884, every night carts full of Centerba bottles left for the Neapolitan city," says Suraci.
The taste, best described as peculiar, may sound terrible but it is surprisingly easy to drink-especially after a few sips. With an alcohol content around 70 percent, caution is in order to keep your head feeling as good as your stomach.
4. Genepi, Valle d'Aosta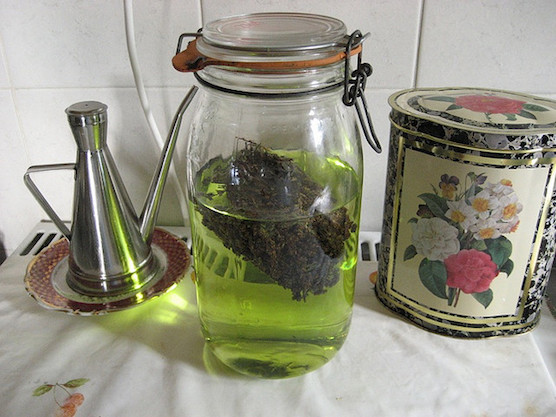 Photo: Marla CC BY-NC-ND
The clear, herbal-tasting liqueur refreshes like a snowflake landing on your tongue while skiing the surrounding Alps. Genepi, along with its famously potent cousin absinthe, is derived from alpine woodworm flowers whose magic oil has long been believed to cure everything from fever to jaundice.
In this northernmost region, bordering France and Switzerland, you hear French and German as much as Italian and see the multicultural influence in every meal. With a taste reminiscent of chamomile, Genepi is a soothing finale to a traditional meal of beef and cabbage stew or polenta smothered in fontina.
5. Limoncello, Campania
Around every turn, you will find a patch of Campania's famous lemons. You can purchase a bottle almost anywhere, but nothing compares to drinking limoncello in a spot where the smell emanating from the glass is mirrored in the air.
It is said that the first notable production began in Campania in the early 1900s, with homemade batches seeing the light much earlier. There is much speculation as to whether the liqueur was developed as a medicinal potion to stave off the common cold or as an original cocktail developed by an inn's mixologist.
What we do know is that a short list of simple ingredients-lemon peel, alcohol, water, and sugar-produces a surprising range of tastes. From lip-puckering tartness to sticky sweetness, the taste changes depending on the amount used of each ingredient; and how long, where and at what temperature they are stored.
For the ultimate farm to glass experience, keep wandering the area's hiking paths until you find an old-timer proudly selling his homemade hooch in a gleaming, unlabeled bottle.
Jess is a freelance writer and blogger with a passion for all things travel, art and the outdoors.
Lead Photo: Capitu (ou Marcela) CC BY-ND