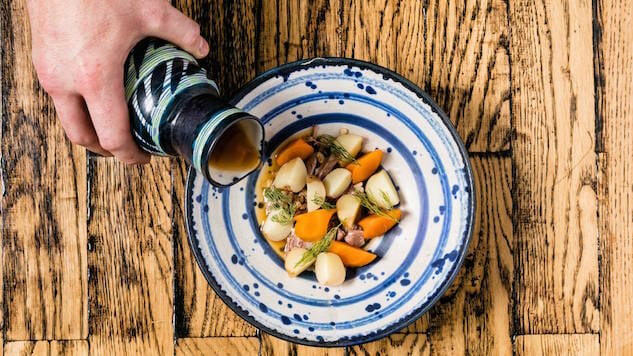 Reykjavík's world-class scene adds yet another reason for travelers and eaters alike to adore Iceland. The seafood is fresh, the liquor is strong and Icelandic agriculture guarantees that whether it comes from a supermarket or fine restaurant, you'll encounter some of the best protein of your life.
Like everything else, dining out in Iceland is expensive, especially when it comes to drinks. However, with enormous portions you can get plenty of food even in an appetizer. And lastly, a word to the wise: you're not gonna be able to finish that tasting menu.
1. Kol
Skólavörðustígur 40
Appearances don't deceive at Kol (pictured above), where you can tell the food is going to be good because it comes on stoneware. While menu changes daily, staples include the whopping fruits de mer platter, sautéed filet of cod and the extensive cocktail list that's categorized by one's familiarity with liquor. The Donkey, Kol's tap-friendly take on a Moscow Mule, seems simple in print but packs a punch without going overboard on ingredients. Save room for the white chocolate cheesecake paired with passionfruit and coconut ice cream.
2. Sushi Samba
101 Thingholtsstraeti 5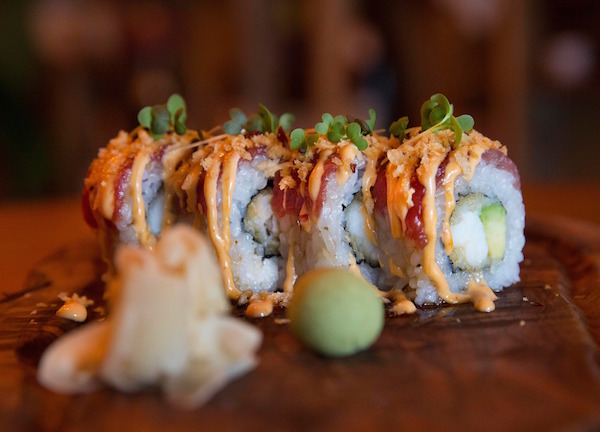 Photo: Sushi Samba
Fresh fish abounds in Icelandic waters, giving Reykjavík's sushi scene a strong advantage. Sushi Samba (not to be confused with the American chain) fuses Icelandic seafood with Japanese technique and South American elements in a dimly-lit atmosphere with touches including a lounge that feels like a designer's library, birdcage lamps and hugging wooden dolls hanging from the ceiling. The torched salmon nigiri melts on the tongue while traditional dishes like whale and puffin win among unfamiliar palates. Wash the ample bites down with top-notch sake or creative cocktails.
3. Grillmarkaðurinn
2a,, Lækjargata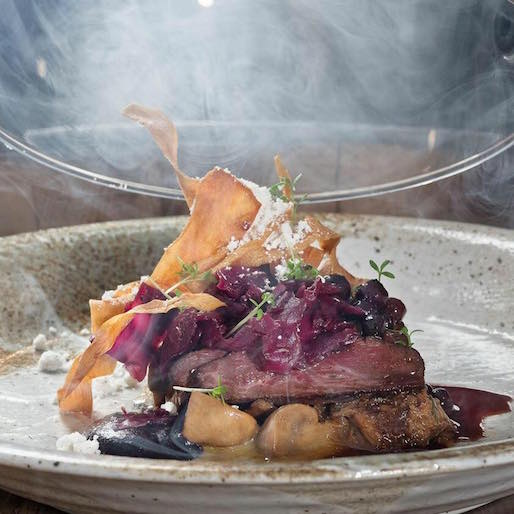 Photo:Grillmarkadurinn
Established in 2011, Grillmarkaðurinn offers a protein-heavy feast paired with a luminous experience with decorative touches like lava rock and a lounge packed with cocktails. Grillmarkaðurinn gets its meats, cheese and seafood from established Icelandic farmers, ensuring that everything from steak to dried squid and grilled reindeer wins diners over.
4. Bæjarins Beztu Pylsur
Multiple locations
It may sound odd, but Iceland is hot dog heaven. Bæjarins Beztu Pylsur, the quintessential stop (well, stand), opened in 1937 but attracted global esteem with coverage in The Guardian in 2006. The long dogs stick out past the buns, and "Icelandic style" or "the works" comes slathered in a slew of toppings—remolaði (a blend of mayonnaise and sweet relish), sweet mustard, fried and raw onions and ketchup.
5. Fiskmarkaðurinn
Aðalstræti 12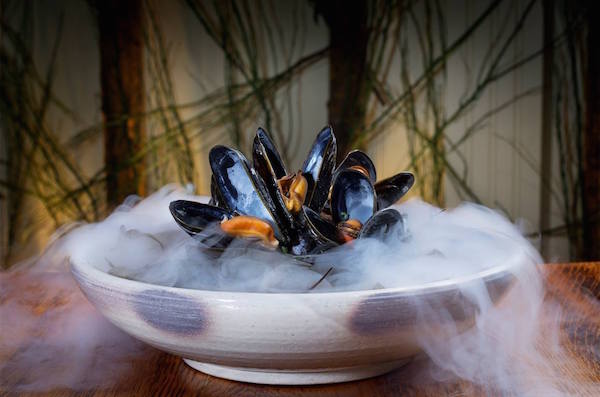 Photo: Fishmarkadurinn
Fiskmarkaðurinn runs under the same team as Grillmarkaðurinn, so the menus share slight similarities, but here, the focus is on seafood—smooth chunks of tuna, salmon and scallop sashimi, creative rolls that don't overload on toppings and entrees like lightly salted cod, all in large portions. If you have a pulse—or a tongue—order a hearty bowl of lobster tail and coconut soup.
Sarra Sedghi is Paste Food's Assistant Editor. She can usually be found arguing about mayonnaise on Twitter.