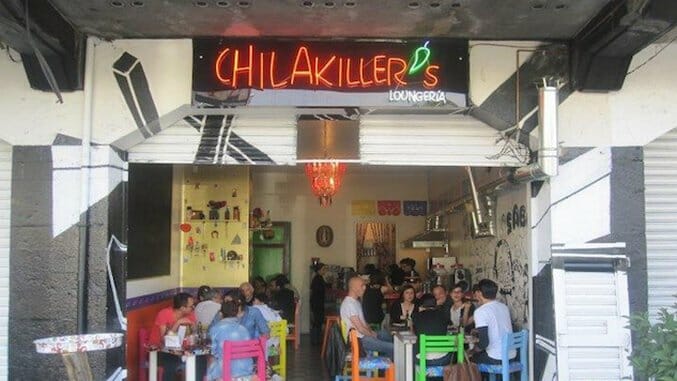 In Mexico City, restaurants like Pujol deserve the international applause they receive, but you, the penny pinching true adventurer, are more interested in the authentic and hidden flavors of Mexico City. Forget the hipster neighborhoods and tourist hotspots, take a risk somewhere on the edges; the periphery is where the most vibrant culture can be found. These hideaways are just beyond the famous Condesa and Roma haunts, but their food is on par with those that have received so much praise.
1. The Tamale Man
At night, or very early in the morning, you will hear the call of the tamale man. "Hay tamales, oaxaqueños, tamales calientitos," he sings. Piping hot tamales and oaxaqueños (like a tamale, but wrapped in a palm leaf rather than a corn husk). Riding through the streets of Mexico City, these mobile tamale men sell their wares from cargo bicycles brimming with tamales, coffee and atole. This is the authentic way to eat tamales in Mexico City. Forget eating fancy tamales.
Coming home from a night out, just when you lose hope of finding something open and you're about to opt for a packaged sandwich from the corner store, the tamale man's song catches your ear. These tamale vendors specialize in the famous "torta de tamale," a tamale shoved into a mini baguette and eaten on the go.
2. La Burrita Marinera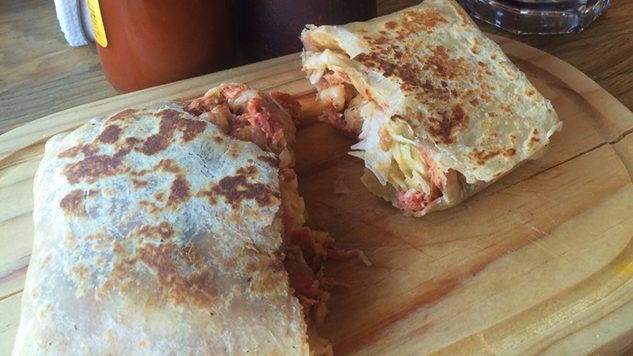 Photo by Devon Van Houten Maldonado
One Mexico City burrito joint trumps them all, in quality and price. I almost cannot bring myself to type these words and mark an X on the burrito treasure map, because I want all the shrimp and marlin burritos for myself. But the world needs to know about this place, where you get a massive burrito for less than 100 pesos. La Burrita Marinera specializes in seafood burritos, with unlimited salad and drink refills. Not to mention, the ongoing 60-peso promotion for a liter of beer and a ceviche tostada.
Mega-burritos like these are a decidedly American take on the Mexican classic, which consists of a tiny bit of meat wrapped in a flour tortilla. And for once, America didn't ruin a cuisine with their twist. Lucky for us, those enormous hybrid style burritos made their way back home and U.S. style burrito joints are popping up all over town.
3. Tacos el Güero San Miguel Chapultepec
Again, I hesitate the slightest to hand over this precious jewel of inside information, but such is my passion for these tacos that I wish to sing their praises no matter the consequences. Do not be fooled by other "Tacos Güeros," "Tacos del Güero" or other variations of which there are many around the city, none compare with the one true Tacos el Güero in the San Miguel Chapultepec neighborhood, on General Jose Moran street, across from the Soriana supermarket.
To declare one taco stand the best of them all is an impossible declaration to make in a city with hundreds of thousands of taco stands, but I declare here publicly that these are the best tacos in all of Mexico City, and possibly the world. Tacos el Güero features the classic suadero (fried beef flank), al pastor (spiced pork) and campechano (mixed) tacos, but their specialty is the bistec taco: two flour tortillas piled high with freshly grilled, thinly sliced beef and a mountain of molten queso Oaxaca (cheese).
4. Chilakillers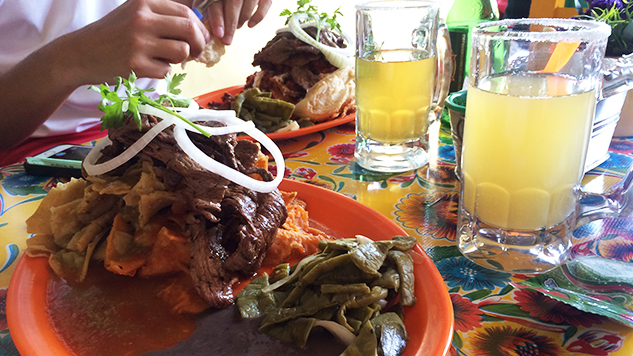 Photo by Devon Van Houten Maldonado
Chilaquiles is a classic Mexican breakfast consisting of fried tortilla triangles topped with red or green salsa, cream and cheese. Chilakillers takes the standard dish to a whole new level, topping their chilaquiles with thick juicy cuts of meat, greens or whatever else you might desire. Try the arrachera (steak, not to be confused with bistek) chilaquiles with "campechano" or mixed salsas.
Be warned, these babies come in two sizes—half and full orders. Although the price difference is marginal, a full order will necessitate a nap immediately after. The portions will have you loosening your belt, but the ingredients are fresh and not overly greasy. Chilakillers also offers a variety of other options including freshly squeezed juices, lighter breakfast plates and vegetarian-friendly dishes. The restaurant itself is a sight to behold, with colorful murals and funky décor that opens to the street.
5. Comida Corrida
The everyday lunch of Mexico City's blue and white-collar workers, "comida corrida" (fast food), is where you get the most bang for your buck, but I'm not talking McDonalds or Burger King. These are classic Mexican meals, usually including a soup to start, rice or pasta, the main dish, dessert and a drink. All for an average price of about 50 pesos. Comida corrida restaurants can be found anywhere in the city and are open from noon to about 4 p.m.
The main staples are prepared in the morning and the entrees are prepared to order. There are usually about five options to choose from and the menu varies daily, depending on the time of year and what ingredients the chefs pick up that day. These neighborhood restaurants are often unpredictable, with some of the best meals in Mexico City being served up in some of the most inconspicuous or improvised spaces. Just look for signs that say "comida corrida" or "menu."
Top and lead photo courtesy of Chilakillers.
Devon Van Houten Maldonado is a writer, painter and runner from Boulder, Colorado, currently living and working in Mexico City.