Off the Grid: 5 Hotels That Are the Destination
Photos: Courtesy of Grand Hotel & The View Hotel
Travel
Lists
hotels
Usually, hotels are just recharging stations for travelers. Overnight layovers for work, personal affairs or vacation. Places to rest between other points of interest.
Of course, luxury lodges, amenity-rich resorts and quaint bed-and-breakfasts have challenged that idea for decades. But these distinguished U.S. hotels are good enough to be the primary draw, main attraction, and worth the trip.
Grand Hotel
Mackinac Island, Michigan
Listed on the National Register of Historic Places, this sprawling 390-room architectural beauty (pictured above) rests on Mackinac Island and is widely regarded as one of the world's greatest hotels. Some travelers claim the century-old service ain't what it used to be, but that's not really the draw here. The old world design, 660-foot front porch (the longest in the world), and Parisian-esque grounds with 45,000 tulips, daffodils and geraniums is.
You can swim, play tennis on clay courts, croquet, jog the half mile trail or find yourself Somewhere in Time while overlooking humbling Lake Huron.
French Quarter Inn
Charleston, South Carolina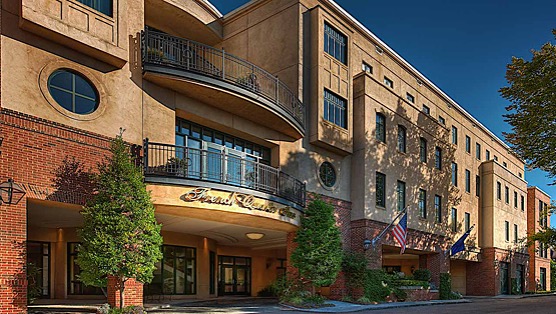 Photo: Courtesy of French Quarter Inn
Admittedly, you wouldn't visit this exceptional hotel in historic downtown Charleston without leaving the property. It's located, after all, in one of the most charming cities America has ever built. But the French Quarter Inn is one of those rare places with a perfect aggregate guest rating.
Free perks include a pillow menu, champagne upon arrival, gourmet breakfast, daily wine and cheese receptions, bike rentals, fresh lemonade, cold drinks, views of historic City Market, evening milk and cookies, 24-hour coffee, chocolate turn-down service and lots of Southern hospitality.
The View Hotel
Monument Valley, Utah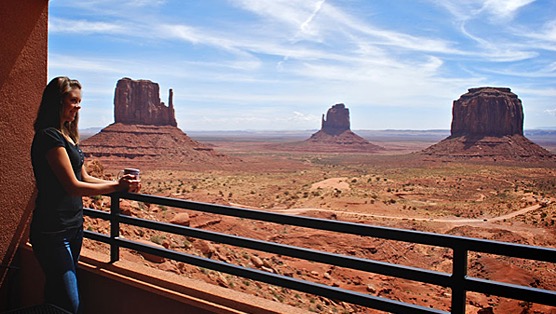 Photo: Courtesy of The View Hotel
You can thank Mother Nature for Navajo law. If not for that, the U.S. parks service probably wouldn't have built this balcony hotel overlooking the valley that John Ford iconicized in his popular 1930s and 1940s films. At sunup, midday, sundown or night, The View Hotel is quite a sight.
Like the Grand Hotel, the food, attendants and amenities of this 4.5 out of 5 visitor-rated accommodation are nothing to write home about. But as the name implies, this place is all about the view—the eternal, western, unforgettable view of sacred Monument Valley.
21c Museum Hotel
Bentonville, Arkansas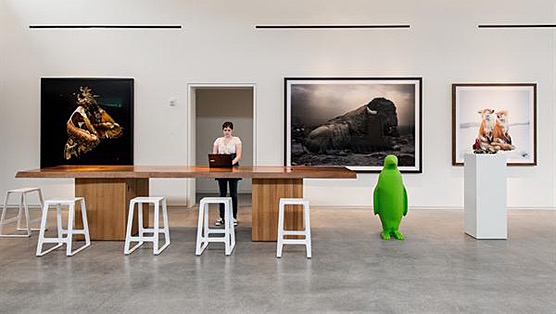 Photo: Courtesy of 21c Museum Hotel
What you are about to read may sound funny, but it's true: The hippest hotel in the nation is located in… Arkansas. Yup, the 21c Museum Hotel doubles as a contemporary art museum with rotating exhibits inside. Original paintings are as plentiful as the ceilings are high.
But the hotel doesn't take itself too seriously. Rubber ducky-filled bathrooms and a revolving cast of sneaky, two-foot tall green penguins will make you smile at every other turn. And a chic restaurant serves regional meals three times a day. The "hoseum" is so extraordinary, TripAdvisor ranked it the seventh best in the nation this year.
The Ocean Lodge
Cannon Beach, Oregon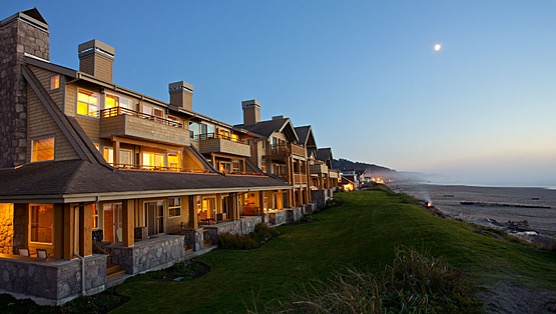 Photo: Courtesy of The Ocean Lodge
If the sea actually possesses healing powers, then this hotel is its best physician. With north-side views of dreamy Haystack Rock and full-side views of Cannon Beach, The Ocean Lodge is categorically captivating.
The warm interiors are as romantic as the surrounding scenery. Rooms feature full or partial ocean vistas, gas fireplaces, and select private balconies and patios to take in the endless waves or several bonfires at night. Dogs are allowed. There's a complimentary breakfast buffet and bottomless cookie jar. And guests may borrow a DVD or book from the fireplace-equipped library.
Off the Grid columnist Blake Snow writes epic stories for fancy publications and Fortune 500 companies. Visit his website and follow his Tweets.