These tree house hotels are straight out of a childhood fantasy. Channel your inner Tarzan, live out the pages of The Swiss Family Robinson or just be one with nature. From suspended spheres in British Columbia to canopy suites in the Amazon Rainforest, these seven hotels prove that no two tree houses are created equal.
1. Free Spirit Spheres
British Columbia, Canada
Like oversized berries, the Free Spirit Spheres hang from trees on five acres of private land on Vancouver Island. Each of the three pods available for rent is suspended between 10 and 15 feet above the ground via rope, and as a result, gently sway with the wind. The design of each pod is more relatable to a sailboat than a house, with brass trim and circular windows. The spheres, each around nine or 10 feet in diameter, can accommodate one to three guests and come equipped with beds, bedding, power outlets, speakers, heaters and several windows that provide a true bird's-eye view of the surrounding forest.
2. Cabanes Als Arbres
Girona, Spain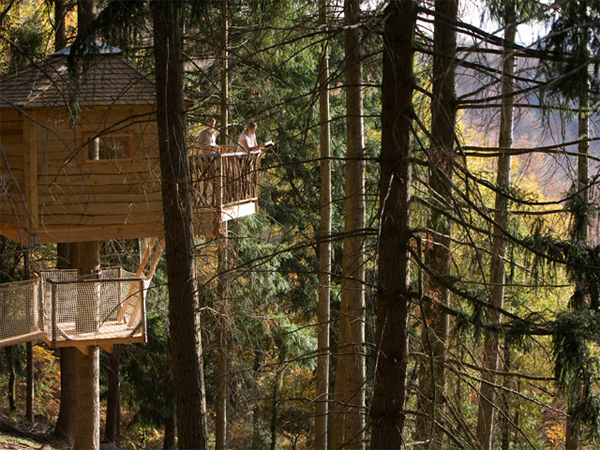 Photo via Cabanes Als Arbres
Nestled in a verdant forest at the foot of the Guilleries Massif, the 10 tree houses at Cabanes Als Arbres are offer an overnight experience that will delight the kid within. Each single-room house is built with natural wood around sturdy Douglas firs, a fact you won't soon forget as the trunk grows through the middle of each room. If sleeping in the canopy of a tree isn't enough nature for one stay, you can enjoy expansive views of the surrounding forest and mountains from your room's balcony.
3. Ariau Amazon Towers
Manaus, Brazil?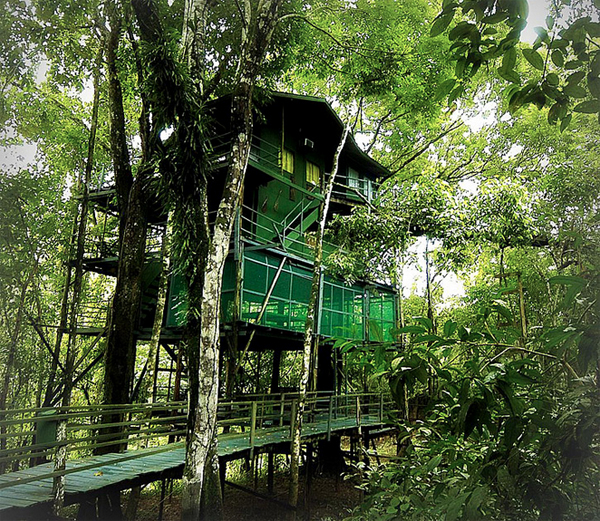 Photo via Ariau Amazon Towers Hotel/Leonide Principe
At the Ariau Amazon Towers in Brazil you can sleep like Tarzan in one of their private tree houses perched in the canopy of the Amazon Rainforest. The oversized rooms feature sleeping quarters with large beds, a living room, bathrooms and private balconies for spotting some of the rainforest's permanent residents, including macaws and monkeys. The hotel also has two restaurants, four bars and two treetop amphitheaters on site, but one of its coolest draws is unquestionably the more than six miles of suspended walkways you use to explore the forest's canopy.
4. Treehotel
Harads, Sweden
The rooms at Treehotel look little like your average backyard tree house. Each was designed by a different Scandinavian architect and trades the classic for contemporary. Take the Mirrorcube for example, which has a reflective facade that camouflages it with the surrounding trees. Each of the hotel's six rooms are unique from each other, but all are perched between 13 and 19 feet above ground and offer stunning views of the surrounding pine forest and Lule River.
5. Winvian
Morris, Connecticut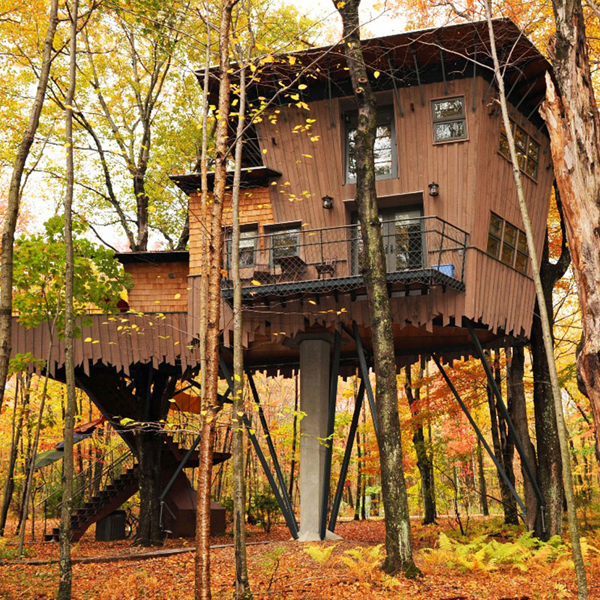 Photo via Winvian
The tree house at Winvian spares no expense. This "childhood fantasy turned grown-up haven" features two (gas and wood-burning) fireplaces, a steam shower, Jacuzzi and a bar. Between the king-size bed and queen-size sleeper sofa, an entire family can sleep like royalty while perched 35 feet high in the forests of New England. The tree house is just one option at this resort, which sits on 13 acres of land in the Litchfield Hills of Connecticut
6. Tree House Lodge
Punta Uva, Costa Rica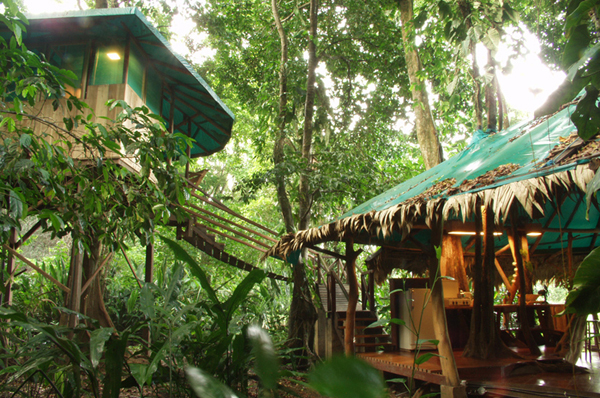 Photo via Tree House Lodge
The stilted split-level tree house at the aptly named Tree House Lodge is perfect for a small group of friends looking for a break from the usual hostel offerings. The tree house is located in Punta Uva and was built sustainably using only wood from fallen trees. While you can see plenty from the tree house balconies, you'll want to get out and explore the surrounding 10 acres of ocean-front property.
7. TreeHouse Point
Issaquah, Washington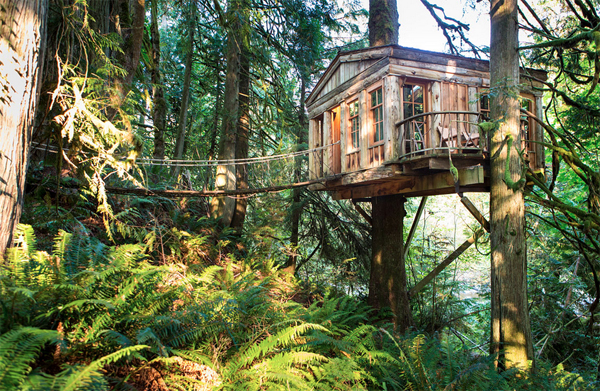 Photo via Treehouse Point
You might recognize these tree houses or their designer from Animal Planet's Treehouse Masters. Long before Pete Nelson got that gig, he opened TreeHouse Point. Tucked away in the trees of the Pacific Northwest, the six serene houses at this family-run bed and breakfast resemble the backyard version many of us dreamed of as kids.
Lauren Kilberg is a Chicago-based freelance writer and blogger. Her travels have found her camping near the Pakistani border of India, conquering volcanoes in the Philippines and being humbled in Haiti.