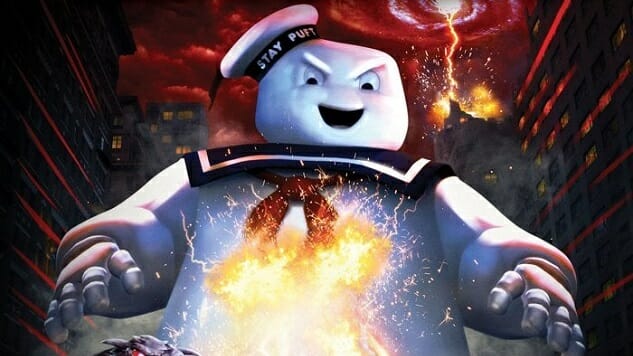 The Ghostbusters are finally coming back to Universal Studios, and this time they'll be a part of Halloween Horror Nights.
Universal announced that both Universal Orlando Resort and Universal Studios Hollywood will feature the Ghostbusters during this year's Halloween event. According to the press release, these mazes will bring "the most memorable scenes, characters and supernatural spirits" from the original film to the theme parks, with recreations of the New York Public Library, the Ghostbusters' headquarters, and the Temple of Gozer. Expect a whole squad of ghosts to get in your face throughout the mazes, including such old fiends as Slimer, Gozer and the Stay Puft Marshmallow Man. Given the enduring love and nostalgia for the original Ghostbusters movie, this is a big get for Universal, whose exactingly detailed Halloween Horror Nights mazes regularly include original concepts as well as licensed properties.
It also marks the return of a property that was originally a crucial part of Universal Orlando. When the park opened in 1990, one of the top attractions was the Ghostbusters Spooktacular. This live show entertained guests for six years with its take on the climax to the original Ghostbusters film, before being shut down in 1996 to make room for a special effects show based on the movie Twister. Twister… Ride It Out somehow lasted for 17 years before being shut down in 2015 to make room for the current Tonight Show ride starring Jimmy Fallon. (Yes, that's a real thing that exists.) During that time Universal let the theme park rights to the Ghostbusters property lapse, and by 2005 all reference to them had been scrubbed from the parks.
If pop culture has taught us anything, though, you can't keep a beloved '80s movie down. The Ghostbusters have stayed alive in recent years with projects like the funny but ill-fated 2016 reboot, a videogame featuring vocal appearances from the original cast, a pinball machine from Stern, a recent 4K reissue pegged to the first movie's 35th anniversary, and unending talk of an official Ghostbusters III sequel that has recently flared up once again. Somehow the Ghostbusters bubble never quite seems to burst. Halloween Horror Nights should be an ideal venue for some Ghostbusters nostalgia, though, as Universal's crack team of artists does an amazing job turning iconic movies into real physical places that we can go visit and get screamed at in.
The Ghostbusters mazes joins the returning Stranger Things at this year's Halloween Horror Nights, along with original concepts like Yeti: Terror of the Yukon, the undersea-set Depths of Fear, and the gladiator-themed Nightingales: Blood Pit. Halloween Horror Nights starts at Universal Studios Florida on Sept. 6 and at Universal Studios Hollywood on Sept. 13, and will run on select nights through Nov. 2. And if you want to start getting pumped up for it now, here's a short teaser for the Ghostbusters mazes that Universal released today.