Meet The Woman Behind Guatemala's Finest Hotels
How one hotelier is paving the way for luxury travel in Guatemala
Photo courtesy of Villa Bokéh and Relais & Châteaux
Travel
Features
Guatemala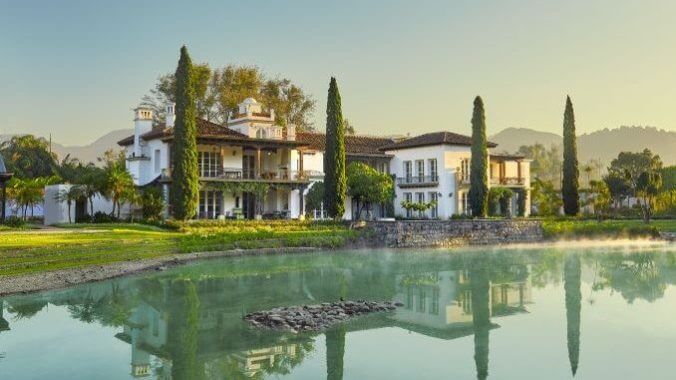 In a country known for budget travel, luxury hotel group Grupo Alta recently added a second Relais & Châteaux property in Guatemala. Villa Bokéh opened last year after converting a former artist estate into a 15-suite boutique hotel on the outskirts of the UNESCO World Heritage site of Antigua. Its sister property-Casa Palopó on Lake Atitlán—was the first and only Relais & Chateaux hotel in Guatemala. Long considered a destination exclusively for backpackers because of the abundance of cheap accommodations, these two luxury hotels in Guatemala are turning this concept on its head. The hotelier Claudia Bosch is making a bet that luxury tourism is possible in a country that has been known for domestic trouble scaring away all but the most adventurous backpack traveler.
"Our vision with Casa Palopó and now with Villa Bokéh is to offer another type of option for curious travelers to discover the wonders of one of the most beautiful countries," Bosch said as she led a small group of journalists through the new hotel. Once an artist's private residence, Bosch transformed the hacienda-style property into one of the most luxurious hotels in Central America. Each suite includes a private balcony or enclosed garden while most feature a picture-perfect view of the mirror-calm lake reflecting back the bewitching Volcán de Agua rising from the horizon. The six-acre gardens that surround the property offer a meandering pond, numerous fountains, colorful flowers and manicured lawns.
Set in an open glass pavilion, Michelin-starred trained chef Marcos Sáenz heads Villa Bokéh's restaurant. Sáenz fuses together Guatemalan traditional dishes and nouvelle cuisine in his ever evolving menu.
In addition to the property itself, Bosch is particularly passionate about the country's artisans, including local weavers.
"Textiles are one of Guatemala's most valuable cultural treasures," she said, pointing to a handmade tapestry adding a splash of color to the stark white room. Local textile expert Violeta Gutierrez Caxaj curated the hotel's furnishing and accessories, all from local artists, in efforts to support the county's rich artisan traditions. Locally produced textiles alongside photographs, paintings and sculptures decorate each of the hotel's suites along with the common areas.
Bosch's vision with Casa Palopó and now with Villa Bokéh is to elevate the country's tourism options while at the same time introducing travelers to the rich cultural diversity of the Guatemalan people. Her company's ethos is to create hospitality concepts that are inspired by and supportive of the local communities. In addition to supporting local artists and weavers, Casa Palopó is the main sponsor of a community initiative that is helping transform a small, poverty-stricken village into a lucrative tourist destination.
Eventually Bosch plans on establishing a high-end tour through Guatemala with a third luxury hotel in El Peten. The lush lowland jungle in the northern quadrant of the country that long hid the ancient lost city of Tikal would complete the triangle. Throughout her properties Bosch is intent on highlighting the beauty of not only the land, but its people. The trifecta of luxury properties would show off Prehispanic Maya in Tikal, modern day Indigenous Maya in Lake Atitlan, and Spanish colonial influence in Antigua.
Guatemala's reputation for safety is not attractive to most travelers. Since a decades-long civil war started in the 1960s, poverty and violence has plagued the Central American country. As of December 2022, the United States State Department's website warns citizens against traveling to certain parts of the country due to violent crime such as kidnapping, murder, extortion and car jacking. Even so, Bosch is not the only one who thinks Guatemala is on the brink of an explosion in tourism, especially in the already popular destinations of Antigua, Lake Atitlan and Tikal.
"This country has become a very popular destination in Central America, because it is a diverse country with lots of culture, history, and nature," said David Farrington from Viaventure. "Antigua has become a popular destination for weddings and events, and most hotels are busy all year round. Lake Atitlan attracts visitors that are not only interested in the culture aspect, but also to relax and admire the beautiful lake. And the Tikal area attracts visitors looking for a jungle experience but also to explore amazing Maya temples."
This tiny Central American country has everything a destination needs to become the next hot spot—a promising gastronomy scene, abundant nature, culturally rich populations (more than 22 indigenous dialects are spoken around the country) and diverse architecture from both the Spanish colonial era and the Maya civilization prior to the colonization. And as Debra Loew of Kensington Tours has noted, the fact that it has seen a slower pace of tourist development than nearby Costa Rica or Panama helps the country retain the raw charm that tends to be lost when destinations are commercially very successful. Claudia Bosch and hotels like Villa Bokéh and Casa Palopó are part of that movement to revitalize the country's tourism industry while also respecting its culture and history.
---
Jennifer Simonson is a travel writer by trade and a lover of the world's food, cultures, drinks and outdoor spaces by nature.