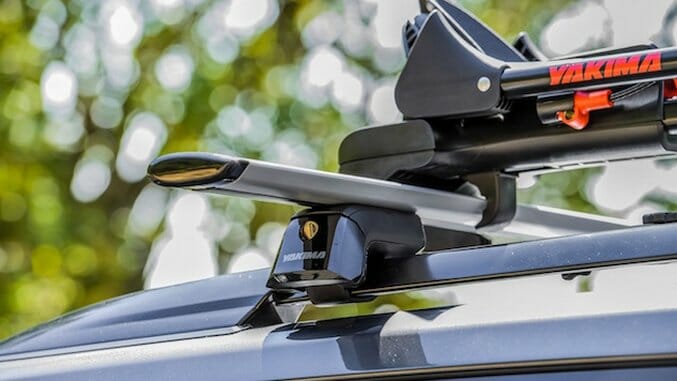 Periodically, the Gear Geek will break from his regular programming—publishing round-ups of what are hopefully useful, innovative, stylish and sometimes lust-worthy travel gear—to pause and highlight a few new initiatives that can be heard above the steady hum that is an industry constantly striving to reinvent itself. And now that spring has officially sprung and everyone is angling to plot out the next long weekend, now is the perfect time for one such "very special" report.
1. Yakima Simplifies the Once-Complicated World of Car Racks
As anyone who has attempted to outfit a vehicle with a sport-specific rack or cargo box can attest, figuring out what you actually need to buy can be a mystifying, utterly frustrating experience. Yakima is changing that.
The Lake Oswego, Oregon-based company has already fostered pretty fierce loyalty in the outdoor set, thanks to the iconic Q Tower configuration that used a variety of vehicle-specific Q Towers, round bars, and a handful of sport-specific carriers. But just because they did it well in the past doesn't mean they can't do it a lot better—hence the new StreamLine system, the largest relaunch in the company's 36-year history.
What was once a litany of choices has been … yes, "streamlined" to two: choose a tower (the piece of the rack that attaches to you car) and then a crossbar (the piece that attaches to the rack you want). You'll use one of four towers based on your vehicle's roof configuration, and then select from three different crossbars, which all perform well, but offer less humming noise when driving at speed—spend more, and you'll hear less. The new towers are backwards-compatible, meaning old rigs will work seamlessly with the new setups, and the new setups are also rated to carry more weight, topping out at 220 pounds.
From there, choose the carrying rig that suits your needs. They have a variety of carriers for cycling, stand-up paddling, surfing, kayaking, canoeing and snow sports, along with hard- and soft-case cargo boxes, and racks. Or pair a few to free up space for your next multi-sport weeklong foray into the nearest national park. You can also choose from a new cache of trailer-hitch carrying options.
It should be noted that this consumer-level simplicity comes at the expense of a lot of work by the Yakima team, who have to figure out how to install a rack on pretty much every car, truck, SUV, mini-van, hybrid and hatchback ever made, every single year. The new towers are a result of years of painstaking research, streamlining a laundry list into just four options. I couldn't wrap my head around all this without the aid of more than a few microbrews when they previewed the line last fall. Thankfully, the event was in their hometown in Oregon, where good IPAs are never scarce.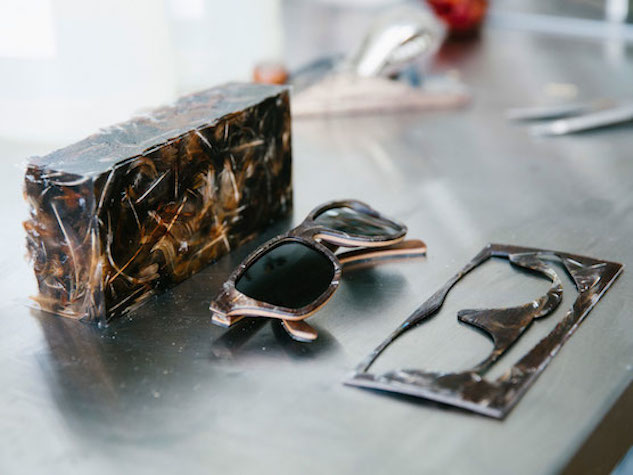 Photo courtesy of Shwood
2. Is That the Desert in Your Sunglasses?
Shwood dubs themselves the "world's finest natural sunglasses," and a quick glance at their library of handcrafted acetate-, titanium-, and wood-frame eyepieces make for a compelling case. But this spring they've upped their game with the new Badlands collection.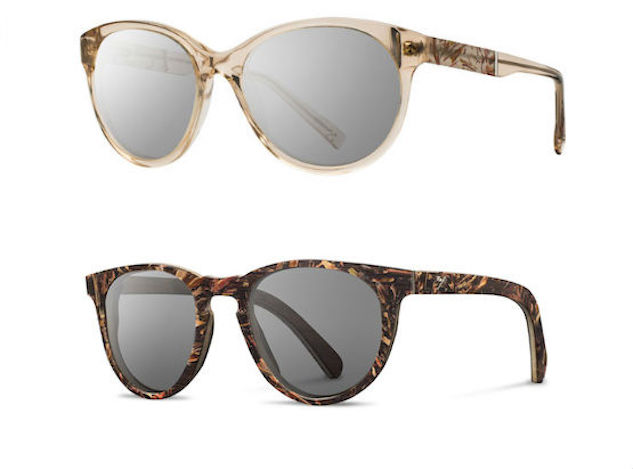 Photo courtesy of Shwood
These four new models utilize a new process of high-pressure resin casting that incorporates desert flowers and osprey feathers into the frames—not creating graphics inspired by nature on the frames. But casting the actual piece of nature themselves into the sunglass frames. Judging by the video on their site, the manufacturing process looks like an even mixture of hippy nature lovers, Portland hipsterdom, and a 1950s science lab, and reinforces the high quality of these one-of-a-kind creations, the kind that only comes from hand-crafted products.
The rugged environs of South Dakota's Badlands inspired this new line of limited-edition glasses, and promises to the first in their on-going "stabilized" series. Prices start at $159.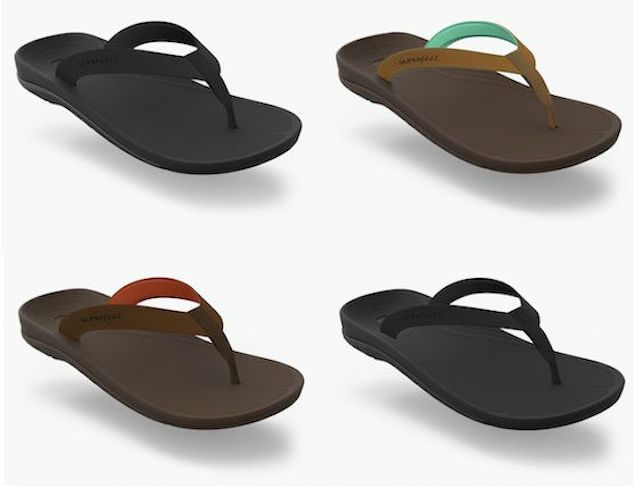 Photo courtesy of Superfeet
3. Insoles Step Out into the Light
Superfeet, one of the best insole brands on the market, have long been the best way to extend the longevity of your favorite pair of travel shoes. And this April they're bringing their stepping into a new market: actual footwear. The new Outside sandal employs all the benefits you get from their insoles into a flip-flop-style sandal.
The sandal—like the insoles—benefits from four decades of podiatric research, with a footbed that's ideally contoured to support the arch, cradle the heel, and deliver days-long comfort. At $60 a pair, they're probably the most expensive flip-flops you've seen, but they are worth the cost. Each of the four models—two men, two women—are configured to match the gender-specific needs of our feet, with synthetic leather and neoprene straps for slip-on comfort. A high-impact top layer adds a bit more cushion, with a resilient foam mid-layer, a non-marking outer sole with slip-resistant traction, and deep heel cup to naturally absorb impact.
Nathan Borchelt is a gear-obsessed travel writer and adventurer whose collection of shoes, backpacks, jackets, bags, and other "essential" detritus has long-outgrown his one-bedroom apartment (and his wife's patience).