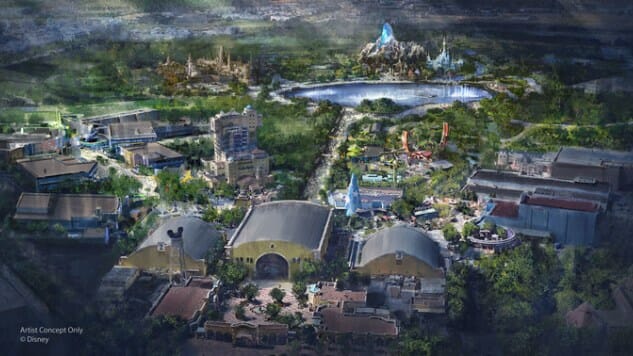 Yesterday Disney CEO Robert Iger announced a massive expansion to Disneyland Paris that will bring some of the company's most popular recent hits and acquisitions to the theme park. With French President Emmanuel Macron watching on, the Disney honcho announced a $2.4 billion renovation plan that would add new areas based on Marvel, Star Wars and Frozen to Walt Disney Studios Park, the second of two theme parks at Disneyland Paris. According to the Los Angeles Times, the new additions will debut in three phases, starting in 2021. Few specific details were revealed about the areas, although it was announced that a new lake will be built to act as a sort of hub for the new expansions.
With no information on any of the attractions that might appear at these new lands, it could be helpful to look at other expansions based on the same properties being built at Disney parks around the world to get an idea of what Disneyland Paris fans might be able to expect.
For the last few years Frozen, Marvel and Star Wars have been the big three properties that Disney has been trying to find room for in their theme parks. Star Wars, of course, will be getting its own entire area at the original Disneyland in California and at Disney's Hollywood Studios park at Disney World in Florida. Star Wars: Galaxy's Edge, as the new theme park area will be known, is currently scheduled to open at those two parks in 2019. It'll be set in a new planet in the Star Wars universe, between Return of the Jedi and The Force Awakens, and will debut with two new attractions. One will let riders pilot the Millennium Falcon, and the other will let them experience a battle between the Resistance and the First Order first hand.
In 2016 Disney opened its first Frozen-themed ride, Frozen Ever After, at the Norway pavilion in Epcot. An entire area themed to Frozen is scheduled to open at Hong Kong Disneyland in 2020, with a version of Frozen Ever After and a new ride called Wandering Oaken's Dancing Sleighs, which will use a trackless ride system that sounds similar to the one in Luigi's Rollickin' Roadsters at Disney's California Adventure.
Disney bought Marvel before it bought Star Wars or released Frozen, but it's largely been slow to develop new attractions based on its roster of superheroes. Part of that is probably due to legal restrictions that prevent them from using a wide swath of Marvel's most popular characters at Disney World in Florida, due to a preexisting theme park deal that Marvel struck with Universal before the comics company was purchased by Disney, and that lasts in perpetuity. That's why Universal still has rides based on Spider-Man, the Hulk and more at Islands of Adventure in Orlando. As long as that deal is in place Disney can't create theme park attractions based on characters in the Spider-Man, Avengers, X-Men or Fantastic Four families at American parks east of the Mississippi River. They can use those characters at Disneyland and Disney's California Adventures in Anaheim, although they can't use the word "Marvel" to market anything there. This is a constant source of confusion among the public, especially since Disney announced a Guardians of the Galaxy roller coaster coming to Epcot in Orlando, after converting the Tower of Terror in California Adventures into another Guardians-themed ride.
The first full Marvel-themed Disney parks areas will be coming to Hong Kong and, now, Paris. Hong Kong Disneyland already features an Iron Man-based motion simulator ride (converted from Star Tours, the Star Wars ride that has existed at almost every Disney theme park resort around the world for decades), and will be retheming its Buzz Lightyear's Astro Blasters attraction to Ant-Man later this year. Hong Kong will also be getting a major new Avengers-themed ride in 2023.
At some point in that five-year window Walt Disney Studios Park in Paris will be getting its own Marvel land. First, though, it too will be retheming a preexisting ride to something based on Iron Man, as its version of Rock 'n' Roller Coaster Starring Aerosmith will be converted to an Iron Man coaster. Presumably the newer Marvel attractions built for this expansion will be located near that Iron Man ride; the coaster sits at a far back corner of the park, so it could easily become the entrance to a whole new Marvel-themed locale.
We don't know how these newly announced Parisian additions will resemble Disney's other theme park plans involving Star Wars, Marvel and Frozen, but it's a good bet there will be at least some similarity between France's new expansions and areas based on those same properties at other Disney parks. It makes a lot more economic sense to roll the same basic rides out at different parks, rather than developing new and unique experiences everywhere.
Either way, nobody can deny that Walt Disney Studios Park really needs this kind of major investment. It's the least visited Disney park in the world, and for good reason: it's very disappointing. Read my feature on the park from last year for a full rundown. It greatly misses the mark for what's expected from a Disney theme park, and hopefully these new expansions will go a long way towards rectifying that. It's especially galling since Disneyland Park, the original French Disney theme park that sits right next to the Studios Park, might be the most beautifully designed version of the classic Disney castle park anywhere in the world. Disneyland Paris is truly a tale of two theme parks: one is an immaculate must-see for any Disney parks fan, and the other might potentially be worth a visit once this $2.4 billion expansion is done.
---
Senior editor Garrett Martin writes about videogames, comedy, travel, theme parks, wrestling, and anything else that gets in his way. He shares stories and photos from his Disney journeys on Instagram at @garrett_goes_to_disney. He's also on Twitter @grmartin.