Prague is one of the only cities that has uniquely preserved its history despite the doom and destruction that flattened many of Europe's most beautiful places during the Second World War. Bohemian allure, medieval architecture, Gothic cathedrals and Baroque buildings bring in visitors from all over the world to get lost in its cobblestone streets and lively culture. As the fifth most visited European city, only behind London, Paris, Istanbul and Rome, it boasted a record 8 million visitors just last year.
1. Charles Bridge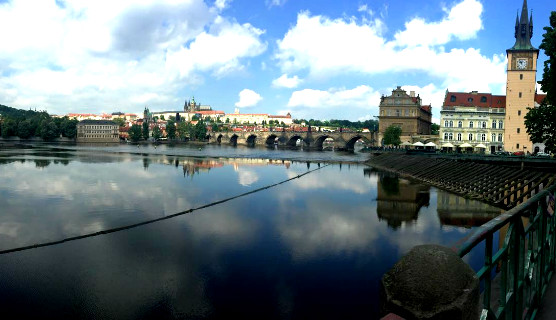 Photo by Gabbi Markle
The worn and weathered stone structure that sits above the Vlatava River transports visitors from Old Town to Lesser Town (Malá Strana). Built in 1357 at the request of Czech king and Holy Roman Emperor Charles IV, Charles Bridge is one of the oldest in Central Europe. You won't find cars, but crowds of people walk across or stand along the sides admiring the views of the city and river below. While standing among people from across the globe, have your caricature drawn by street artists, or drop a few Czech korunas into the case of an up-and-coming musician. It is good luck to touch one of 30 famous Baroque statues that line the bridge's edges, even though most of the figures are replicas of the originals from the 17th century.
2. Old Town Tower/Astronomical Clock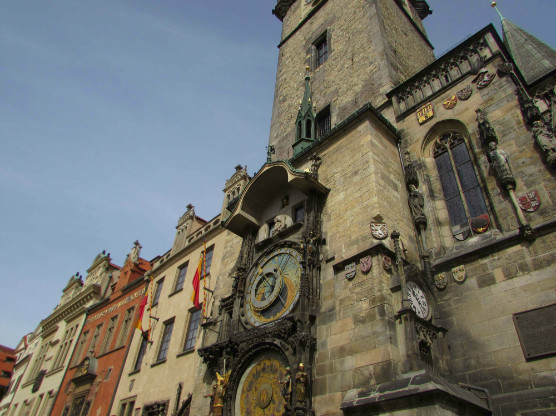 Photo by Gabbi Markle
Just inside Old Town Square, a lively and bustling area of the city, stands one of the most dominating attractions in Prague—Old Town Hall. The tower was built in the 14th century, and the stunning astronomical clock was added to the south side in 1410. Climb up the tower—yes, there is an elevator, but you will want to take the stairs—and read about the history of the tower and the city on your way up. The very top of the tower provides a truly breathtaking view of the square below, as well as a large majority of the city of Prague.
When the clock strikes on the hour, the astronomical clock comes to life. The Twelve Apostles, Jesus' disciples and other figures appear in the windows of the clock and give a little "show" to onlookers below.
3. SANDEMANs New Europe Tour
SANDEMANs is the city's best walking tour. The company operates all over Europe and provides an unforgettable tour experience—for free. But because the guides are lively, personable and excited to share their city with you, you'll want to show your appreciation with a tip at tour's end. The guides take you all over the city, stopping at historic spots and sharing times past that you can only get from a native (or someone who just truly loves Prague). In fact, you'll notice that many are not native at all, but simply visitors who fell in love with the city and never went home.
4. John Lennon Wall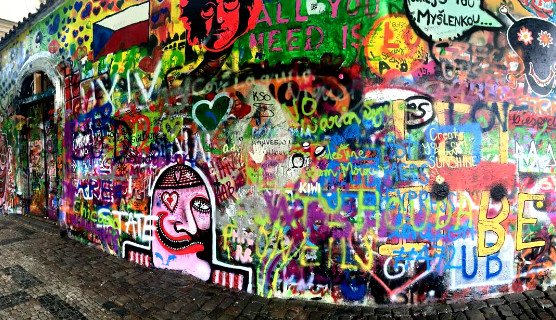 Photo by Gabbi Markle
This famous wall has been a symbol of anti-war and anti-communism since the 1980s, when Western pop songs were banned by Communist authority, especially the freedom-praising songs the Beatles sang. Despite the deliberate attempts to stop Czech youth from spray-painting pictures of John Lennon, lines of his lyrics and other freedom-inspired phrases, the police couldn't keep the wall clean. Today, Prague natives and tourists alike paint on the wall as a form of expression. Leave your own mark or simply sit and ponder the meaning of it all as you listen to the nearly ever-present street musicians that hang around singing Fab Four covers.
5. Paddleboating on Vlatava River
During the warmer seasons, there is no better way to spend an afternoon than on the river. For just 250 korunas, or $10 USD, you can spend an hour with up to three other people paddle-boating along the sparkling water. If you're lucky, you'll get to ride in one of the swan-shaped or VW Beetle-shaped boats and be the most coveted vessel around. Time your visit so you can watch the sunset from the middle of the water—a romantic way to end a long day of sight-seeing.
6. Walk up Petrin Hill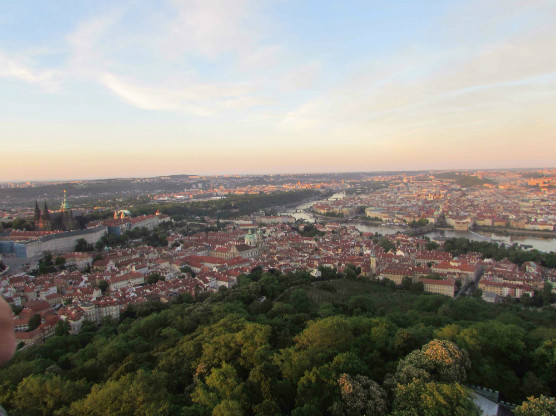 Photo by Gabbi Markle
Head to Pet?ín Hill, which is easily distinguishable by the TV tower that mimics the Eiffel Tower in Paris. A tram-like vehicle, also known as a funicular, will carry you up the hill, unless you're feeling a tad adventurous, in which case you can simply walk the trail yourself. Warning: It is a long, steep trek, but it's worth every haggard breath. Thousands of dandelions line the trails and people will often stop to lie down amidst them. Fight the burning in your calves and climb all 299 steps to the top of the Lookout Tower for around two bucks. Here you'll find another stunning 360-view of Prague. (This one is even better than Old Town Hall.) On a clear day, you can see Snezka, the highest peak in the Czech Republic, which is 93 miles away.
7. Trdelniks and Street Performers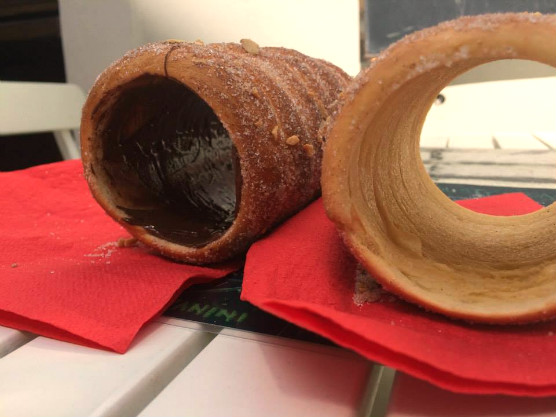 Photo by Lauren Sloan
One of the most wonderful things the Slavs have given us is a delectable pastry called the trdelnik. These cylindrical, cinnamon sugar-covered treats run about 50 korunas, and you can find them freshly made on just about every street corner. Go crazy and pay the extra 10 korunas to add Nutella. With sugary goodness in hand, stroll over to Old Town Square for a night of free entertainment. Singer/songwriters, musicians, bubble-blowers and robot people alike take turns wowing the crowds of passersby. Like what you see? They sure won't discourage tossing a few left over coins into their open cases.
8. Vanille
For a scoop (or three) of arguably the best (and cheapest) gelato you've ever tasted, take the metro to the Namestí Míru stop and walk about 50 yards to Vanille. The shop is a combination walk-up gelato shop and café filled with coffee and delectable Czech pastries. Don't think you can come back later and the line will be shorter—it's always long. Because it's that good. For just 18 korunas per scoop, you have the choice of 20 or so flavors, some rotating to offer new choices every day. If you choose to go inside, you can order a cup of locally brewed coffee and pick from a glass case filled with icing-covered slices of cake, crème-filled muffins and more. Don't be surprised if you find yourself coming back every day—the employees are used to that.
Gabbi Markle is a travel intern at Paste Magazine and a freelance writer based in Athens, Georgia.