The World's Ritziest Cruise to Sail Along Africa's West Coast
Photo courtesy of Regent Seven Seas Cruises
Travel
News
cruises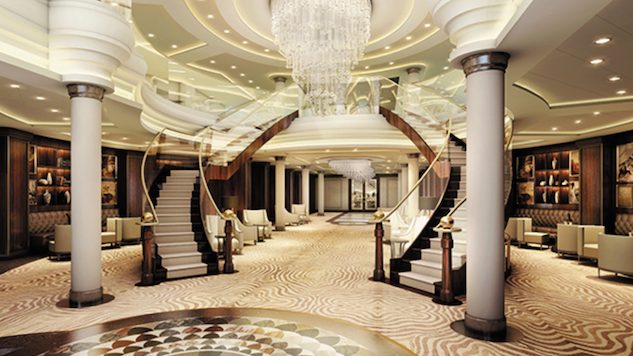 The most lavish suite on the Seven Seas Explorer will cost you around $25,000. Compare this to per capita income of its destinations, some less than $2,000 a year, and some might call that ironic. In November of 2018, the shiny new vessel, christened this past July in Monaco by her pronounced godmother, Princess Charlene, will say "bon voyage" to Lisbon, Portugal and make its way from Senegal, Gambia, the Ivory Coast and Ghana to go down to Cape Town, South Africa, with 750 passengers in tow. After this 24-night trek, the Explorer will continue to sail from South Africa to Namibia and Mozambique.
It's not a common thing for cruise ships to voyage down the West Coast of Africa. It will surely be a sight to see this 450-million-dollar, 56,000-ton opulent vessel adorned with gold leaf and Italian Carrara stone and marble cruising by. If you choose to stay in the 3,026-square-foot Regent Suite (complete with a 1,417-square-foot balcony) you'll be welcomed with a bottle of Veuve Clicquot and a letter from the President. Included in your suite stay are a personal butler, an in-suite caviar service, full-liquor bar, an in-suite steam room, sauna and jacuzzi. Can you say swanky?
This year, the ship will be sailing to ports of call in the Caribbean, Spain, Italy, Denmark and more.
Amanda Allbee is a travel intern for Paste and a freelance writer based out of Athens, Georgia.