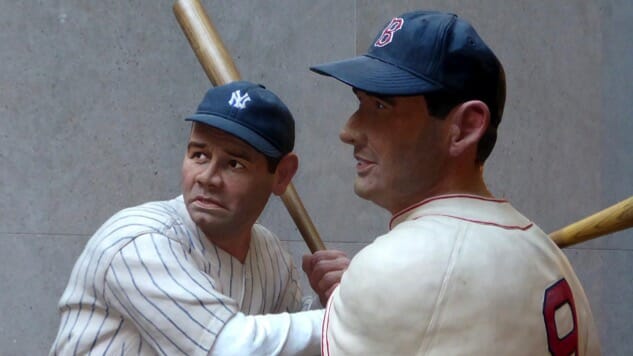 On my latest visit to the National Baseball Hall of Fame and Museum, my first stop was the "Locker Room" gallery. Each of the 30 lockers was devoted to a different major-league team and inside each one was memorabilia from the last 10 years. It was a reminder that history keeps accumulating and so do the physical objects associated with those events—and the Hall of Fame is committed to keeping up.
There were a lot of cool things in those lockers: not just the ball from Max Scherzer's 20-strikeout game in 2016 but also the rosin bag, the dirt-clogged cleats Ichiro Suzuki was wearing when he hit his 3000th hit, and the Jerry Garcia bobblehead that the San Francisco Giants gave away in 2010.
Coolest of all, though, was the uniform Eric Hosmer was wearing when he made his famous mad dash home from third base in the 2015 World Series. Not only was the gray Kansas City Royals jersey he wore that night hanging in a locker, but the dirt from his slide into home plate was still on the jersey. That's what I like about this museum. The exhibits aren't tidied up; they still bear the reminders that baseball involves a lot of rolling around in the grass and dirt.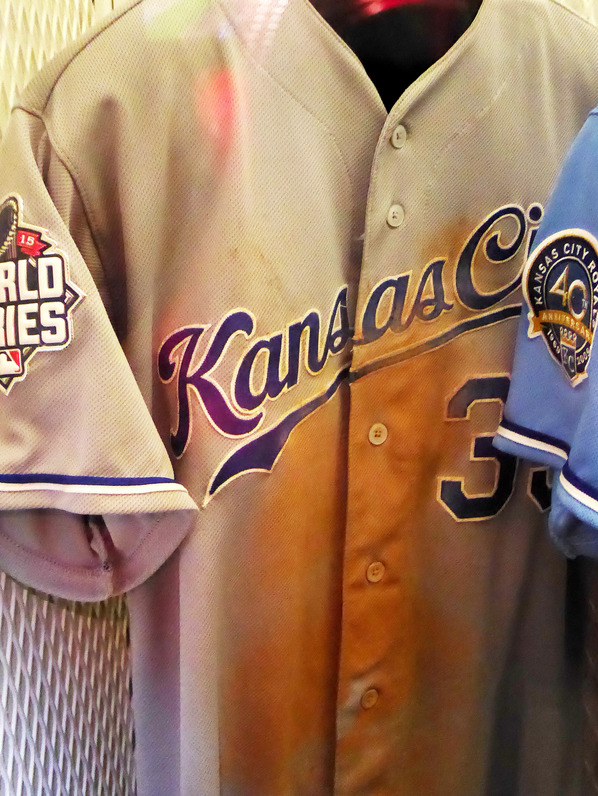 Thousands of baseball fans head to rural upstate New York every year for the annual Hall of Fame Weekend. This year it was July 28-31, when the Hall of Fame inducted its newest honorees: players Jeff Bagwell, Tim Raines and Iván Rodríguez as well as executives John Schuerholz and Bud Selig. The sidewalks of this lakeside village were crammed with baseball fans hoping to catch a glimpse of the more than 50 Hall of Famers visiting that weekend.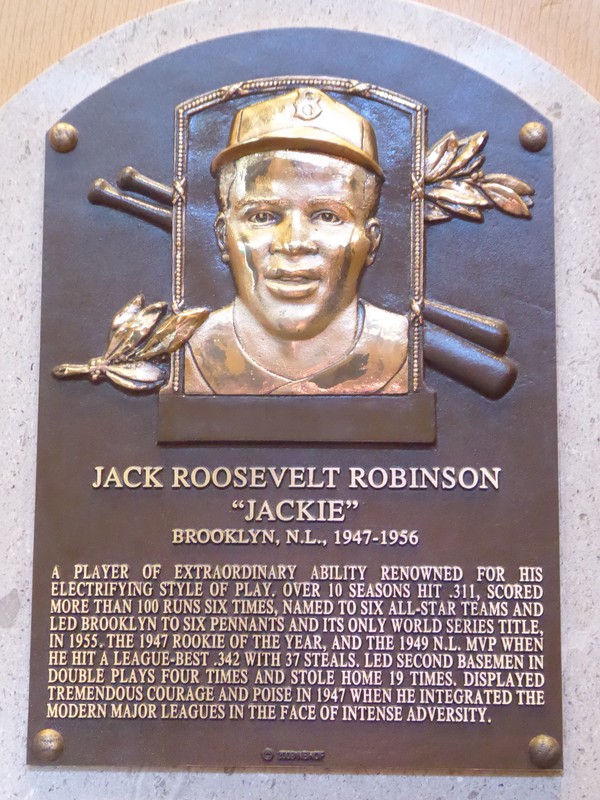 The Hall of Fame Weekend can be exciting, no doubt, but you might consider going another weekend when it won't be a major challenge to find lodging, parking or a restaurant table and when it will be a lot easier to get into the Hall of Fame itself. That's what I did in early June, and the lazy summer vibe of this rural village on Lake Otsego provided a very different experience than the big weekend.
One could wander into Doubleday Field and watch some youth teams play a game; one could stroll in and out of the numerous memorabilia shops along Main Street, checking out the expensive game-worn jerseys and autographed bats or the cheap t-shirts. One could wander through the museum without waiting to approach any case.
And the items in those cases were fabulous if you care at all about baseball: autographed balls and bats from games played in the 1850s and 1860s, Ty Cobb's pillowy 1906 glove, a tiny, rare 1909 Honus Wagner baseball card, a brick from Babe Ruth's father's saloon, 1920s sheet music from songs about Babe Ruth, Cool Papa Bell's jersey and sunglasses from the 1920s Negro Leagues, Dizzy Dean's name hand embroidered in red on a jersey tail, Stan Musial's wooden locker from his final game, Lou Gehrig's "1-LG" New York license plate, Frank Robinson's triple-crown trophy, and George Brett's notorious pine-tar bat—with the tar still on it.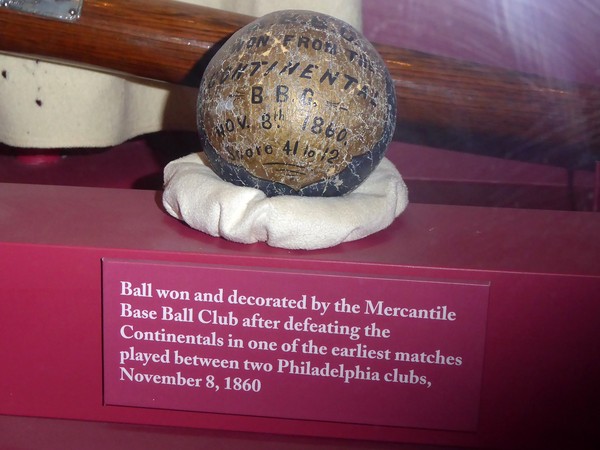 Babe Ruth and Hank Aaron each has a large gallery devoted just to him; so do the Negro Leagues, Latin American baseball, baseball stadiums, women in baseball and baseball in the movies. The baseball art gallery includes works by Norman Rockwell, Alexander Calder and Elaine de Kooning. You can stay home and watch video of baseball's famous moments on the internet; when you travel to a history museum you want to bask in the presence of genuine objects from that history—and the Hall of Fame has them.
Baseball has been played primarily in cities since it first evolved out of British bat-and-ball games in the 1820s, but the game's myth has always placed its origins in pastoral meadows like those surrounding Cooperstown. In fact, in 1905 Albert Spalding, anxious to sell more of the baseball equipment he manufactured, convened a commission that endorsed the story that the game was invented in Cooperstown in 1839 by future Civil War hero Abner Doubleday. That story has been thoroughly debunked, but the Hall of Fame remains in the New York village.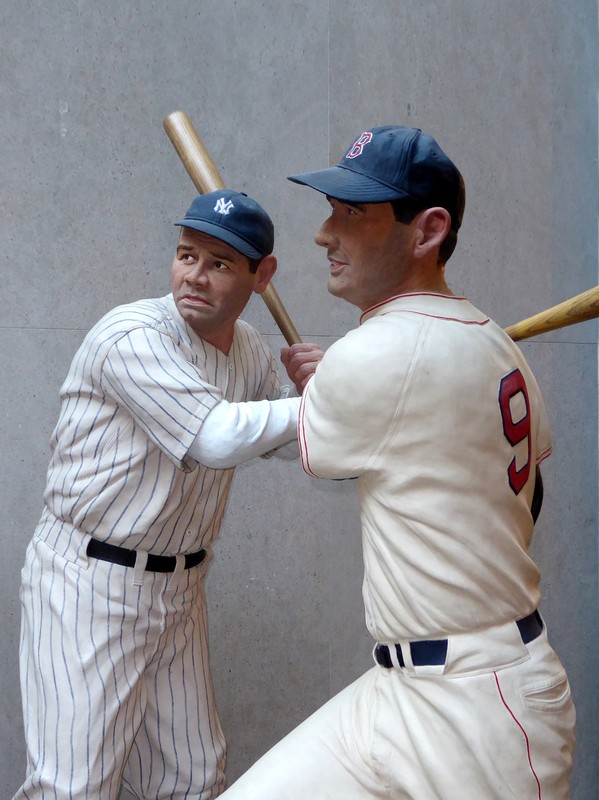 I asked the information desk at the Hall of Fame if we were in New York's Finger Lakes region and he said no. "Even though Cooperstown's at the bottom of a lake shaped like a finger?" I persisted. No, he said, we're between the Finger Lakes and the Catskills; we call this the Leatherstocking District. The name came from the works of James Fenimore Cooper, scion of the town's namesake family and popular author of novels and short stories about early interactions between European colonists and the indigenous population.
The morning after our Hall of Fame visit, we dropped in at the Fenimore Art Museum, installed in a mansion built on the site of Cooper's former farmhouse. One large room is devoted to sculptures, paintings, manuscripts and artifacts associated with the novelist. Nearby rooms house a middling collection of 19th-century American art.
Neither of those are the real reason to visit the museum. The true draw is the Eugene and Clare Thaw Collection, one of the world's greatest assemblages of North American Indian Art. From the totem pole in the front yard to the beaded cradles, painted leather tunics and carved masks in the basement galleries, these are masterpieces from one of the world's underappreciated art traditions. Almost as good is the collection of folk art, which includes both portraits and utilitarian signs from early-American itinerant painters as well as such acclaimed outsider artists as Ralph Fasanella and Mose Toliver. The pride of the collection is Giovanni Indelicato's extravagantly embellished shoe shine stand from his own business in the 1930s.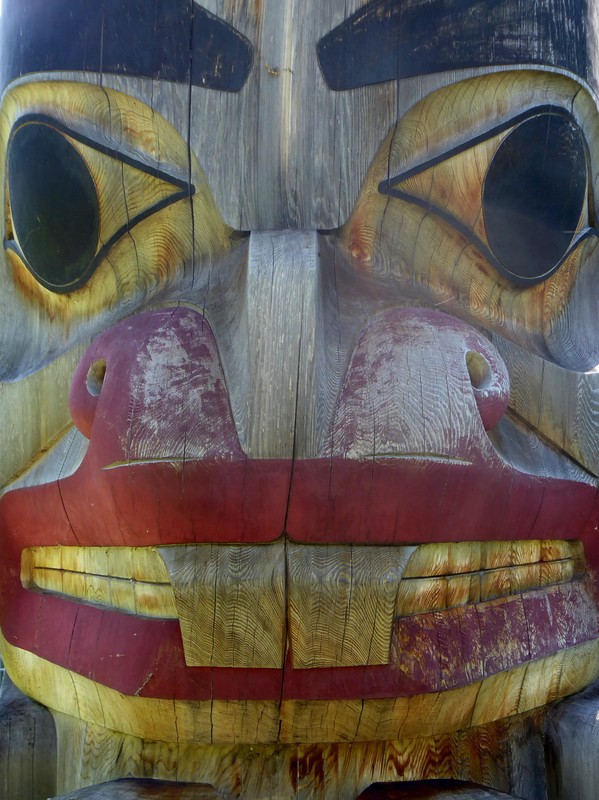 Across the street from the Fenimore is the Farmers' Museum, the site of a working farm since 1813, when it was owned by Cooper. In addition to the expected historical buildings and old farming implements, the grounds include live animals and a giant carousel.
But the main reason to come to Cooperstown is for the baseball museum. Yes, the uniforms and equipment of the famous players are exciting, and the actual Hall of Fame Gallery with the bronze plaques has a sobering aura. But what I love about returning to the museum every 10-20 years is happening upon the weird stuff tucked away in corners I hadn't noticed before.
This year I made some mind-boggling discoveries: Andy Warhol's portrait of Tom Seaver, Dr. Frank Jobe's Tommy John surgery tools, Scott Boras's three-ring binder of materials for negotiating Alex Rodriguez's 2000 contract, a wooden home plate from a Japanese-American internment camp, 77 colored baseballs that illustrate Ted Williams' theory about the strike zone, Curt Schilling's shoes from his "bloody socks" game, the on-deck circle from the now-razed Forbes Field, Brett Lawrie's sawed-off bat from Mariano Rivera's 601st save and the ball from Ron Necciai's 27-strikeout, no-hit, nine-inning, minor-league game.
I'll be going back in a decade or so.
WHERE TO EAT:
The Blue Mingo Grill (6098 State Highway 80, 607-547-7496)
Nestled inside Sam Smith's Boatyard two-and-a-half miles north of Cooperstown is this upscale restaurant on the west shore of Lake Otsego with views of Kingfisher Castle across the water. Named after the renegade Indians of James Fenimore Cooper's "The Deerslayer," it features local produce, fresh seafood and handcrafted desserts.
Danny's Market (92 Main Street, 607-547-4053)
This is your best bet for a quick, cheap meal while you're downtown in Cooperstown. The soups, salads, breads and pastries are all fresh and homemade. The fruit smoothies go well with the big sandwiches.
WHERE TO STAY:
Terrace Motor Inn (6439 State Highway 80, 607-547-9979)
Some of the best deals in lodging these days are old-fashioned motels that have been purchased and renovated by on-site owners. This cheap and clean motel, overlooking Lake Otsego from a hillside three miles north of Cooperstown, is a good example. It includes a pool, picnic tables and lake access.
WHAT TO SEE:
The National Baseball Hall of Fame and Museum (25 Main Street, 607-547-7200)
Fenimore Art Museum (5798 State Highway 80, 607-547-1400)
Farmers' Museum (5798 State Highway 80, 607-547-1400)