If you know anything about Prague, you know the town is famous for its plethora of cheap, delicious beer. Beer often costs less than water at restaurants—and we're not complaining. But Czech coffee devotees are working hard to put the Central European republic on the craft coffee map, too.
Craft coffee refers to the pursuit of a high-quality Joe. Consumers are choosy about selecting a roaster, and roasters are particular about selecting beans. The beauty of craft coffee is understanding the story behind the cup from which you sip—by following its journey from plant to final pour. And that's exactly why these shops have been reeling in customers since the day their doors opened. In the last five years, these detail-oriented cafes have sprung up all over Prague.
Mamacoffee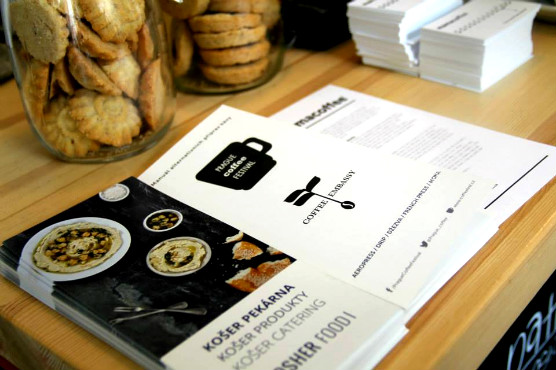 Photo by Lauren Sloan
Mamacoffee, made its mark in 2008 by becoming the first Bio Fair-trade coffee roaster in Central Europe. The company now has four locations, ranging from small and cozy to two stories with two separate coffee bars. All the pastries are freshly baked daily and offer a true taste of Czech. Try the signature fruitcake-like treat that the barista claims every grandmother bakes for her family on Sunday afternoons. Pair it with their rich, dark Ethiopian fair-trade blend in a uniquely painted ceramic mug, and flip through one of the shops' worn books on the surrounding shelves. No matter what shop you sit in, you're guaranteed a comfortable atmosphere filled with trendy people of all ages.
Monolok
Trendy doesn't begin to describe this place (pictured at top). From the outside, you might notthink this is a coffee shop, but perhaps was some high-end clothing store in Paris. It follows a simplistic vibe, with white interior, wooden furniture and plenty of open space. Students at Charles University retreat to this spot during exams, as it proves to be a calm and creative space to sip a delicious brew. But you don't just have to order coffee; Monolok offers a number of yummy artisan sandwiches and even wine. If weather permits, take your espresso outside and have a seat on the sleek, iron chairs that cover the back marble patio. The chic, modern design coupled with a rich roast will make you feel like a celebrity.
Moment Cafe
Located in a neighborhood that has become Prague's hipster haven, Moment, a vegan-inspired café, offers a frothy iced coffee and chocolate-chip cake that hits the spot on a warm afternoon. But like many of the coffee hotspots in this city, you can pick from a variety of Czech dishes for lunch—all vegetarian, of course. From your first step in the brightly painted green doorway—where your elixir comes on a white saucer with a shortbread cookie shaped like a bird—you know you're surrounded by cool people. The staff have sleeves of tattoos, fierce haircuts and earrings galore. The background soundtrack is a mix of Blink-182, Green Day and other pop-punk legends.
EMA Espresso Bar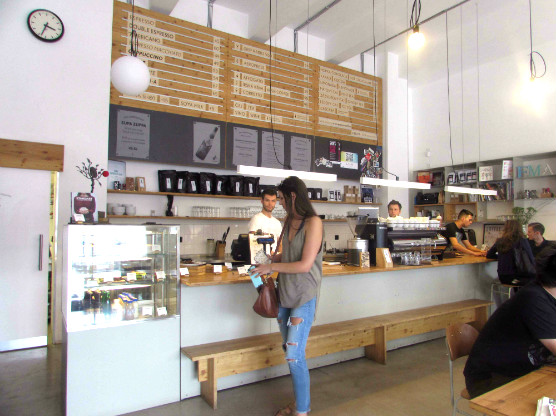 Photo by Gabbi Markle
This coffee shop drips with mod appeal. The décor is simple, painted white with minimalistic lighting and wooden accents. Instead of comfy armchairs, EMA opts for barstools along one wall and a giant wooden table in the middle with fresh flowers and lemon water-filled pitchers. Everyone inside looks fresh out of an Urban Outfitters catalog, and the baristas are actually award winners (in some very prestigious Czech coffee competitions). They serve the usual espresso, Americano and cappuccinos, but they also offer an aeropress. Similar to a French press but much smoother. in comes in a glass mug on top of a little wooden tray with a tiny stirring spoon. The best part about this café? There's no WiFi … giving you a better chance to rap with a hip local.
Costa Coffee
Yes, it's a chain franchise, but that doesn't mean poor quality. Just like the craft coffee experts at the privately-owned shops, the artisans at Costa Coffee strive for an irresistibly good cup of coffee. As a successful company, they've all but perfected their recipes, which is obvious when you order the Mocha Flake. It even comes with a stick of chocolate on the side—yum. There's a size and a flavor for everyone, so it'll be a hard decision to make. Many of the newer craft coffee shops don't offer a variety of flavor, but here you can get the salted caramel mocha you've craved since you got off the plane.
The atmosphere is cozy, filled with cushy sofas and booths (and plenty of free internet connection). Most of the shops are similar in décor, but if you're coming to Prague—or even Europe—for the first time, it's nice to have a bit of sameness to avoid the culture shock.
Gabbi Markle is a Travel intern at Paste Magazine and a freelance writer based out of Athens, Georgia.