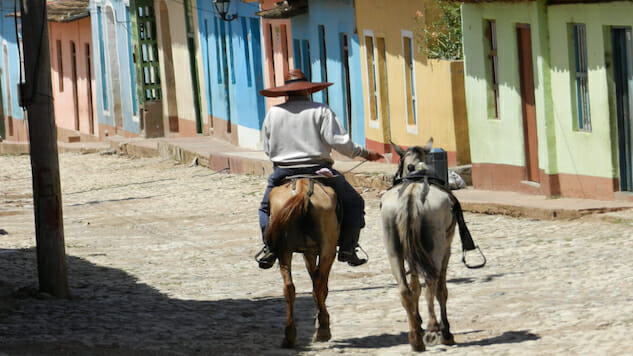 A UNESCO World Heritage Destination since 1988, the town of Trinidad easily displays its winsome charms in everything from the picturesque Spanish-style Plaza Mayor to old cobblestone streets and tiny tropically-hued houses. Most tourists come for the architecture, the music performances and the beaches—or as part of a midcountry tour of Havana, Cienfuegos and the Bay of Pigs—but the headiest magic of Trinidad lies in its unexpected moments. Be prepared when turning the corner to find yourself face-to-face with a Miro-like canvas of a bright blue house punctuated with abstract bits of laundry; take a salsa turn with a stranger in the plaza at 11 p.m. to a Marc Anthony song you both sing along to; purchase avocadoes and garlic from an elderly man's horse cart at 8 a.m. when suddenly he grins and offers you a sip of strong black coffee from his canteen.
You'll need to purchase Viazul bus tickets to Trinidad—a four-hour drive from Havana—a month or more in advance, especially in summer when Cubans themselves travel their country. Suffer the Viazul ticket office in Havana at your own risk—it still employs dot matrix printers and Soviet-era waits. When in doubt, hire a shared taxi via your homestay host (in Cuba, everybody's got a guy) or visit a Havana hotel concierge for possible shared taxis. Of course, you can hire a taxi on your own, but it will cost you much more.
As for solo travel, I was a woman traveling and staying alone, and I felt completely safe at all times; there was catcalling, but I was never followed, and crime rates are low in Cuba. Streets are not well-lit, but my homestay host kept an eye out for me when he was sitting on the stoop at night, and I arrived at home after 1 a.m. most evenings, well-fed on rum, music and dancing.
1. Cubita
You may have heard that Cuban restaurant food is lackluster. While this currently holds water, restaurants like Cubita have kept the faith in a future gourmet Cuba. From a grilled pork steak (really, pork pounded thin and grilled) with pineapple sauce to a surf platter of grilled lobster, fish and shrimp, Cubita is the most reliable and pleasant option for a dinner out in Trinidad, and you'll see the proof in a line out the door past 6 p.m.
Owned by ceramicists, the space is quirky, with whimsical mermaid artwork, homemade bowls and scraps of wall with patrons' names scrawled across. Settle into the warm, tavern-like space; order a Cristal and one of the (oddly) biblically-named dishes; and be entertained by guitarists, singers and flutists. The kitchen may send you an amuse-bouche like a bite of cucumber with tuna, an unexpected flourish in Cuba's current gastronomic climate; and all dishes include bread and butter, a salad, sautéed vegetables and rice. At 10 CUC ($10) for most entrees and 20 CUC for the "Three Angels of the Sea" seafood platter, this isn't Trinidad's cena mas barata (cheapest dinner), but it's certainly its best (meaning: skip supposed culinary destination Vista Gourmet, which has a view, but little to commend it food-wise). Vegetarians may strike out here, so head to Giroud or La Nueva Era if you're plant-friendly.
2. Casa de la Trova
One CUC and you're in, past the kindly door lady who smiles and waves you benevolently toward the back. Wandering down a memory lane of photos of legendary Cuban musicians who have graced the Trova, you arrive at a spacious back patio where bands play on until the wee hours of the morning as families and tourists lounge around tables drinking. Though trova is a specific style of Cuban music usually featuring a guitar-wielding troubadour playing his own tunes, you'll find a different style of music at Trova every half-hour, from son to salsa. The best technique is to purchase a ticket here and a ticket down the street at Palenque de los Congos Reales. Pop back and forth between the two venues and Casa de la Musica's outdoor steps, sampling the best music of every venue on the street.
3. Palenque de los Congos Reales
Echerri really is the avenue for music, packing more musical options into a tiny town than most cities. At this conga spot, you'll feel suddenly transported to the eastern end of the island, where rhythms speed up as percussion takes over from the usual Spanish guitar. With seven musicians on percussion and one singing, it's hard not to feel taken by the rhythm of the music, especially when a slender male dancer takes the stage, artistically tossing his body about in ceremony and even dramatically frothing from the mouth, possessed by the music and the spirit. From partner dances to audience participation, the palenque will leave no tourist unethused. When a vividly-attired dancer appears onstage, twirling her yellow ruffled skirts and her lithe body in circles, you'll start clapping along to the rhythm, and your feet may begin to shuffle, too. Drinks come in tiny plastic cups but are cheap—stick with Cuba Libres and daiquiris, which are reliable at the small bar.
4. Taller Instrumentos Musicales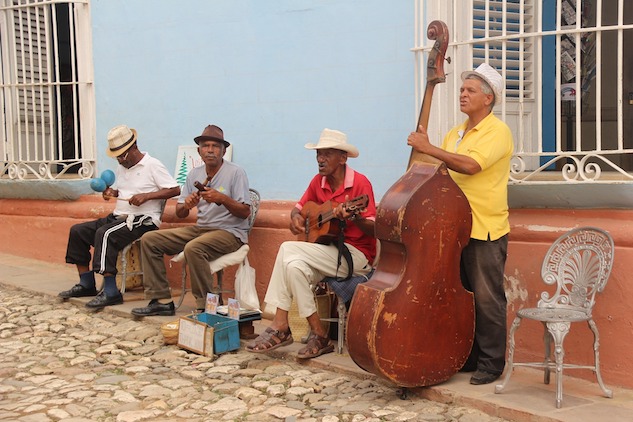 Photo by Patrizia08/pixabay
In this small shop, you'll find Cuban instruments from the tres (similar to a guitar) to the guayos (small wooden scrapers)—instruments essential to the production of Cuba's huge diversity of musical styles from son to changui to kiriba. Stay and chat for a while with the shopkeeper, or if you're lucky, witness a musical demonstration by a full band. Thrill at how the tres is played rhythmically like the drums, rather than with chords, and shake some maracas yourself.

5. La Canchanchara
To be honest, you're not so much here for the drink. The signature drink of Trinidad, the canchanchara is a honeyed rum cocktail a bit heavy-handed on the honey; the nation's favorite, the daiquiri, is much easier on the tongue. But La Canchanchara lights up earlier than Casa de la Musica, with its lovely yard playing host to daytime live music of surprising proportions, usually quintets or septets (for some reason, flutists are never in short supply in Cuba, and two types of drums are de rigueur). You can purchase one-off loosie cigars to smoke—with a little markup from the cigar man, of course. Grab a reasonably-priced Presidente, sip some 7-year Havana Club, make friends with other tourists and locals, and rest your weary soles under the patio roof by the band until it's time for the next venue.
6. El Cubano Park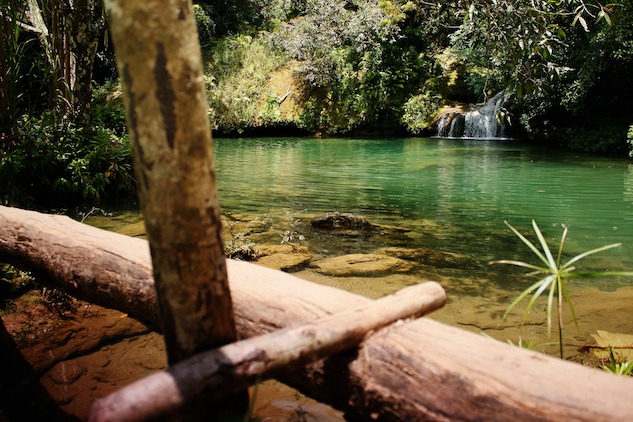 Photo by fab Wüst/Pixabay
Lofty palm trees and verdant foliage wave at you at this park just beyond the Trinidad rooftops. Take a photo of the posted map and hike with your group down to a small but lovely waterfall. Go for a refreshing swim in its little lagoon (especially during Cuba's brutal summers), grab your binoculars for bird watching, and picnic on the banks. Unlike Mexico's interior, you needn't be shy about your short shorts or swimwear in Cuba, where the women and men dress with equal relaxation (read: billowy white dresses and guayaberas) and aplomb (read: Lycra, tight tube tops). Though the Cubatur office in downtown Trinidad no longer seems to offer tours to lovely Parque el Cubano, jineteros are eager to sell you a ride. Find a taxi driver (with caution, of course) you can converse with and ask him what the ride there would entail, including rest stops, a tour and a return, and any potential expeditions such as a horseback ride.
7. Casa Templo de Santería Yemayá
It doesn't look like much from outside, but arrive at just the right time, and you'll see the Santería priests of this temple performing a sacred rite, though hopefully not one of animal sacrifice—yikes! The temple is devoted to Yemaya, Yemoja or Yemalla, as her various names may be spelled, the Yoruba water goddess. Yemaya is associated with the moon and the feminine, which is why lunar phases adorn the walls of the Trinidad temple. For those weary of creepy dolls, beware the doll with her piercing eyes in the front room, and for those in search of verdant spaces, wander into the garden for a chat with a priest. You'll see Yemaya manifested everywhere here in sea motifs, from vases of water; to anchor and fish symbols; to the stunning and varied shades of watery blue that cover the furniture, the dolls and the walls.
Dakota Kim is Paste's Food Editor. You can tweet her your mezcal photos, with or without worm salt.