Southern comfort is in—from barbecue and grits to whiskey and heritage denim. But for every mustachioed and suspender-wearing waiter serving shrimp and grits in Brooklyn, there are hundreds where that came from in Charleston, South Carolina.
The family-run boutiques, cobblestoned streets, landmarks that date to the 1600s, colorful historic houses combined with Michelin-star restaurants, food festivals and the bustling nightlife on King Street make the seaside city and county of the same name a place where hip meets history.
For a true taste of Charleston heritage, don't leave home without this list.
The Old Slave Mart Museum
Once the stock exchange of the slave trade, the Old Slave Mart is now one of Charleston's most important museums, and one of the country's most unique ones. This institution tells the story of the slave trade from three perspectives: slaves, brokers and traders. Through the use of visual aids and recordings of auctioneers shouting and chains clanking, cross-faded with first-person accounts of the experience, it is almost too easy to imagine what it would have been like. The tour is self-guided, but at the desk, Walter, whose family has been in Charleston for hundreds of years, tells a history you won't find in textbooks.
Charleston Tea Plantation
Tea is a lot like wine in the difference in taste is attributed to the soil in which the plants are grown. As the only tea plantation in the States, the tea grown in Charleston (technically on Wadmalaw Island in Charleston County) is the only tea that tastes like America. The main facility is a small barn-like building with red rocking chairs overlooking the property. Though the free factory tour leaves something to be desired, the 40-minute $10 trolley tour of the plantation—which comprises 127 acres of tea bushes in manicured rows—is novel for its insight into a craft of production that you can't experience otherwise in the U.S. Also, the all-you-can-drink tea included in the visit is a nice touch.
The Old Exchange & Provost Dungeon
The yellow, stately building at the intersection of Broad and East Bay streets looks more like the kind of place where powerful political decisions were made than it does a place where pirates and smuggled gunpowder were held. The truth is—it's both. Maintained from the 1700s, The Old Exchange and Provost Dungeon was the lookout point for boats coming into Charles Town (the city's early moniker); before years of developers filling in the waterfront, this building marked the city's shoreline. Today, middle-aged men dressed in colonial attire give tours of the dungeon—the oldest part of the building. Something about the cool, musky air and the stories of pirates who seized the city, feels like telling ghost stories.
Sunday Brunch at Hall's Chophouse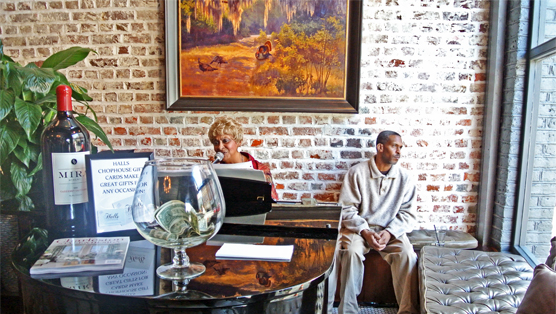 Photo by Christina Garofalo
For people in Charleston, Sunday mornings are for two things: church and family brunch. At Hall's Chophouse, the two collide in a Sunday morning brunch that serves bone-sticking comfort food soundtracked by live gospel music played by piano on the main level. Within 20 minutes of opening, both floors are packed with people in their Sunday best—some laughing and tossing back bloody mary's, others singing along to "Amazing Grace." Brunch begins with basket of just-baked popovers—a cross between Southern biscuits and French croissants—but the creamy pepper jack grits topped with roasted corn and finished off with a spicy kick are the true celestial experience.
Martha Lou's Kitchen
Martha Lou Gadsden has been cooking in this same location for the last 31 years. A local legend, the 84-year-old chef runs the restaurant as a family business and is almost always there herself. The main draw is the fried chicken, which is made-to-order and is so perfectly crisp that you can't taste the skin. Meals come with three sides—Southern staples, like mac n' cheese, collard greens and chitterlings (chittlins)—and lip-sucking-sweet tea. The place is tiny, seating a couple dozen diners at best, but despite the small pink building's modest appearance, Martha Lou's serves what many say is the best Soul Food in Charleston.
Magnolia Gardens & Plantation
Owned by the Drayton family for more than three centuries, Magnolia Gardens are the oldest unrestored gardens in America. In spring, it's like stepping into a Monet painting, with colorful camellias, daffodils and azaleas blurring behind sweeping Spanish Moss. Wander into a bamboo forest or a hedge maze, and end up at a long white bridge surrounded by Cypress Tress and a crystalline lake. Some sit and enjoy while others crouch behind bushes, trying to photograph a peacock before it runs off. The trail ends at a massive white Victorian home with wrap-around porches—the former home of the Drayton family, which is open for tours. Despite the numbers along the path to keep you from getting off track, this is the kind of place that's easy—and fun—to get lost in.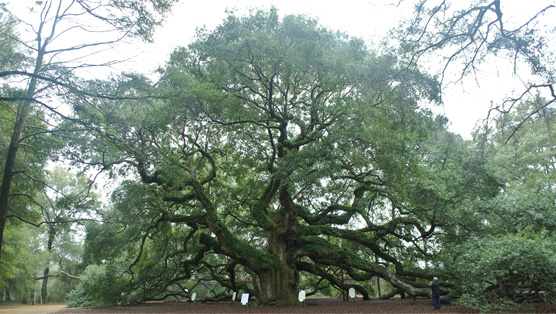 Photo by Christina Garofalo
Angel Oak Tree
Angel Oak is the oldest live oak tree in North America; at more than 400 years old, it may also be the largest in the world. The tree is tucked behind a modest church in Charleston County 30 minutes from downtown Charleston on Johns Island. From the muddy driveway, it doesn't seem like it'll be much, but at more than 65 feet tall and 28 feet in circumference—its birch-colored trunk partially covered in moss—seeing Angel Oak is like stepping into a fairy tale or a scene from a West Anderson movie. Its gnarled branches grow wild, cascading up and down like a rollercoaster, its longest measuring 187 feet from tip to tip. The setting almost resembles a painting, except for the fortress of red-and-white signs telling people not to climb on the branches—which is, admittedly, awfully tempting.
Sweetgrass Baskets
For centuries, there weren't many bridges connecting the Lowcountry to Charleston, so after the Civil War, many emancipated slaves remained isolated, and their descendants—the Gullah people—continued to practice and preserve West African traditions. One of them is weaving sweetgrass baskets, which were tightly-woven from bulrush and used to transport water. Bulrush—a dark brown grass that is tough and rigid—is still used in the baskets today, but it is supplemented with sweetgrass, which is more malleable. This has given way to more intricate designs, like flowers and spirals. The Gullah women sell the pale green and yellow baskets at the Charleston City Market on Meeting Street and along U.S. 17 in Mount Pleasant. Spend some time talking to the women, some of whom have been doing it since they were children, and watching them weave.
Historic Houses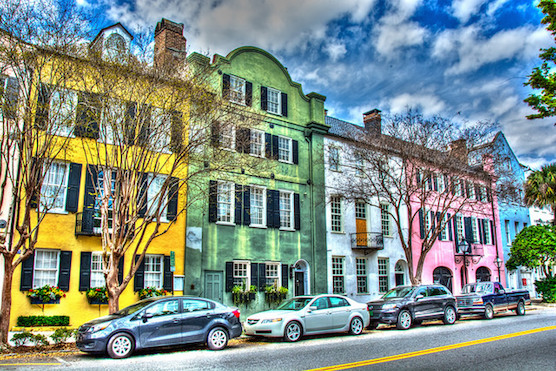 Photo via Flickr/Barry Peters
In downtown Charleston, nearly every corner affords some historical gem. The most picturesque are the pristinely-maintained 19th century homes. On Chalmers Street—the longest cobblestone street in the city—the Pink House is the oldest in Charleston. The Pepto-Bismol-colored art gallery (its most recent life) has been there since the 1690s. From there, take a right and head toward Battery Park, and you'll pass Rainbow Row a series of former 19th century stores that vary in color from yellow to powder blue. Scattered throughout the downtown district are the former city homes of wealthy plantation owners, like William Aiken and Nathaniel Russell; these offer tours inside, where you can see the slave quarters, horse-drawn carriages and pre-Victorian-era chandeliers.
Salsa at Southend Brewery & Smokehouse
Southend Brewery & Smokehouse is located on East Bay Street in the historic Wagener Building—one of Charleston's famous haunted buildings. Outside of its eerie location, the bar-restaurant is a draw for its home-brewed beer made in the large copper and stainless steel brew tanks in the center of the main floor, and a legitimate late night salsa scene. From 10:30 p.m. every Thursday and Saturday, the bar turns into Little Havana, with people swiveling their hips and spinning across the floor to Latin tunes.
Poogan's Porch
The Victorian home turned swanky restaurant is one of the city's oldest downtown restaurants—a mainstay among visiting celebrities and politicians. Poogan's Porch repurposes 19th-century Southern charm in a modern and award-winning eatery with grand fireplaces that roar day to night and ornate molding and ceiling fans fashioned from palmetto leaves. Try haute takes on Lowcountry classics like blackened catfish and succotash, which is made with butter bean, black-eyed peas and bacon. There are of course Charleston staples like She-Crab soup—a creamy, incredibly briny, soup made with dry sherry and lump crabmeat. The meal starts with pillow-y buttermilk biscuits that are still steaming when they arrive at the table.