The Catholic countries of Europe started Carnival as a binge party right before Lent, a religious observance that expects good Catholic behavior for at least 40 long, boring, sober days. Most participants today might not know a confessional box from a Jack-in-the-Box, but Carnival now circles the globe from Italy to Alabama. Rio de Janeiro represents the most famous iteration, but the following cities also claim wild celebrations worthy of a Hail Mary bender.
Salvador, Brazil
February 12-18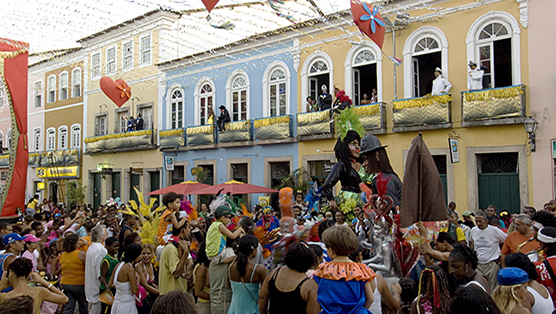 Photo by Mauricio Simonetti
Salvador is called the singles Carnival because the streets turn into a touchy-feely free-for-all that makes many couples uncomfortable. Avoid the groping by shelling out for a camarote, a club-like venue with DJs, open bar and often a view of the parade route. The single people, however, need to buck up and join the celebration in the streets. Pipoca, which means "popcorn," refers to the free party on the packed pavement, and squeezing through the sweaty hordes certainly butters you up. An excellent option is to buy colorful bloco shirts that allow partiers to join the roped-off sections of moving parade floats. The blocos typically feature Brazilian music acts like Daniela Mercuri and Parangole, but recent international artists include David Guetta and will.i.am.
Encarnación, Paraguay
January 30-31 and February 6-7
Encarnación, a southeastern city across the river from Argentina, enjoys a full month of wild Carnival weekends. On Friday and Saturday nights, Avenida Francia transforms into a Sambódromo-style float procession with half-naked garotas (parade girls) and cerveza-sponsored dancers. In the alcohol-soaked bleachers, funny hats help attendees weather the Juno-like blizzard from "snow spray" aerosols in the hands of virtually everyone. Most gringos come prepared for a snow fight, but those who missed the memo on Water Wars often get a surprise water balloon to the melon on Saturday afternoon. Adults typically wage war with the hose, but some kids dump water buckets from the rooftops. The Encarnación Carnival, which started on January 16, offers an ideal pre-party for travelers heading to neighboring Brazil for its celebrations.
Port-of-Spain, Trinidad
February 16-17
Carnival historian Barbara Ehrenreich says the celebration in Trinidad "makes Mardi Gras look like a Veterans Day parade." Though it would be fun to see how wily old vets would respond to bead necklaces, the Caribbean island definitely throws one of the best celebrations on the planet. Trinidadian Carnival is not a spectator sport so prepare to give chipping (walk-like dance), wining (twerking) and other local moves a try. Just after midnight on Monday, the celebration of J'ouvert kicks off the final days as partiers fill the streets dressed as devils, demons or covered in mud, paint or chocolate. Carnival also showcases island music, most notably soca (the soul of calypso), and artists like Machel Montano and SuperBlue compete for the coveted Soca Monarch crown. Ignore the official dates because the fetes (or parties) start the day after Santa parks his sleigh. Our guess is that St. Nick heads to Trinidad to work on his naughty list.
Venice, Italy
January 31 to February 17
Several cities claim to host the world's oldest Carnival, and while the tradition in Venice is at least a contender, it certainly made Carnival famous in the late Middle Ages. With elements dating back to the 12th century, the Venetian Carnival reached its hedonistic peak during the Renaissance before Napoleon played party popper in 1797. Though some festivities continued in private, Carnival officially returned in 1979, and millions of people now flock to the canal-lined streets for the annual celebration. The Venetian trademark is the mask, which symbolizes taking part in forbidden indulgences, and elaborate outfits recall the Carnival's heyday centuries earlier. Activities range from the not-so-traditional Zombie Walk to money-sucking upper-class galas.
Olinda and Recife, Brazil
February 13-17
Olinda and Recife, neighboring cities in north Brazil, host a huge joint-celebration that is more authentic and traditional. Recife is the big city among the pair, and downtown events include Galo da Madrugada with a million-plus partiers celebrating dawn, a.k.a. bedtime (maybe), on Saturday morning. While Recife hosts the large events, hill-sloped Olinda boasts more character and street action. Olinda's UNESCO-honored center comes alive with colonial architecture, towering papier-mâché puppets and ornate outfits radiating more hues than Joseph's Technicolor dreamcoat. The Recife-Olinda Carnival, the third largest in Brazil, starts well before the official dates, so some people party here first before heading to Rio or Salvador.
Mobile, Alabama
January 30-February 17

Photo by Tad Denson
Look up Carnival and Mobile online and find news coverage of the infamous 2013 Poop Cruise when a disabled Carnival cruise ship had to be towed to the Alabama city. Talk about a search engine bummer for Mobile, home of the oldest Carnival tradition in America. The city hosted the first American Carnival, or Mardi Gras, in 1703, which predates New Orleans by several decades. The celebration takes over downtown for nearly three weeks with parades, floats, masked riders and—highlighting its family-centric nature—flying Moon Pies hurdled into the crowd. Mobile deserves mention for its heritage, but travelers must remember that Alabama is not exactly the San Francisco of the South. Partiers who show up with a handful of beads and an Eyes Wide Shut mask might be in for a big surprise.
Morro de São Paulo, Brazil
February 18 – 22
Morro de São Paulo, a Tinharé Island village off Brazil's Dendê Coast, has lively Carnival celebrations, but its claim-to-fame is the best after-party in South America. The Ressaca, or "Hangover," started as a time to relax and recover, but it soon became an extension of Carnival with a smaller, jet-setter crowd. The car-free, rustic-ritzy village has four quality beaches, and when the sun goes down, the caipirinha stands go up on Second Beach. Most people start the party here, and island clubs like Toca do Morcego (Bat Cave) and Pulsar Disco (home of the foam parties) entertain revelers into the wee hours. Morro, once a sleepy hippie haven, now feels like Brazil's version of Koh Phangan, Thailand, and the Ressaca helped make the shift happen.
David Jenison is a Los Angeles native. He has covered entertainment, restaurants and travel for more than 20 years as a writer and editor.