Folks in Massachusetts are crazy for ice cream. I should know. I'm one of them.
We're so nuts for the stuff, Massachusetts consistently ranks among the top states for per-capita ice cream consumption. We'll even scarf scoops of it during a frigid winter nor'easter blizzard (and cap it with a dollop of hot fudge to keep us warm).
But summer is the prime ice cream eating season, and nothing says summer in Massachusetts quite like Cape Cod. That's why you can't drive more than five minutes in any direction throughout the vacation destination without encountering an ice cream shop. With so many options, how could discerning devotees determine where to get their frozen fix? That's where I come in.
I corralled 17 of my family members (all of whom are ice cream fanatics) to join me on a multi-day safari to a bunch of shops in search of the most heavenly scoops. We narrowed the field by focusing on hard ice cream (no soft-serve, frozen yogurt, or gelato) that is made locally on Cape Cod (no national or regional chains or brands). We used a highly scientific (okay, totally subjective) 10-point evaluation system and rated three flavors at each shop for their texture and creaminess, flavor, and overall appeal. For the sake of comparison, we sampled vanilla and chocolate at each location. To allow the shops to shine, I asked them to pick one signature flavor as our third tasting.
The cream rose to the top at the following five shops. If you visit the Cape, you could venture forth on your own ice cream safari and give these places a whirl. My family and I guarantee you'll go bonkers over them. (Okay, no guarantees. But chances are, you'll love every lick.)
Schoolhouse Ice Cream
Website: https://www.schoolhouseicecreamcapecod.com
749 Route 28 in Harwich Port
Score: 8.7 (out of 10)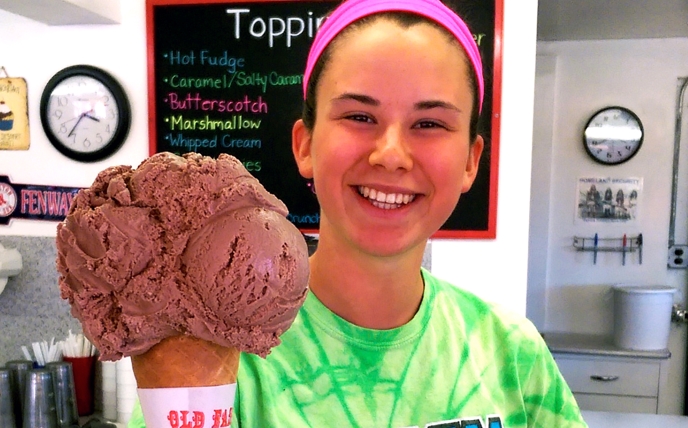 There's a probable reason why Schoolhouse topped the rankings: butterfat. According to owner Susan Stanley, her shop is one of a few in the area to churn out "super-premium" ice cream that contains 16 percent butterfat. That makes it especially dense and creamy. Our taste testers confirmed it by awarding the shop a whopping 9.2 for its ice cream's texture and creaminess.
The chocolate was rich and satisfying, and the vanilla tied for the top spot among all the shops. But Schoolhouse really shined with its signature flavor, Harwich Mud Pie. The coffee ice cream was intense, and with its fudge swirl, chocolate covered almonds, and chocolate cake pieces, the whole shebang was greater than the sum of its yummy parts. It was pretty much ice cream perfection.
To make Schoolhouse even more appealing, its portions were insanely enormous. We got considerably more ice cream bang for our buck here than any other place. Service can be a little slow (partly because the servers have to scoop so much ice cream for each customer, perhaps?), but it's worth the wait.
---
Cape Cod Creamery
Website: http://www.capecodcreamery.com
1199 Route 28 in South Yarmouth
Other locations in Hyannis and Dennis
Score: 8.5 (out of 10)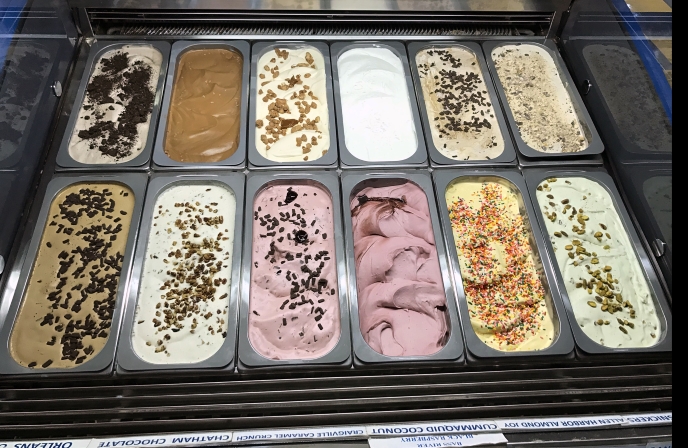 No place could match the Creamery for its chocolate, which scored an impressive 9.3. There were no off flavors or any Fudgesicle-like notes that brought down other shops' chocolate ice cream. Just creamy goodness with an ideal balance of sweet and bitter. Likewise, Cape Cod Creamery's vanilla tasted just the way vanilla should taste. It was tied for the top spot with Schoolhouse.
The shop lost its footing with its signature flavor, Allen Harbor Almond Joy, which proved to be polarizing. Some loved it and gave it solid 10s, while others were less enthusiastic with their scores. That may have less to do with the Creamery's execution of the flavor and more to do with our tasters' disinclination for the ingredients. Unlike other shops, which might have mixed actual Almond Joy candy pieces into vanilla ice cream and called it a day, the Creamery makes its own coconut ice cream and embellishes it with almond pieces and delectable, high-quality chocolate bits. Count me among the group that gave Allen Harbor Almond Joy a 10.
Another Cape Cod Creamery standout is Dennis Double Chocolate, which combines dark chocolate ice cream with loads of dark chocolate bits and a hint of cinnamon. Flavors like that account for the lines that often snake out the door and into the parking lot.
---
Four Seas Ice Cream
Website: http://www.fourseasicecream.com
360 S Main St. in Centerville
Score: 8.3 (out of 10)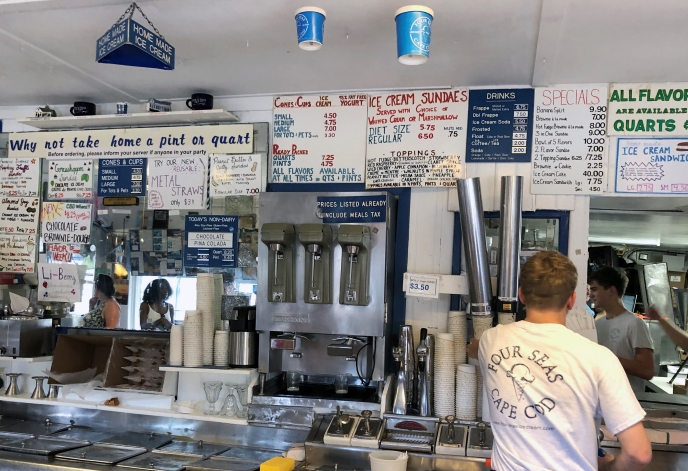 You're sure to fall in love with this old Cape Cod treasure. Opened in 1934, the place (which used to be called a "dairy bar" in the parlance of the day) is the oldest ice cream shop on the Cape and the second oldest in Massachusetts. Its vanilla and chocolate (which has a dash of cinnamon and is deep and robust in character) is made using tried-and-true recipes that the Four Seas developed decades ago. Both flavors rank among the best.
Its signature flavor, strawberry, tied for second in our survey. Owner Doug Warren says that the berries are picked fresh on Cape Cod, blended with sugar that day, and made into ice cream the following day. "You can't get fresher than that," he notes. We agreed and raved about how it put more pedestrian strawberry ice cream to shame.
The old-fashioned (nothing retro here, it's authentically old) soda fountain also serves frappes (Massachusetts-talk for thick milk shakes), sundaes, and other treats. We sampled the hot fudge at Four Seas, and it, too, was bold, rich, and tantalizing.
For some reason, the tiny shop also serves sandwiches. They might be fine, but preparing the sandwiches steals valuable time away from scooping ice cream. In 85 years, Four Seas hasn't quite figured out an efficient way to move its customers. When we visited, the line was more or less a free-for-all. Also, aside from a few cute stools at the counter, there is no seating and only a paved parking lot in which to enjoy the superb ice cream.
---
Savory & the Sweet Escape
Website: https://www.facebook.com/savoryandsweetescape
316 US-6 in Truro
Score: 8.2 (out of 10)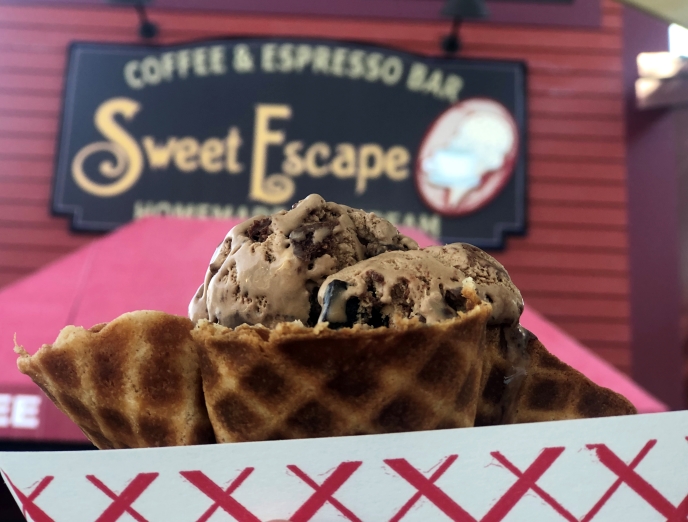 Coming in just a notch below Four Seas is Savory & the Sweet Escape. As its name suggests, one side of this split personality eatery serves savory items including pizza and paninis, while the other side focuses on ice cream. Its vanilla and chocolate were solid. The aroma of the shop's homemade waffle cones and bowls was intoxicating. We sampled one, and it tasted as good as the aroma implied.
The Sweet Escape's signature flavor was Wicked Mud Flats. (Bostonians use "wicked" as an adjective to confer greatness. It's the height of awesomeness to define someone or something as "wicked pisser"—pronounced "pissah.") Another coffee ice cream-based concoction, the Sweet Escape's version includes Heath Bar pieces and brownie bits that were scrumptious. Wicked Mud Flats tied with Four Seas' strawberry for the second highest-rated signature flavor.
The shop had some wildly inventive flavors on its menu, including Pomegranate Dark Chocolate and Lavender Fig. The Savory side had an array of mouth-watering baked goods on display including some wicked awesome pies. Its bakers must have made the peach raspberry pie that ended up in the ice cream of the same name. Unfortunately, we didn't get to try that. Even with 17 of us, there were only so many calories to go around.
---
Katie's Ice Cream
Website: http://katiesicecreamcapecod.com
570 Main Street in Hyannis
Score: 7.4 (out of 10)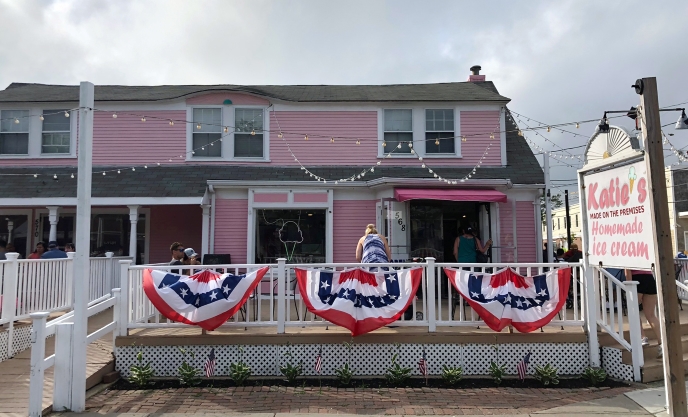 Located amid the hubbub of downtown Hyannis, Katie's serves some fine scoops, if not quite up to the standards of the top four on our list. Its vanilla and chocolate were decent. Its signature flavor, Cape Cod Sand, is made from "secret ingredients." Despite prodding on my part, nobody at the shop would come clean. We thought we tasted caramel and chocolate bits in the vanilla-based creation. We're pretty sure no actual Cape Cod sand made its way into the hopper. Whatever is in it, it is tasty.
Among the shops that didn't make the cut is Sundae School, with locations in Dennisport, Harwich Port, and Orleans. As anybody who has tried to visit on a summer evening can attest, they may be the most popular ice cream shops on Cape Cod. But the hordes of customers causing traffic jams are likely coming more for the ambiance, which is quite charming and inviting, than the ice cream, which is just okay. We liked Smitty's, with shops in Falmouth, Mashpee, and Barnstable, especially for its peculiar mashup flavor, Banana Oreo.
---
A lifelong amusement park and theme park fanatic, Arthur Levine has been writing newspaper and magazine features about the industry he loves, as well as general travel articles, since 1992. He's been the Theme Parks Expert at TripSavvy.com (formerly About.com) since 2002, and is a regular contributor for USA Today. You can also find him at AboutThemeParks.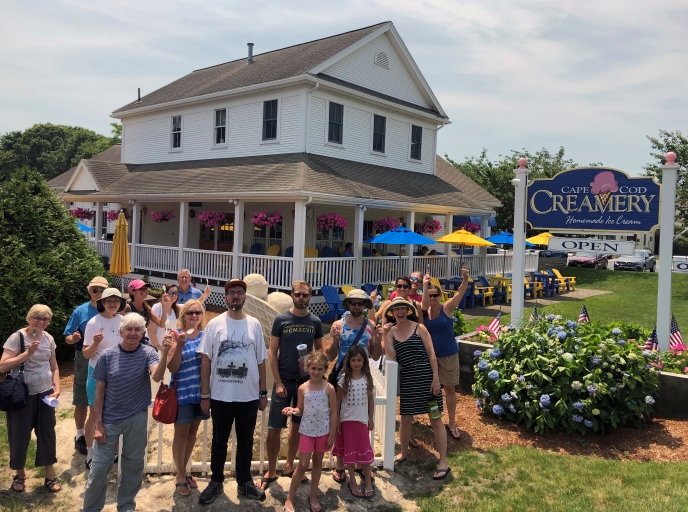 Photo credits:
Lead image for ice cream article, Katie's Ice Cream, Four Seas exterior, Sweet Escape: Jeremy Levine
The ice cream taste tasters, Four Seas interior: Arthur Levine
Cape Cod Creamery ice cream case: Cape Cod Creamery
Schoolhouse huge portions: Schoolhouse Ice Cream