Hide with Wine in Our 5 Favorite Buenos Aires Bars
Photo below courtesy of Hache Almacén
Travel
Lists
Argentina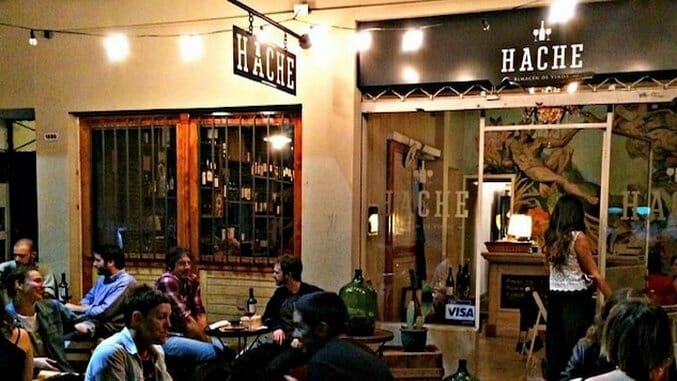 The wine from the stunning vine-filled valleys of Mendoza or the high-altitude vineyards of Salta, Argentina eventually finds its way to the vibrant streets of Buenos Aires, and into one of the growing number of wine bars in the city.
Visitors are often overwhelmed by the choices when it comes to wine tasting here, because Buenos Aires truly has a wine bar for every mood. Whether you have a craving for tapas, tastings or just lazy afternoons on a sunny patio sipping wine by the glass, here five of the best wine bars for whatever kind of wine mood you are in. Yes, wine moods are a real thing. And if they're not, we just made them a thing.
1. Hache Almacén
An almacén in Argentina is a corner store or deli, and true to its name, Hache (pictured at top) feels like someone put a wine cellar and a long, family-style table in the middle of a charming old deli full of delicious meats and cheeses. Hache is small, but its owners make full use of their limited space: it's at the same time a wine bar, deli and tiny performance venue with occasional live music on a hidden stage in the back. Waiters bring tables out onto the sidewalk of the laidback street in the summer, and friends crowd along the benches of the one long table in the back room. Owner Nico Hurtak cooks a comforting lunch special of the day, always alongside a glass of wine, and at night picadas—plates of charcuterie and cheeses—are the specialty, with meats and cheeses from Tandil, Argentina's all-star salami and cheese producing region. There's no menu for picadas at Hache: you tell them how many people are eating, and they prepare a board with the variety of food to fit your party.
2. Pain et Vin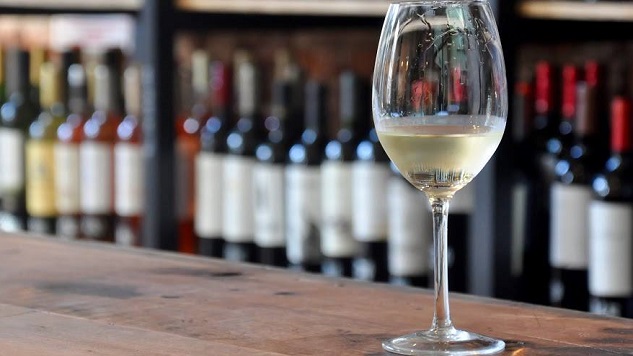 Photo courtesy of Pain Et Vin
Start slow at this wine bar with a daytime cafe vibe. Eleanora Jezzi and her bread-baking genius husband Ohad Weiner form the ideal bread- and wine-winning power couple. Jezzi selects the promo and premium wines of the day—available by the glass—depending on which wines go best with the day's weather, or which bodegas she's looking to introduce to frequent visitors. Your glass of wine comes with a sampling of the day's fresh sourdough bread, all baked in a wood-fired oven, alongside some Argentine olive oil. Choose from amazing cheese plates; fresh salads with ingredients like quinoa, goat cheese and sun-dried tomatoes; or the classic Argentine dessert queso y dulce, cheese and candied quince, to match with a crisp Torrontés from Salta, a light Patagonian pinot noir or one of the famed Malbecs for which the country is known.
The sunny patio and glass exterior is the perfect spot for a lazy daytime lunch or afternoon break. Check out Pain et Vin's Facebook page for occasional tasting announcements, or book your own private tasting to journey through Argentina's history by way of wine, cheese and bread.
3. FACON
Just around the corner from Pain et Vin, FACON doesn't look like a wine bar—instead, it emanates vibes of an elegant boutique store hawking artisan crafts. But the wine bar is nestled into one of the many high-ceilinged rooms. The vine-covered garden patio makes for a dreamy afternoon of wine tasting. Basically, it's worth finding.
Choose from tapas or a picada to accompany the local wines.
FACON is famed for their weekly tastings, in which they invite local Argentine sommeliers and chefs to share their knowledge with an intimate group. At around AR$300 per person (just under $20 USD), a night of wine pairings and tapas awaits. Check their Facebook page to sign up for one of their upcoming tastings.
4. Ser y Tiempo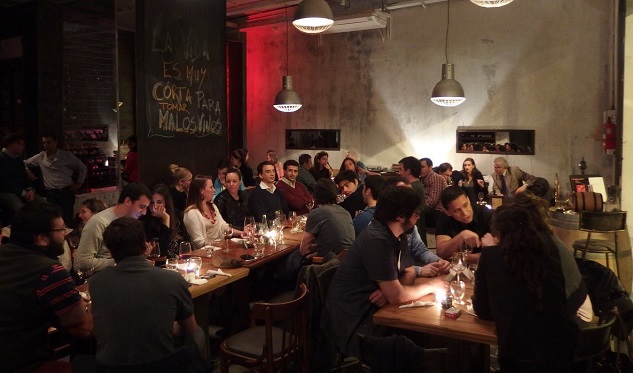 Photo by FotograFare for Ser y Tiempo
Switch gears for a romantic nighttime experience at Ser y Tiempo, a newer wine bar in Palermo. This is the place to go if you're looking for carefully selected, high quality local wines and impressive dishes to pair with them. Couple your smooth Malbec with Patagonian lamb or smoky pork chorizo. The helpful sommeliers, carefully selected menu and diverse wine selection make this a great choice for date night. If a high-end bottle of one of Argentina's best wines with the help of a knowledgeable sommelier is all you're after, you've come to the right place.
5. La Cava Jufré
The wine-cellar-like interior of La Cava Jufré makes it feel like it's been around for 100 years, carefully guarding aging Malbecs. Owner Lito Galeano is known for personally attending to tables and giving plenty of unsolicited (but helpful) wine advice. The menu is simple and the food is good, but it's clear that the food's purpose is merely to accompany the great vino: classic tortillas españolas, empanadas and the traditional picada for a pre-dinner glass of wine and appetizers. Stop by if you're looking for great boutique wines, a cozy atmosphere and plenty of guidance. Tell Galeano what you like in a wine, and he'll choose your soon-to-be favorite Malbec to accompany your lamb empanadas. Make a reservation; the cozy corners of this shadowy spot fill up with old wine fans and younger residents of the up-and-coming barrio of Villa Crespo.
---
Annie is a freelance writer living in Buenos Aires, where she spends her free time cooking, eating and trying new varieties of grilled Argentine meat.