The sparkling blue-green Gulf of Mexico rolls back and forth, in and out, its lacy foam-edged waves caressing Alabama's almost blindingly white shores. It's a scene that's been known to transfix more than a few visitors, keeping their bottoms glued to their beach chairs for hours on end. There's no shame in falling under the spell of Alabama's beaches, but you do have to eat, and lucky for you, the restaurants in communities like Orange Beach and Gulf Shores are turning out dishes well worth pulling yourself away from the serenity of sand and surf. From the elementary to the elegant, at places both old and new, here are five must-eats on Alabama's coast.
1. Oysters Earle at Fisher's Upstairs
At this bastion of upscale coastal cuisine adjacent to Orange Beach Marina, a thoughtful approach to fresh seafood and local ingredients, cotton-candy sunset views and a sophisticated but never stuffy atmosphere draw crowds of locals and visitors. A standout starter, Oysters Earle elevates Bon Secour oysters on the half-shell with the addition of garlic-leek butter. Chef Bill Briand roasts them just enough to unleash the butter's richness while retaining the integrity of the plump oysters' texture. Reservations are highly recommended for Upstairs, but Fisher's has the best of both worlds, also offering casual dining in its downstairs dockside area mere feet from the marina's wet slips.
2. West Indies Salad at Bayley's
You can find this uncomplicated dish on menus all over Alabama as well as other Gulf states, but it was invented at Bayley's Seafood Restaurant in Theodore, just off Dauphin Island. Soon after opening his restaurant in 1947, owner Bill Bayley Sr. made and served the first-ever West Indies Salad, combining flavors and techniques he encountered while serving as a merchant seaman. Today, Bill Bayley Jr. is runs things and still makes the restaurant's claim to fame the way his dad did—translation: a visit here provides a glimpse into culinary history in addition to a fine meal. Every mouthful of the original West Indies Salad will make your taste buds sing with a humble, harmonious mix of tart vinegar, sweet crab claw meat and the bite of white onion.
3. Grilled Grouper Salad at The Gulf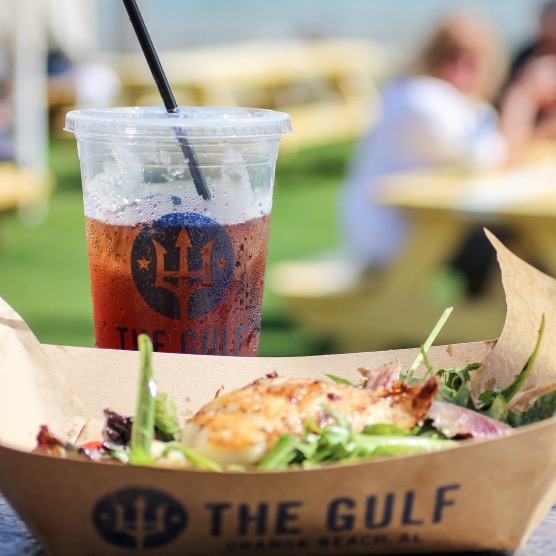 Photo: Jennifer Stewart Kornegay
This multi-level spot fashioned from old shipping containers painted a brilliant sea blue is an alfresco dining option perched on the edge of the Perdido Pass in Orange Beach. Boats floating by and a constant flurry of activity create an environment that appeals to all kinds: from kids skipping across a sodded lawn to hip young couples lounging on white sofas sinking into a swath of sand. Its menu changes often, but the salad with grilled grouper is always a smart choice. Just-caught fish is left nearly naked, seasoned sparingly with salt and pepper and grilled with a hint of butter before being laid to rest on a bed of greens dressed just right (every leaf coated but not a soggy one in the bunch) with tangy house-made balsamic vinaigrette. It pairs well with a minty-fresh mojito and palm tree shade.
4. Fried Oysters at Doc's Seafood Shack
This laid-back eatery boasts "the best fried shrimp in the civilized world," yet it's the oysters that bring most people back. Proving that simple can be simply amazing, the fried oyster basket at this longtime favorite (with locations in Gulf Shores and Orange Beach) is packed with soft, briny bi-valves dunked in batter and cooked to crisp perfection in hot oil. They're wearing a thicker coat of crunchy crust than oysters done with just cornmeal, but the texture and taste of the South's most sought-after mollusk still shine. Crisp cole slaw with a hint of sugar, basic crinkle fries and rust-colored hushpuppies complete the meal.
5. Cheeseburger at Pirate's Cove
On a thin ribbon of sand rising a few feet out of shallow Arnica Bay in Josephine, Pirate's Cove Yacht Club beckons hungry, thirsty boaters to tie up to its weathered dock, claim a picnic table and wait (and wait) for their plastic red tray heavy with wax-paper-wrapped burgers and little cardboard boats of thick-cut fries to arrive. Open for more than 50 years, Pirate's Cove is a mash-up of tin-topped wooden decks surrounding a small central structure that actually has walls. And in these walls, in a tiny kitchen, a cheeseburger that's attained legend status by possibly inspiring Jimmy Buffett's classic song, "Cheeseburger in Paradise," is made. Local lore says the Alabama-coast native penned his famous ode to Americana (with its annoyingly catchy chorus) after enjoying this Cove specialty. Each thick, hand-formed beef patty is cooked to order and blanketed in melty cheddar before lettuce, tomato, mustard and ketchup are piled on. Meat and tomato juices mix with the condiments to slide right out of the bun barrier, creating a messy masterpiece that's more than good enough to make the story ring true.
Jennifer Stewart Kornegay is a freelance writer based out of Montgomery, Ala. She writes about food and travel and traveling for food.