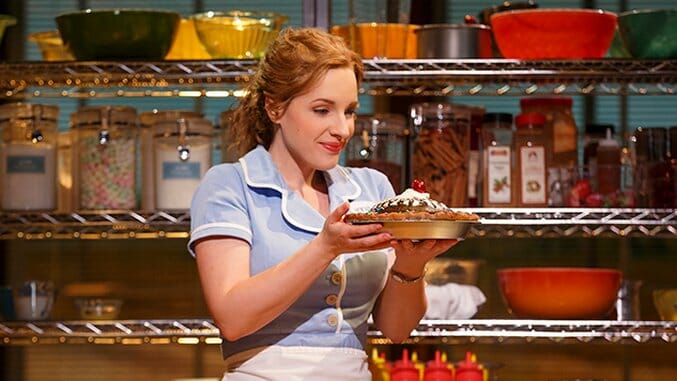 There is a fundamental problem with the name of this article. To list the best-of recently produced musicals which have had their moment in or else felt quintessentially of 2016 is to ignore the idea that practically every musical on this list was written, workshopped, or first produced as early as 2006. An actual list of the best new musicals of 2016 would only include regional and festival premieres and O'Neill workshops that we were not able to attend. In both cases we would be catering to the frustratingly popular notion that a piece of theatre isn't really itself until it premieres in New York, and even then isn't legitimized until it has a major production.
So we're in a tight spot either way. Know going into this that these musicals are the product of years and years of development and to call them "new" is to discredit the hard work and financial risk-taking that gave them room to grow in the first place. These shows did not just spring up out of nowhere, and, unlike movies and TV shows, they will have premiered many times before they reach an iteration that the larger public gets to see. So, for our purposes, let's just say these are the best of the musicals (both traditional and alternative) that, regardless of where they came from or where they are going, made 2016 a breakthrough year for new musical theatre.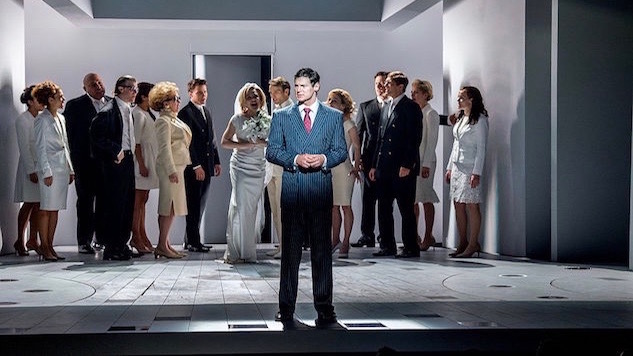 American Psycho
Let's be honest, the source material and book was never Spring Awakening's strong suit. That musical's considerable power lay in singer-songwriter Duncan Sheik's compellingly whiney teen-angst hit singles. But Sheik found a project worthy of his tonal experimentation in Bret Easton Ellis' American Psycho, the controversial 1991 novel and cult classic 2000 film that satirized the wall street excess of the 1980s.
Though short-lived on Broadway, American Psycho featured a sonic soundscape that was inspired as much by the dark futurism of William Gibson as much as Eliis' pessimistic vision of the 80s. It even threw in creepy, spare covers of "In the Air Tonight," and "Everybody Wants to Rule the World" for good measure, a play which shouldn't have worked but did. It all added up to create a uniquely horrifying neon portrait of the inner life of Benjamin Walker's yuppie rapist/serial killer Patrick Bateman.
Yes, American Psycho still struggled with Spring Awakening's lyrical pitfalls ("Oh this is rich, I shouldn't say/But this guy at work is totally gay/That's all cool, to each his own/But some guy's ass is not what I bone"). And who knows if Psycho's off-putting content will stifle its longevity, but for now it remains a singularly disturbing reflection this shitty year's preoccupation with pure corporate evil.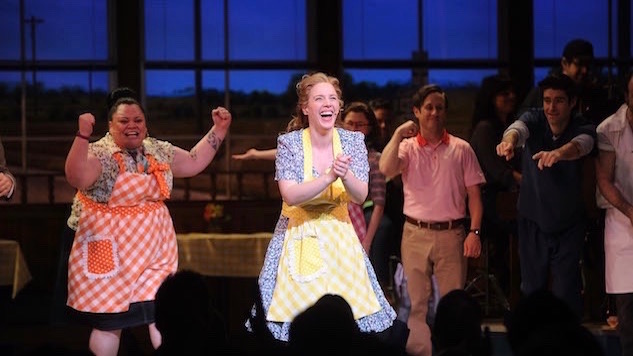 Waitress
By my count, about twenty Best Musical nominees in the last ten years have been adapted from, at times very random (Sister Act? Bring It On?), movies. That's not even counting musicals based on preexisting music or other properties. Regardless of the relative quality of these shows, it's an exhausting trend. And largely, what makes most of these musicals immemorable is the lack of a strong conceptual voice, even when legends like Alan Menken or Elton John are on board. They ascribe to the movie-to-broadway-musical house style, because, why not?
Waitress, based on the admittedly very endearing 2007 film, seemed destined for the same fate, were it not for the dynamite force of Sara Bareilles. A long respected singer-songwriter, Bareilles' style has always seemed a natural fit for a musical, but until she delivered the score for Waitress, I had no idea that she would fit snugly into musical theatre's rhythms while transcending them at the same time. And yes, in the hands of a less individual actress than Jessie Mueller, some of the show's ballads might come off as just Bareilles singles smushed into a musical, but Mueller and Bareilles double up to double down on the movie's charm factor, and the music radiates pure piano-pop goodness as a result.
Fifteen year old me, trapped in the backseat of cars while cool musical theatre girls sang along to Bareilles' albums, would never believe this, but I would totally listen to a Waitress Mixtape featuring like Ben Folds, Stephen Malkmus, and not Jimmy Fallon. And i would really like it.
Dear Evan Hansen
Misfit boy gets bullied. He feels like he's "on the outside looking in." To be expected, right? But when Evan Hansen's bully kills himself and unwittingly sets Evan on a path to internet heroism, the results are anything but expected. That this coming of age musical about teen isolation in the age of social media actually manages to address the effect of the internet on the millennial generation without condescension or pretension is nothing
short of a miracle, considering how clumsily that topic has been tackled elsewhere.
It's also a stellar example of how a musical can take full advantage of an opportunity to grow and refine itself on its way to Broadway. The score by Benj Pasek and Justin Paul may hit the required pop-rock beats of contemporary musical theatre, but its confident, anthemic style is paired with great effect with Steven Levenson's nuanced and ache-inducing book. The dynamic between book and music has never been put to the task of subverting "high school loneliness play" tropes more effectively than it is here.
A 24-Decade History of Popular Music
Is this cheating? I mean, in a sense, isn't Taylor Mac's 24-hour marathon of 240 songs that define popular music in America kind of the ultimate jukebox musical? Of course, not really, but there is an element of that genre to Mac's epic drag cabaret performance art extravaganza. Of course, as with anything Taylor Mac does, its taken to its ultimate illogical conclusion. And the result was the most outrageous spectacle seen in New York in a long, long time.
From a sheer logistical standpoint, I have no idea how Mac and his small army of cohorts pulled it off. And in trying to specifically trace feminist and gay themes though an admittedly subjective playlist of american songs, Mac somehow isolated the simple truism that unites everyone who identifies as different. As Lauren Hill and Johari Newton put it in a song featured towards the end of the performance: "Everything is Everything."
So its a musical, not a musical, the newest musical, and the oldest musical, all at the same time. That's enough to qualify A 24-Decade History of Popular Music for almost anything in my book.
Twelfth Night
Productions of Shakespeare frequently adapt the lyrics of songs within the play with a more contemporary vibe. Usually, its very, very, very annoying. Not so with Shaina Taub's Twelfth Night at the Public Theater. It liberally adapts Shakespeare's words and ideas into a jazz-pop musical that fully stands on its own, graceful and affecting in the way the best shakespeare is.
Taub herself graced the production as Feste, but I cannot recommend highly enough the recoding which features Taub primarily, singing a New Orleans variation on "If Music Be the Food of Love, Play On," the Jackson 5-esque finale "Eyes of Another," and the stirring power ballad "Is This Not Love," backed simply but effectively by piano and keyboard.
In a day and age where more and more theaters appear to be adapting shakespeare for the sake of adapting it, Twelfth Night made a strong case for the continuing relevancy of Shakespeare in the Park as a place for New Yorkers to see, not just revivals, but cutting edge interpretations of Shakespeare's work.
Hadestown
"Americana" is a weird word. For something to musically fall under this descriptor, it must be geographically specific to the southeast, basically, sonically specific to the folk movement of the 1930s, essentially, and yet must speak to the american experience more universally. Its an impossible feat that makes for a sticky moniker, but if anything deserves the title, it's this musical from alt-folk champion Anais Mitchell and director Rachel Chavkin (having a very good year).
New York Theatre Workshop's production, which adapted and expanded on Mitchell's 2010 concept album, retold the myth of Orpheus and Euridice with stunning simplicity; it was intimate, stripped-down, and above all honest — as true as possible to the show's roots as a DIY stage project of Mitchell's that started ten years ago.
Does it illuminate anything about the story of Euridice we haven't seen before, or reach the lyrical highs of Sarah Ruhl's similarly themed play? Who cares. When the execution is this graceful and seductive, and the post-apocalyptic concept so haunting, I am all in.
Ride the Cyclone
What if Forever Plaid followed through on its macabre premise? What if all of the Putnam County kids died horribly at once? What if the cast of Glee were competing for their lives? These are the questions at the heart of Ride the Cyclone, the morbidly hilarious new musical currently playing at Lucille Lortel Theater.
When members of a Canadian school choir are butchered in a roller coaster accident, they awaken in an amusement park purgatory ruled by a fortune telling machine in the style of Zoltar. The machine can bring one of them back to life, but just one.
Cue teens singing and dancing through solo numbers as they try to secure a place in the land of the living. Jacob Richmond and Brooke Maxwell structure these numbers in the style of Spelling Bee, and Cyclone can almost be seen as Bee's sort-of spiritual sequel, updating those little kids concerns for an adolescent landscape where the stakes can feel (and in this case, are) life or death. Cyclone takes a novel idea an imbues it with surprising poignancy.
But ultimately, Ride the Cyclone is a rarity in 2016 in that it never forgets musical theatre can, at its best, be so, so, so, very, very, very fun.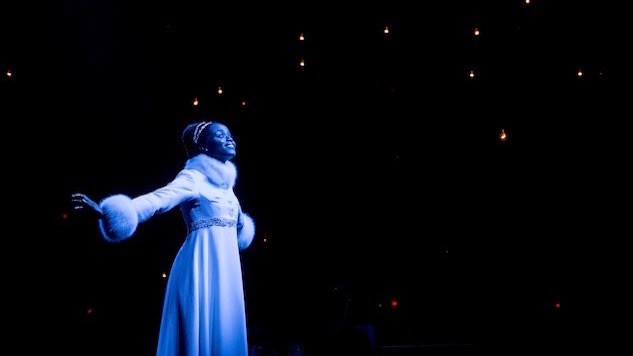 Natasha, Pierre, and the Great Comet of 1812
The problem with calling The Great Cometa new musical is that it reinforces the idea that it is not Ars Nova's musical. It is (in case that "controversy" wasn't closed yet.) And it should belong on a list of the Best New Musicals of 2012, obviously. But the show's transfer to Broadway was a monumental moment for Ars Nova and composer Dave Malloy, and you cannot discuss musical theatre in 2016 without it.
It may be hard to distinguish from moment to moment, and at times it almost seems like one long song, but by the time we reach the titular comet, its cumulative effect is staggering. Despite the relative intimacy of the story (especially in relation to War and Peace's epic scope), The Great Comet is truly overwhelming.
The Great Comet adapts a mere seventy pages of Tolstoy's novel (about 5%) of the whole, focusing on the affair between Natasha and hot douche Anatole, as well as the philosophizing of her friend Pierre. The music synthesizes Russian Folk, indie rock, and electronica (best and most freakishly in Act One's "The Duel," in which the gang hits a Russian dinner club. So very strange).
Moreover, it is sung-through and through composed with some passages directly taken from a 1922 translation of Tolstoy, which sometimes gives it a meandering effect, and occasionally reminds one of the repetitive stiltedness of Les Miz, but also makes it boldly experimental, freewheeling and bizarre, a rotating piece of shifting euler angles, true to the pining awkwardness that characterizes the Russian literature it is inspired by, and one of the weirdest musicals ever to hit Broadway.