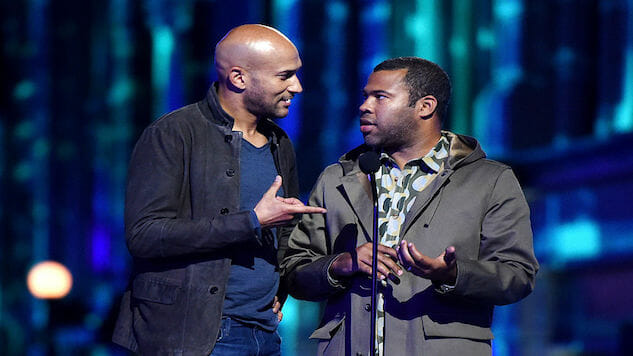 Enjoying quality musical theater on your laptop can be tough. I mean, you can only watch Grease so many times (so I've been told). But even if you've worked your way through Netflix's entire musical library (including Teen Beach 2) you can enjoy a show without leaving the comfort of your couch. From single show tune style videos to full-length productions, here are a few web musicals you need to check out.
1. Thomas Jefferson: The Musical
Before there was Hamilton, The Online Musical took on our third president with Thomas Jefferson: The Musical. But like the Tony-award winning show, this 11-minute drama focuses on founding father frenemies: Jefferson and John Adams. The rapping isn't spectacular, but a meeting about the declaration of independence set up as a ye olde sleepover is inspired.
A collaboration between one of half of Vlogbrothers (Hank Green) and the prolifically musical AVByte, the simple refrain "Tumbling down Tumblr," is such a picturesque way of describing losing hours of your life to scrolling through your dash, you'll want to play the catchy tune on loop as you tumble long into the night.
Another project from The Online Musical, this short video crams in intrigue, passion, mentors, villains, and prom night babies—all somehow tied to those oversized puzzle books you only read at the doctors. You'll never look at Waldo the same way now that you know how he treated Wenda.
AVByte's most watched creation (with over 160 million views) envisions a universe where all the Disney princesses get together to gab about their one true loves—and purposely single Elsa dissects their less than perfect relationships while belting the virtues of going solo.
5. A Very Potter Musical
Starring Darren Criss as HP (Criss also co-wrote the songs), this story of Hogwarts isn't afraid to poke fun at the beloved series but was obviously created by and for true super fans. Fair warning, "Going Back To Hogwarts" will be stuck in your head until the end of time
You've seen her on the cover of Time. You've seen her as played by Kate McKinnon on SNL. And now you can see the real story of the Chancellor of Germany, as told through a series of rap numbers. The lyrics scroll at the bottom in case you want to turn the show into a sing-along (and when they start singing "In Berlin you can be a new Frau," you totally will).
7. Holy Musical B@man!
After Team Star Kid was done with Harry Potter, they turned their attention to the world of superheroes, and super villains. When the bad guys aren't singing, the proper amount of attention is finally given to poor Alfred, and Batman himself is less gruff, more likely to sing ballads about his longing for a sidekick.
Even in an election year, this jazzy take on a high school cast party stood out as one of the best SNL skits of the season. Any time Lin-Manuel Miranda shows up to add a little rap, you know the song is going to be solid. Extra points for capturing the excitement of learning the spring musical is going to be Rent.
For your nostalgic enjoyment, the major musical numbers from this classic episode, including the song that taught you everything you know about the moon landing, are on YouTube. Someday humming it could help you on Jeopardy!
Yes, this is technically Key and Peele's Les Miserable parody (after the movie came out, there was a lot to mock). But the simple joke actually works as a pretty decent summary of the musical as a whole, in case you ever need help describing the story to a show tune-averse friend.