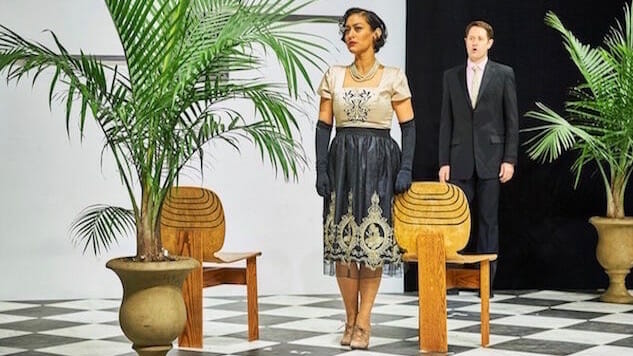 Although the show is titled Otello, the victorious, yet tragically doomed, military man took a back-seat at this stirring iteration of Rossini's opera. Desdemona, a notoriously weak theatre character, finally came into her own through Cecilia López's spectacular performance.
Not often performed, Rossini's Otello varies greatly from Shakespeare's famous tragedy. In the medieval play, Iago is the show's focal point and Cassio and Roderigo are separate characters; while in Rossini's, Cassio is folded into Roderigo, and Iago's scheming moments are shortened. Some might like this plot considerably less, but in this opera, the viewer gets a chance to absorb the sonorous music and Otello and Desdemona's impending doom.
Before going off to battle, sometime in the late-1900s, Otello (Bernard Holcomb) marries Desdemona (Cecilia López) in secret. After returning triumphant, Otello wants to reunite with his love, but her father, Elmiro (Isaiah Musik-Ayala) has plans to marry her to Roderigo (Thor Arbjornsson). Meanwhile, Rodrigo and Iago (Blake Friedman) have a plan to bring down Otello, by convincing him that Desdemona has been unfaithful.
The plan to convince Otello of Desdemona's infidelity goes off without a hitch, but collaterally, Desdemona's public descent into total ruin—and later death—holds the viewer's attention. In this soprano role, López's interpretation of Desdemona allows her to showcase her talent, both vocally and as an actress. During the first act, she struggles with trying to stop her impending wedding to Roderigo. When her father finally finds out she's married Otello, he wants absolutely nothing to do with her. As she desperately grasps on to him, he harshly throws her to the floor, ridding himself of a defiant daughter. From that point on, Desdemona is always on the verge of tears or hysteria. By the third act, López's Desdemona ends up as unhinged as Holcomb's Otello. She refuses to die without a fight. It must be exhausting to emote that much, but López does it brilliantly.
Although López is definitely a standout in this production, this doesn't lessen the performances of her fellow cast members. The unique and challenging part of Rossini's opera is that the three male leads all are tenors (Otello, Iago and Rodrigo). Holcomb is a powerful and intimidating as Otello, carrying the gravitas that's necessary for this decorated hero. Although his descent into madness happens within one act, Holcomb makes it seem natural. As the man who drives Otello to insanity, Friedman's Iago is easy to despise. He has a rich tenor, yet still manages to keep the smirk on his face while singing. While his co-conspirator Rodrigo (Arbjornsson) has one of the more difficult tenor parts. During a few of Arbjornsson's vocal acrobatics, it did show that he was struggling to hit the notes, but otherwise his performance was convincing as the entitled Rodrigo who envies Otello's position.
All of this deception takes place on a stark white set, which sometimes is only occupied by a few chairs and a fern. The lack of ostentatious backdrops leaves the viewer to focus on the performers, though in the final act of the opera, the set gains some warmth when the lights go down and a lone oil lamp casts shadows as the conflict heightens. Although LightSpace Studios, located in Bushwick, isn't always home to an opera stage, the converted space feels cozy and reminds you that opera doesn't need to be in a velvet-covered theatre.
Starring: Bernard Holcomb, Cecilia López, Thor Arbjornsson, Blake Friedman, Isaiah Musik-Ayala, Toby Newman, John Ramseyer and Lucas Levy
Written by: Gioachino Rossini to an Italian libretto by Francesco Maria Berio di Salsi
Music Director and Conductor: Sean Kelly
Stage Director: John de los Santos
Through: March 27 at the LightSpace Studios