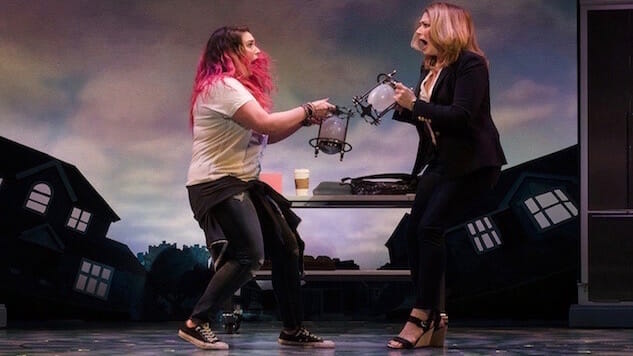 It's a tale as old as time, to steal a phrase from another Disney musical—or at least a tale that dates back to 1972: a girl and her mother, at odds with each other, swap bodies and have to spend a day walking in each other's shoes. Younger generations will be familiar with the 2003 movie, starring a pre-scandal Lindsay Lohan and Jamie Lee Curtis, but that Freaky Friday was a reboot of the 1976 movie (starring Jodie Foster and Barbara Harris). The movies, in turn, were based on Mary Rodgers's 1972 book of the same name (yes, that Mary Rodgers, who wrote Once Upon a Mattress and was the daughter of Richard Rodgers).
Given that pedigree, it's no surprise that Disney turned the movie into a musical—it's more surprising that it took them so long to do so. The House of Mouse has been developing the show for over five years, but the show has finally made its West Coast debut at the La Jolla Playhouse, near San Diego, following its premiere last fall at Signature Theatre, near Washington, D.C.
This version follows Katherine (Heidi Blickenstaff), an uptight caterer who's planning her wedding to Mike (David Jennings)—a wedding that's supposed to take place tomorrow. Katherine's daughter, Ellie (Emma Hunton) is an angsty, awkward high school junior who lashes out at her mother and younger brother (Jake Heston Miller) because she's still hurting over the death of her father, five years prior. Ellie and Katherine argue for the umpteenth time while holding an hourglass Ellie's dad left her, and just like that, everything goes topsy-turvy. Ellie's inhabiting the carb-free and decidedly grown-up body of her mother, while Katherine is dismayed to have to navigate the world through the body of her messy daughter. From there, the show follows the standard Disney pattern: mother and daughter learn that each other's lives aren't as easy as they'd previously thought, and come to appreciate each other in the process.
The musical is charming, if not terribly innovative. The score, by Tom Kitt and Brian Yorkey, has some seriously peppy songs, but it sounds like most other contemporary musical theater scores—notably, the most-reprised song, "Just One Day" seems like it's just begging for a mashup with Wicked's "One Short Day." Still, the score has its shining moments, like "Busted," a song about parents and children learning each other's secrets, or "All of This and Everything," where Ellie realizes how much she loves her family—and how much they love her. There are some missteps, though, like "Biology," where Katherine sings about her hormonal feelings for Ellie's crush, Adam (Chris Ramirez). Though Katherine is singing from Ellie's body, the whole thing just feels creepy and pedophilic. Similarly, the presence of a song called "Women and Sandwiches," which compares women to sandwiches, is questionable. Though the comparisons are favorable, it's still cringe-inducing, especially given that Men's Rights Activists enjoy reminding women to go back into the kitchen and make them a sandwich.
As a whole, the show's views on the teenage experience feel dated, from Ellie's outfits (by costume designer Emily Rebholz) to the jokes in Bridget Carpenter's book. Strangely, Sergio Trujillo's choreography is quite reminiscent of Andy Blankenbuehler's work on In the Heights and Bring It On. Given the subject material, it's disappointing that Carpenter's book isn't more daring—there are plenty of missed opportunities to make bold statements about today's generational differences.
Both Hunton and Blickenstaff are fantastic singers, and it's a joy to listen to them sing with (and against) each other. Oddly, each is more convincing as their counterpart character than as the character they're billed as. Blickenstaff is exuberantly adolescent when playing Ellie, but doesn't seem to feel at home in Katherine's skin. Hunton's prim Katherine fits the actress better her Ellie, which feels more like a stereotype of a teenager than an actual teen. They're supported well by the rest of the ensemble, but the show is really a star vehicle for both Blickenstaff and Hunton.
Freaky Friday is an enjoyable enough musical, but it already feels outdated. It's the kind of show that easily would have transferred to Broadway a few years ago, but in this post-Hamilton world, a new musical—even one that mostly hits the right notes—has to offer something that feels truly fresh in order to stand out. The show's composers, Kitt and Yorkey, did just that, eight years ago, when they debuted Next to Normal, but this show is overshadowed by its more audacious contemporaries.
Starring: Heidi Blickenstaff, Emma Hunton, David Jennings, Chris Ramirez, Jake Heston Miller
Directed by: Christopher Ashley
Music: Tom Kitt
Lyrics: Brian Yorkey
Book: Bridget Carpenter
Through: March 19