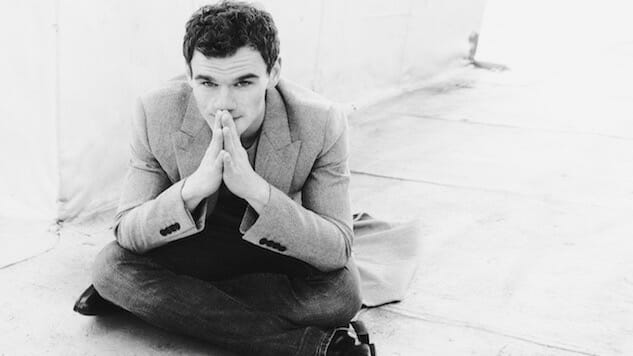 After starring in On The Town as Chip, Texas-native Jay Armstrong Johnson is taking on the titular role in Harold Prince's operetta Candide. Based on Voltaire's novel, Candide follows an optimistic young man as he faces brutal trials and tribulations—but don't worry, it's a comedy. Candide was originally composed by Leonard Bernstein in 1956, but it became a mainstay under Harold Prince's direction. Prince directed the Candide revival at the New York City Opera in 1982, and now at 88 years old, he's bringing it back as the opera rebounds from bankruptcy. This newest revival will run from January 6 to January 15 and has already expanded its run from six shows to ten.
Standing centerstage for this historic New York City Opera production might seem daunting for some, but it seems like the next natural step in Johnson's career. Performing alongside Broadway powerhouses like Audra McDonald, starring in his own cabaret show at Feinstein's/54 Below and appearing as a recurring character in the TV show Quantico, Johnson seems prepared for any challenge.
Paste: What are the differences between this operetta and Broadway theatre?
Johnson: It's awesome just because the people I'm working with are living legends. Hal Prince and Pat Birch come from theatre, so the approach is very similar to a lot of Broadway shows I've done. I guess the biggest difference is the score. I've been working so terribly hard with my voice teacher to get up to par with these people that are literal opera singers. That's been the biggest difference, trying to get my voice in shape.
Paste: What song are you most excited to perform?
Johnson: Probably my very first tune in the show, which is called "This Must Be So." It's a really sweet, short ballad where Candide has gone through his first trouble in life. He's convincing himself that the world must still be good and this must be happening for a divine purpose. It's a really sweet sentiment.
Paste: For Paste readers who aren't familiar with Candide, who's your character? How does he evolve throughout the course of the show?
Johnson: It's based on the satire by Voltaire. It's very much like Pippin if there are any musical theatre fans out there. Candide is a coming-of-age story. He runs the gamut of going through troubles in life. He really starts off as a student, learning and growing. Throughout the course of the show terrible, terrible things happen to him. It's very satirical in nature, because all of these crazy things happen to Candide. He's flogged, his love is raped, and she's taken away from him multiple times. Yet there's this character that keeps showing up saying "All is for the best." How can that be for the best?
Candide really is a comedy, but Hal is doing an excellent job of reminding us where there are moments where we can really live truthfully and feel the depths of the pain.
When studying for it before the rehearsal process with the current political climate, I really do feel like the show is going to say something different than it said before in previous incarnations in terms of the fall of man and good vs. evil. It's nice to be able to revisit it with new eyes and a new perspective.
Paste: With your musical theatre background, who are your musical influences?
Johnson: My first muse was probably Reba McEntire, because I'm a Texas boy. I grew up on country music, and she was one of my heroines. I mean I'm pretty gay, so Mariah, Whitney, and the pop/R&B artists of the 90s were my next huge influence. All the while I was singing in church choir, so I had a lot of classical influences as well through religious music. It wasn't until I was in high school that I started listening to cast albums and learning the musicals. I would learn a musical whenever I was cast in one, so that's where my affinity for musicals started happening—of course Sondheim and Jonathan Larson, who wrote Rent are my heroes. I also loved the Beatles. I was brought up on classic rock by my dad. I really run the gamut of musical influences. I can't really say specifically, because I love all kinds of music truly. I just released an album a couple months ago and that album is a wide range of musical form styles.
Paste: On January 23, Quantico is coming back and you'll be returning as the former Quantico recruit Will Olsen. Have you always wanted to be on TV? How's that different from theatre?
Johnson: In the fifth grade, we did this really abridged version of Romeo and Juliet and that was the most important thing to me—at least at a football school. I wrote my fifth grade English teacher and asked him if he would consider me for the role of Romeo—not a lot of fifth grade boys wanted to play Romeo and put on white tights in front of the entire school. I got the role. I remember when we finished the show I got a little note from my English teacher that said "See you at the Oscars." As a fifth grader that seemed so far away, but I took that to heart. I also knew I wanted to do television and film, but I just didn't know how to. It wasn't until I started performing on Broadway in New York that I figured out how. It's been a long-game for me. I just didn't know it would happen on such a popular international show, so the kind of doors Quantico has opened for me has been unbelievable. It truly has been an education this past year and a half shooting Quantico. I've already shot a few episodes for this season and I hope they'll continue to write me on more.
Paste: Now that you've appeared in so many different entertainment mediums, do you want to tackle movies next?
Johnson: Absolutely, I totally want to tackle movies. My fifth grade teacher gave me a prophecy to fulfill. He's got to see me at the Oscars. It really would be awesome to do a film, because that's another medium I haven't done. Apparently, television is a completely different animal than shooting a film—at least that's what Priyanka Chopra tells me. I think also I want to start writing music. I've got a lot of poetry that I've written. I released an album, but it was mostly covers of songs that I love, so I would like to explore what it means to have my own voice as a music writer.
But I'm also just having fun. I really am just living my dreams and I truly feeling hashtag blessed about my life so far. It took hard work, many struggles and moving away from home, but it's been well worth it.
Alicia Kort is Paste's Theatre Editor.