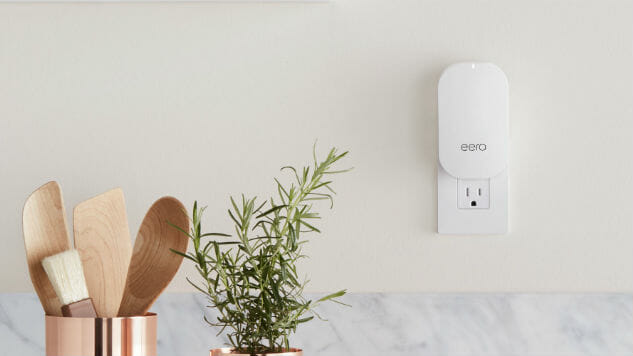 Eero had started the home mesh network revolution when it launched its eponymous mesh router a year ago. Like Nest, which brought smart thermostats mainstream, Eero's idea— and success in the space—have been replicated by rivals, and the market is now saturated with competing products from traditional router manufacturers, like Linksys, to newer entrants, like Google and Samsung, showing that there is interest in better in-home WiFi connectivity.
Now, Eero is back with a second generation mesh router that promises to be sleeker while delivering better performance thanks to a new mesh networking chipset and a tri-band wireless radio. The idea, however, remains unchanged. Through routers and beacons, Eeros blanket your home with a strong WiFi signal, giving your PCs, tablets, streaming boxes, smart home gadgets, smartphones and other devices access to a strong signal. And unlike many traditional home routers, these mesh networks also come with a smartphone app, giving you greater flexibility and control of your network.
Design
With its branding, Eero decided to go the Apple route and eschew model numbers in favor of a cleaner label. That means the new second generation Eero comes on a box that's simply labeled Eero. At my local Best Buy, the first generation Eero had been phased out to avoid confusion.
Like its predecessors, Eero 2 looks identical to the model that it succeeds, save for some small differences in the ports. This year's model comes in the same white squircle-shaped puck design with a glossy white finish. Unlike bulkier routers with spidery tentacle-like antennas, Eero doesn't need to be hidden away out of sight with its low profile design and minimalist aesthetics. Being shorter in height than many of its mesh competitors, it's also less obtrusive in your decor.
On the back, you'll find two Ethernet jacks—one plugs into your modem, and you can use the second one to plug a PC in to have a hardwired connection to the internet—and the unit is powered by a USB Type-C port. Gone this year is the standard USB port that appeared on last year's model, so you won't be able to plug in a USB printer or hard drive. There's also a white LED light to let you know that it's on. Eero supports MU-MIMO and beamforming on its 802.11ac wireless.
Beacon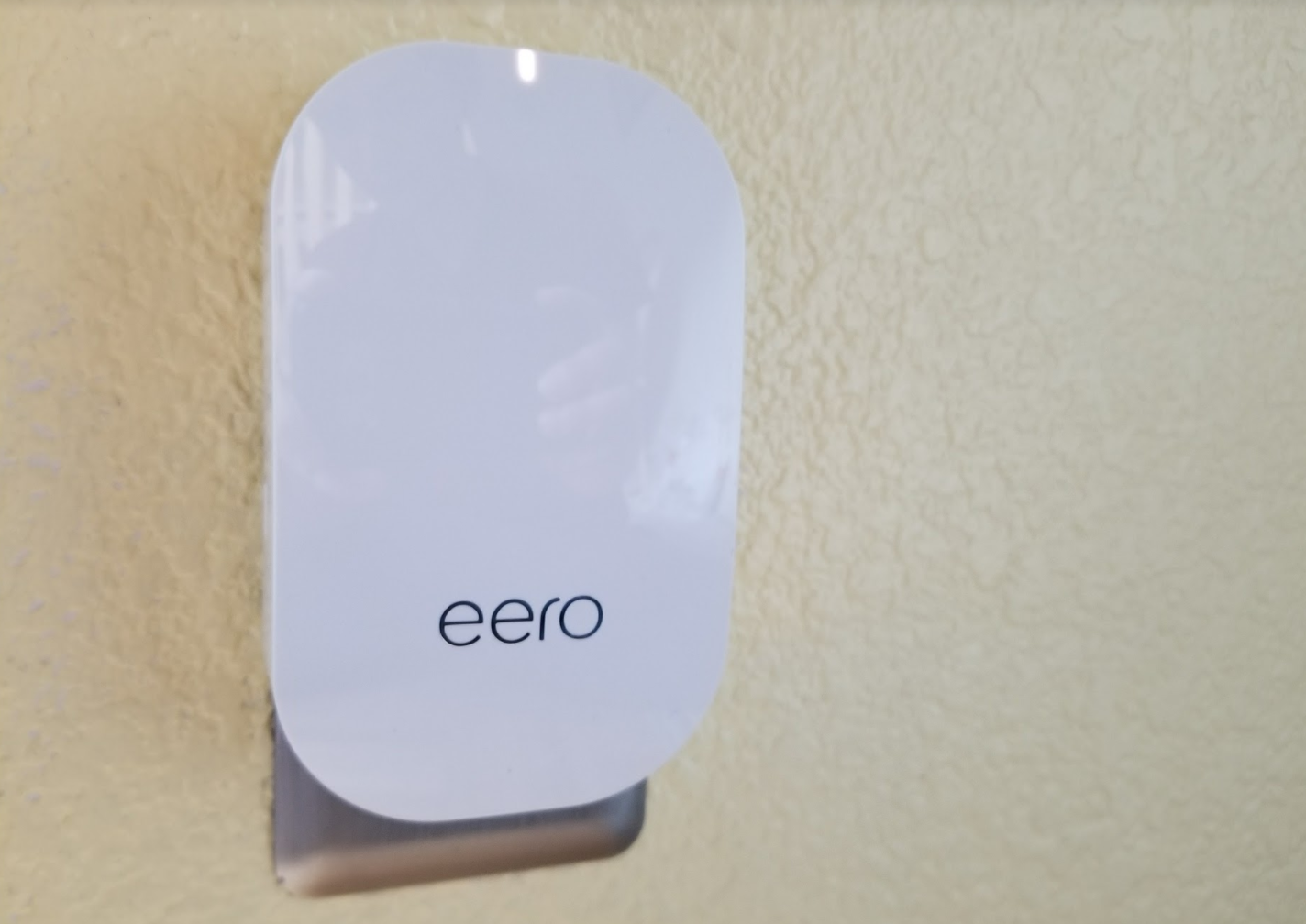 To complement the Eero router and to augment the WiFi signal in your home, Eero also created Beacons. The effect of Beacons in your home is not unlike having a WiFi repeater, but the implementation is different.
Like WiFi repeaters, the Eero Beacon is compact—half the size of the Eero router—and plugs directly into your wall outlet. The Beacon shares a similar puck-like form factor as the Eero router, and you won't find any ghastly antennas poking out. Performance of the Beacon isn't quite as strong as the Eero router, but Eero claims that the second generation Beacon is more powerful than the original.
The Beacon has a small LED light on the bottom of the unit, which also serves as a nightlight and can automatically turn on when it gets dark, but you can also change the settings from the Eero app on your smartphone to keep the light on or off permanently. And similar to WiFi repeaters, Beacons help extend the reach of your home's WiFi signal.
However, whereas each WiFi repeater will create its own network, the Beacon operates on the same WiFi network as the main Eero router. By having a single mesh network, you will avoid having multiple WiFi network IDs created by repeaters. Another benefit of having both the router and the Beacon under the same mesh network is that Eero can dynamically reroute traffic based on congestion and signal strength. If a Beacon gets disconnected, Eero can reroute your traffic to the main router or to another Beacon, so your devices won't get knocked offline.
The main Eero WiFi router is connected to your modem, and the Beacons are placed at different locations throughout the home to give your home strong coverage no matter where you are. The beacons support two WiFi bands as well as MU-MIMO and beamforming.
While the Beacons make connecting devices to your home easier, power users may bemoan its simplicity. The Beacons don't include an Ethernet port, so if you have a Beacon mounted in a room with devices that require a wired Internet connection, you'll be out of luck.
For basic needs, Eero's Beacons work extremely well in connecting devices in my house where my old WiFi router could not reach. One example is my Ring smart doorbell. Prior to using Eero, I would live my Asus-branded router in my office, which isn't too far away from my front door. However, because of the construction of my door—a piece of solid wood that's sandwiched between two plates of metal—my router was not able to reach Ring unless it was in very close proximity to the device. With Beacon, Ring gains a more reliable and robust connection regardless of where the Eero router is placed.
The Wireless Tech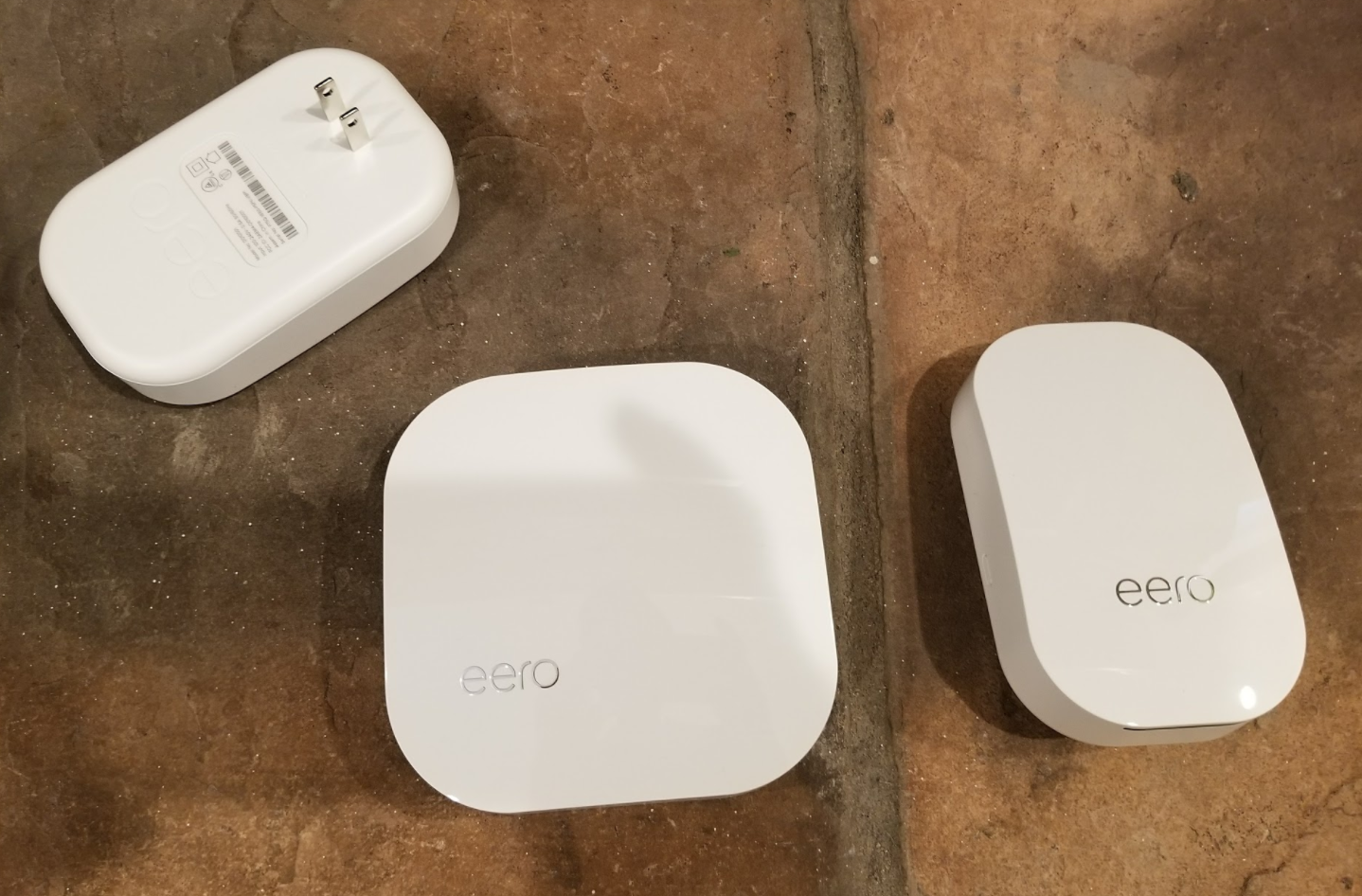 Eero joins mesh competitors Netgear and Linksys with the addition of tri-band support to its mesh networking system—Google's WiFi, like last year's Eero, only offers dual-band support. Eero claims that this will make this year's model faster and more powerful, and the third band will alleviate congestion on your network. The Eero supports 2.4 GHz, 5.2 GHz, and 5.8 GHz bands. Eero is capable of 2.4Mbps on the lower 2.4GHz band, and it can reach speeds up to 600Mbps on the higher 5GHz bands.
I didn't have the first generation Eero to test Eero's claims that the second generation model is up to twice as fast as the original, but the Eero 2 delivered fast, reliable connectivity in my tests. Your speeds will also depend on your Internet package. When hooked up to my cable modem, despite the number of devices I have connected on my home network—which includes multiple video streaming boxes, multiple PCs, smart home devices and other WiFi connected accessories—speeds were consistently high, and I didn't experience any buffering when streaming video on multiple devices.
For early smart home adopters, Eero is also hedging its bet on the still nascent Thread wireless protocol for connecting smart home devices. Adoption of Thread trails standards like Zigbee and Z-Wave in the Internet of Things (IoT) space. Samsung's competing dual-band Connect Home mesh networking router, for example, supports both Zigbee and Z-Wave, which may make it more useful today. Essentially, the Connect Home combines a mesh router with Samsung-owned SmartThings smart home hub into one device, simplifying smart home connectivity.
Configurations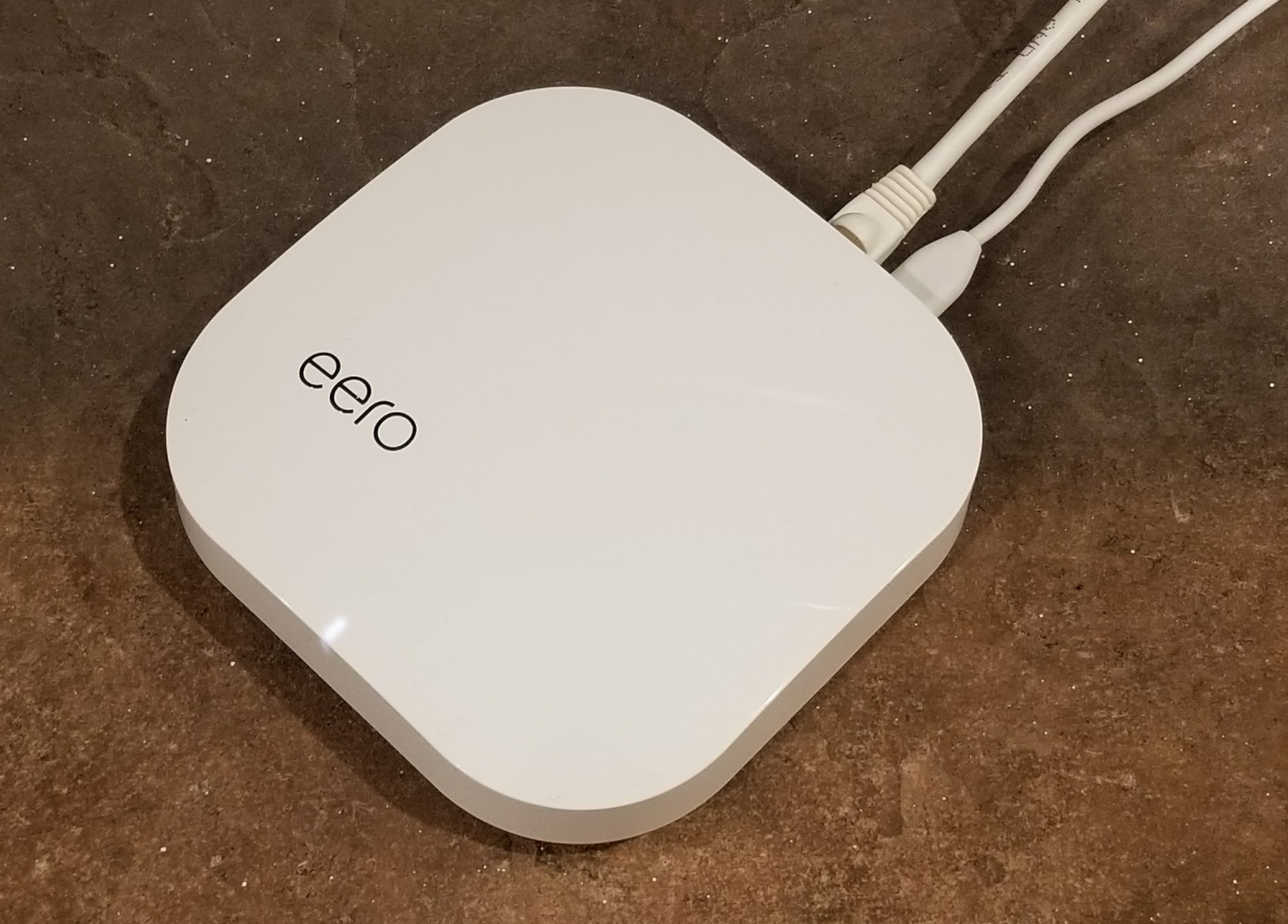 To accomplish the task of blanketing your home with a strong WiFi signal, Eero is available in three standard configurations, depending on the size of your home. Smaller homes, with one to two bedrooms, will be fine with the $149 configuration, which comes with a single Eero router.
My $399 review unit is designed for medium-sized homes, with two to four bedrooms, and slightly more expensive than competing solutions. This system comes with an Eero router and two Beacons. A $499 Pro model is designed for large homes and comes with three Eero routers. Although more expensive, the Pro system gives you a wired Ethernet port on each router, allowing you more flexibility for a wired Internet connection compared to Beacons.
Eero's hardware pricing places it at the high-end of the market. For example, Netgear's three-pack tri-band Orbi router system retails for $449 and a two-pack system goes for $399 at Best Buy. Linksys's tri-band Velop with three routers retail for $499, while Google's dual-band Wifi costs $259 at Best Buy with the current promotion. If you're an owner of a smart home and want to simplify the number of devices in your home, Samsung's Connect Home system combines a Z-Wave and Zigbee hub with a mesh WiFi router. Samsung's three-pack dual-band Connect Home router is priced at $279 after discounts at Best Buy, while the company's more advanced Connect Home Pro is available in a single-pack for $179.
On top of the hardware, Eero also introduced Eero Plus, a subscription service that gives you more control over your network. The service costs $9.99 each month or $99 annually and includes parental controls and malware protection. Given Eero's already premium price targets compared to some of its rivals in the space, I wish the company included Eero Pro into some of the pricier configurations.
The Eero App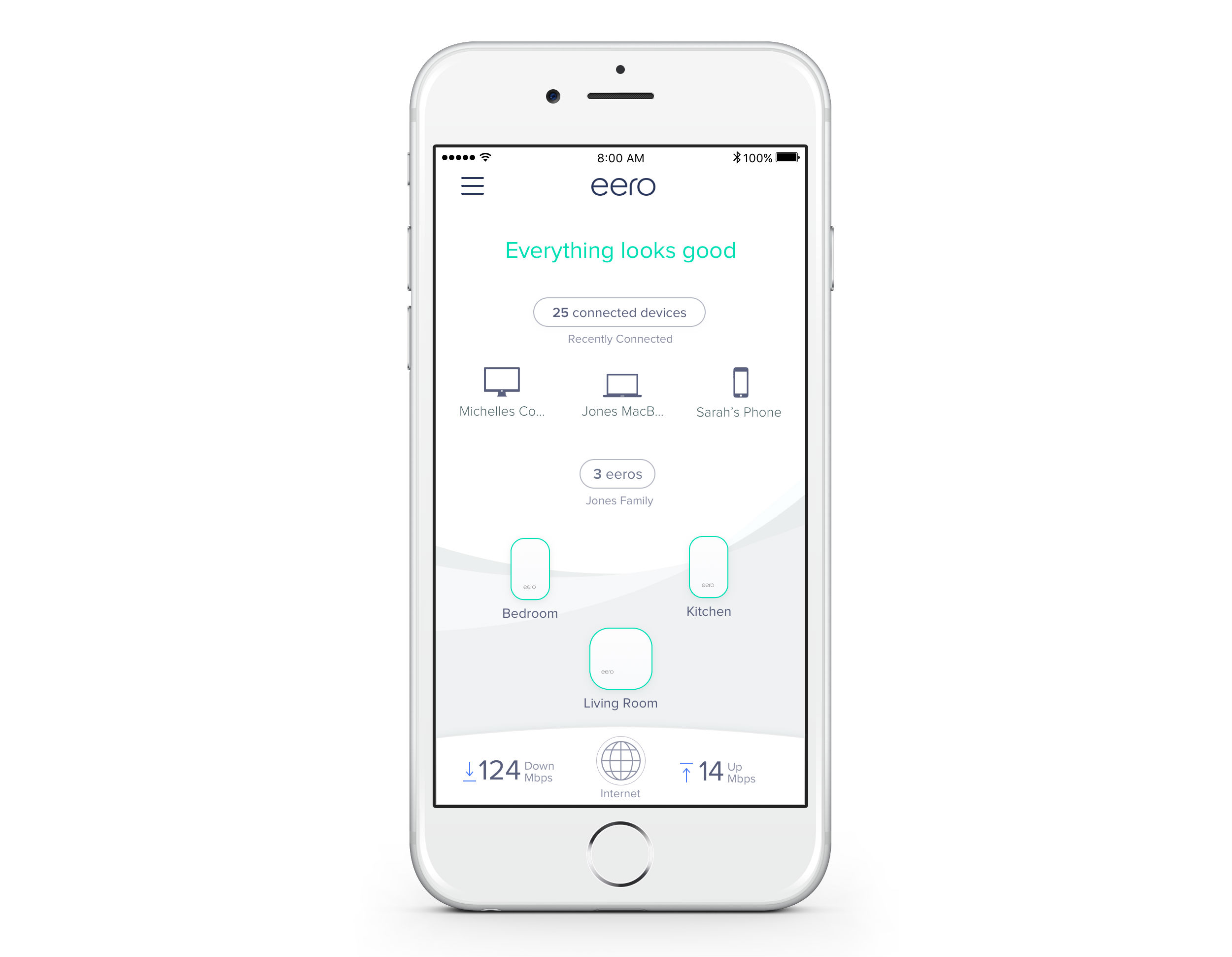 Eero's Apple-like approach to minimalism and simplicity extends from its hardware design and into the way that the app works. The Eero app helps you get your home network up and started, and it even offers suggestions on the best placement for your Beacon based on some sample home configurations. From the app, you can also view which devices are connected.
While the app itself helps simplify setup, it also takes over control of more advanced network configurations, probably to the chagrin of more advanced users. Users won't have any say in network prioritization, choosing which node to connect devices to or which band to use, a design choice made by Eero to favor simplicity over robust control. However, the automatic behind-the-scenes routing that Eero makes on its own works well, and I had no issue with throughput or latency.
For most users, this automatic setup will not only be fine, but will also help reduce the headaches in understanding more advanced router management. However, given that there is no setting for traffic optimization, I wonder how effective the system is in delivering bandwidth-intensive content, like high quality video streams, over slower networks.
With the app, you'll also be able to access some of Eero's more advanced features, like establishing a guest network, useful for when you don't want to give visitors access to your network's credentials, or signing up for the optional Eero Plus subscription.
Verdict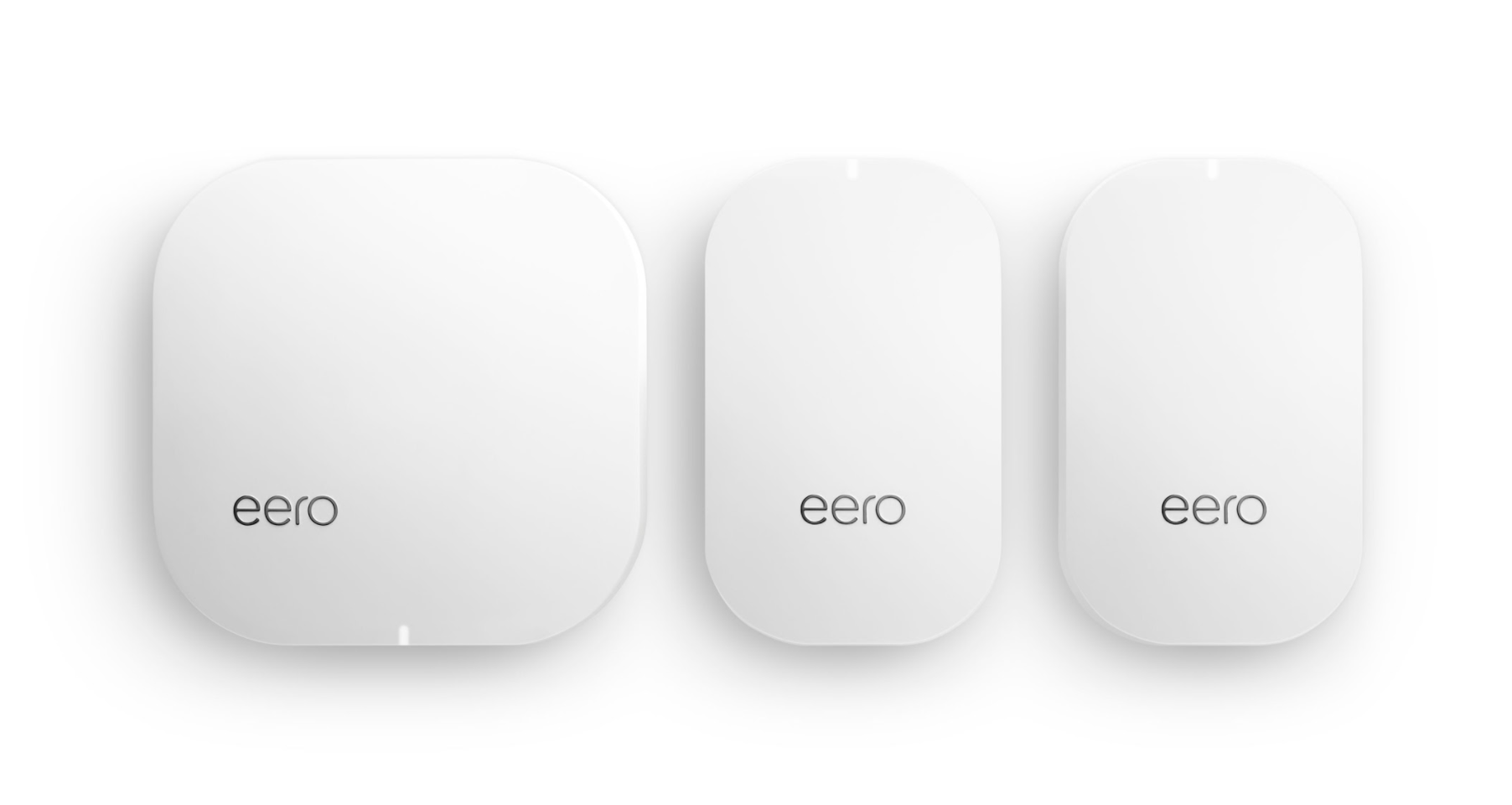 Eero's second-generation router lives up to its claims of delivering a simpler, faster, better home networking solution. With a minimalist approach to hardware and a simple UI, Eero makes setting up a home network less daunting for the uninitiated. The technically-minded, however, may yearn for more control over their network, and the lack of an Ethernet port on the Beacon may limit the usefulness of Eero's more inexpensive packages in some setups.
Additionally, the optional subscription promises more parental controls and security, but adds to the price of an already premium router. If you can relinquish some control of your network configuration to Eero's smart app, then the system delivers solid performance and is an excellent investment in keeping your home blanketed with a strong WiFi signal. As the brand that helped to bring mesh networking mainstream to consumers, Eero is an excellent option if you're looking to upgrade from a standard router to a mesh network.