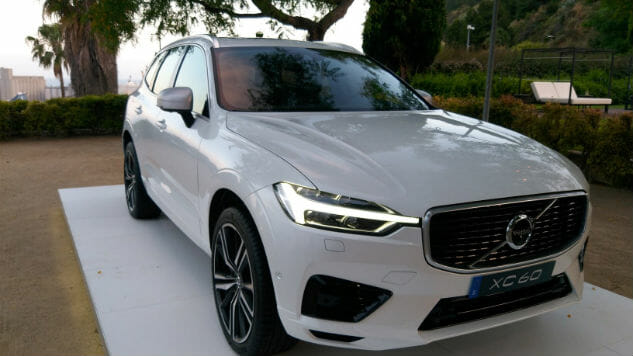 If you're going to test out one of the safest cars ever built, you won't find many better places to do it than on the streets of and highways around Barcelona during rush hour. And on that Mediterranean Catalan city's narrow Gothic quarter streets and wider 19th-century bourgeois boulevards is exactly where I was able to test drive the 2018 Volvo XC60. It's the first major revamp since 2008 of one of the Swedish car manufacturer's best-selling models, a mid-size SUV popular with affluent new parents and empty-nesters alike that competes with other mid-size luxury European SUVs such as the Audi Q5, BMW X3, and the Mercedes GLC.
Built on the same Scalable Product Architecture (SPA) platform as the bigger and more luxurious XC90, the revamped XC60 has inherited many of the safety, tech, and premium features of the bigger and pricier model, along with some innovations of its own, in a smaller and less expensive package. The bottom line with this car? You get a lot of luxury and safety features that are considered options other cars in this class, but are standard in the Volvo XC60.
Volvo has always been known for its safe cars, but ever since it announced its Vision 2020 initiative, whereby it aims to have zero fatalities in a Volvo car within the next three years, the company is pushing forward on all safety fronts, with technology at the forefront of its strategy. Chief among the new features is Steer Assist, which automatically turns on when you're driving between 31 and 62mph.
To help avoid accidents, the actual active assist essentially kicks in as soon as the driver starts steering out of the way of, say, a car in front making a last-minute stop or a deer that suddenly crosses the road (thanks to its built-in radar, camera, sensors, and pedestrian, cyclist and large animal detection). True to its name, this "assist" feature isn't fully autonomous; you need to actually move the steering wheel for it to activate, but it uses a combination of gradual strategic braking and actual steering to ensure you fully turn out of the way.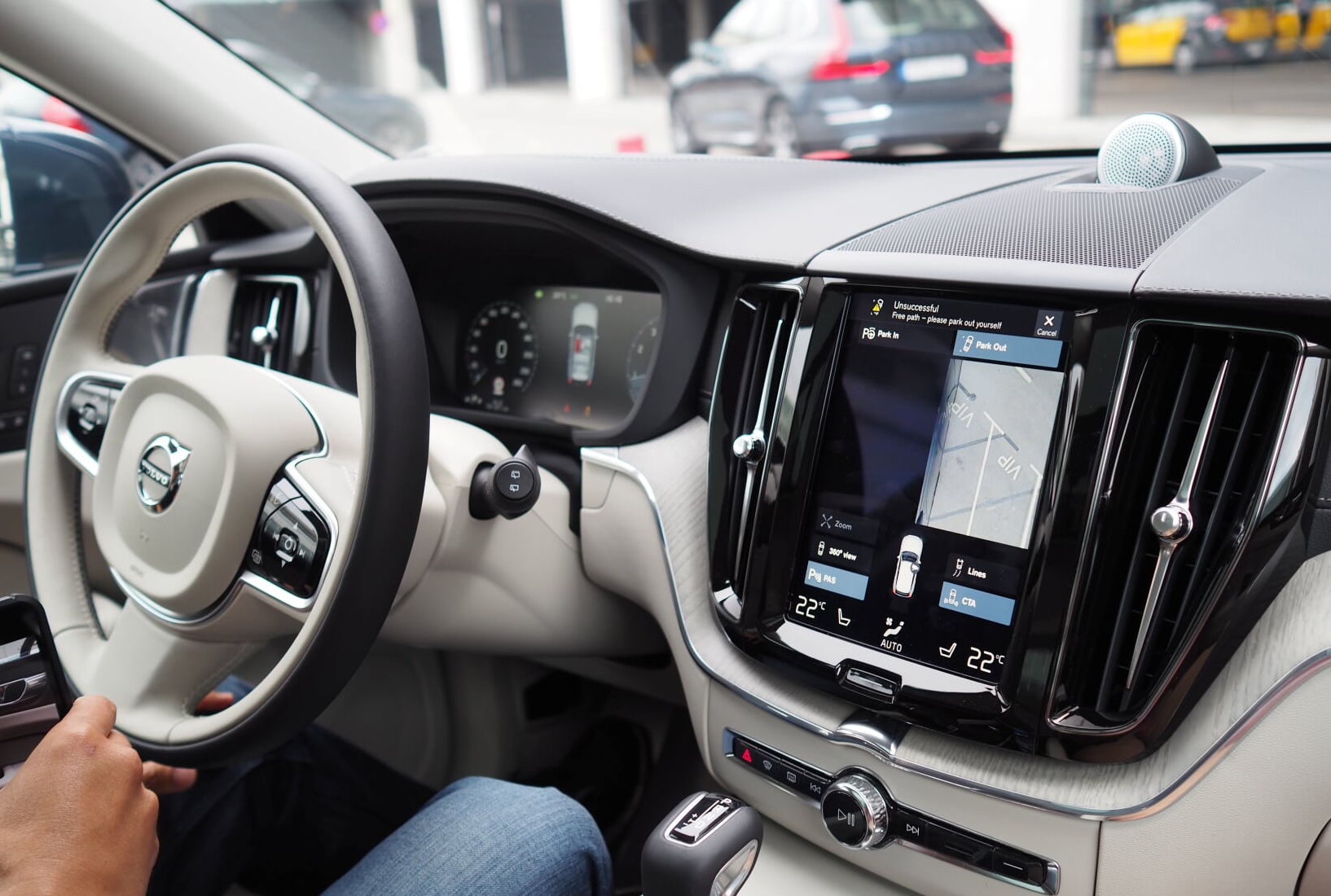 Steer Assist is not dissimilar to Volvo's existing pre-charging of the brakes when a collision is imminent. It's basically just a push in the right direction to make sure you either brake fully or avoid a crash, in a situation when every millisecond counts. It should be noted that the car also has a full-blown (and standard) collision avoidance system that kick in if, say, you fall asleep or don't do anything to avoid a crash or collision.
So, the car's radar will notice a blob of some kind moving across the road, then the built-in cameras will take a picture of that blob, run it through the car's various image recognition object detection algorithms and in fact see that it's a creature with four legs—probably a deer. This is all thanks to the algorithm being trained on thousands of images of different animals crossing the road from different angles, so that the car can tell the difference between a deer that's in front of the car and a deer that's running alongside parallel to the car. In these cases, assuming you don't do anything to avoid the accident first, you'll feel a short haptic-like vibration in the brake pedal, followed by an audio alarm, followed by a warning in the dashboard or heads-up display and, lastly, a full, braking stop.
In scenarios where you've veered off into the opposite direction lane on a two-lane, two-way road at speeds between 37mph and 87mph, the car will also automatically steer you back into your lane with the new and also standard "Oncoming Lane Mitigation" feature. And, while not a standard feature, the new Blind Spot Information System (BLIS) with Steer Assist will also automatically drive you back into your lane if you try to change lanes when a car is in your blind spot and you've ignored the warning light.
Alas, Volvo didn't let us try out the Oncoming Lane Mitigation on public roads, but I can vouch for the Pilot Assist mode's lane keeping feature, which did indeed keep me in the highway lanes even on gradual curves at about 75mph and nowadays doesn't even need a car in front of it to stay in place. It's not a bad thing to have on for long drives, or, for example, if you need to quickly check your dash or phone, and it's not so heavy-handed as make you feel like you aren't participating, which is usually the reason I want to take a nap any time I turn on cruise control in other cars.
It's not always apparent when safety features are on, which is by design according to the Volvo reps I spoke with. Whereas some other cars with collision avoidance systems blast a startling light and alarm every time you're within a certain distance of an object or potential collision, Volvo's idea is to avoid making the feature annoying with a loud audio or light warning, or instigate a car-that-cried-wolf situation, because then drivers might turn it off.
I had two close calls in the car: Once when a truck was trying to change to my lane and was about to hit me—I must have been in its blind spot—and another when one of Barcelona's ubiquitous motorcycles darted in front of me at a four-way intersection. In both cases, I hit the brakes and steered out of the way as I would in any car. If the XC60's brakes pre-charged or if any steer assist kicked in, I couldn't' tell, but the bottom line is that the collisions were avoided smoothly and neither of them felt like super close calls in the end.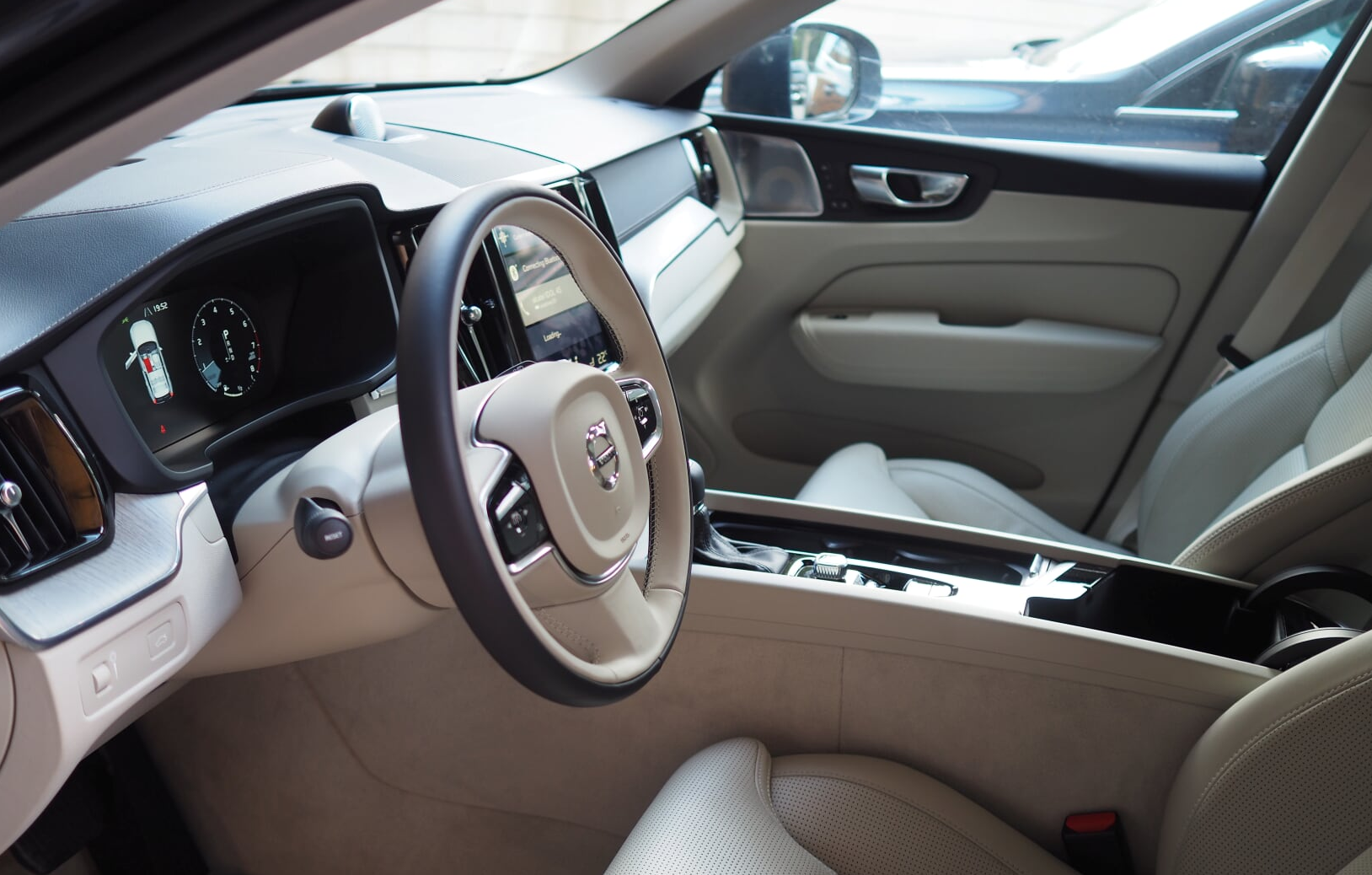 Safety aside, the XC60 offers a whole suite of gee-whiz features to lure in lovers of nifty gadgetry and technology—and again, these are all standard. Most of the controls revolve around the Sensus Connect system's big, 9.3-inch, portrait-sized touchscreen in the center of the dashboard console. Like a cell phone or tablet, it has four main screens with grids featuring icons for different apps and functions that can be toggled between with simple left/right finger swipes. As with most smartphones, you can pinch with your fingers or tap twice to zoom in on, say, different parts of the navigation map or other screens.
As on the XC90, Android Auto and Apple CarPlay don't take over the whole screen by default, so they display as a sort of window within the larger Sensus interface, allowing you to fiddle with sound or phone settings without having to stop Google Maps, for example. Apps built right into the Sensus system include Glympse, Yelp, Spotify, TuneIn, Pandora, and Weather, though I only had a chance to try Yelp, Spotify, and TuneIn, all of which were easy to maneuver in a custom screen interface with enlarged fonts, buttons, and auto connectivity via the built in hotspot.
Ideal for cold climates in winter, the touchscreen also works with gloves or mittens thanks to an infrared sensor. And kudos to Volvo for not insisting on having everything controlled via touch: Under the screen is a simple, physical knob for volume, because in my experience that is the safest, easiest, quickest, and most precise way to control sound levels when driving.
The screen is also where a cool overhead view of the car displays when you're backing in or out of a parking spot. Perpetually paranoid of scratches or minor collisions in cramped garages, I found this feature perfect for getting my position equidistant from either end of some typically narrow European parking spots and for precise, curb-hugging parallel parking.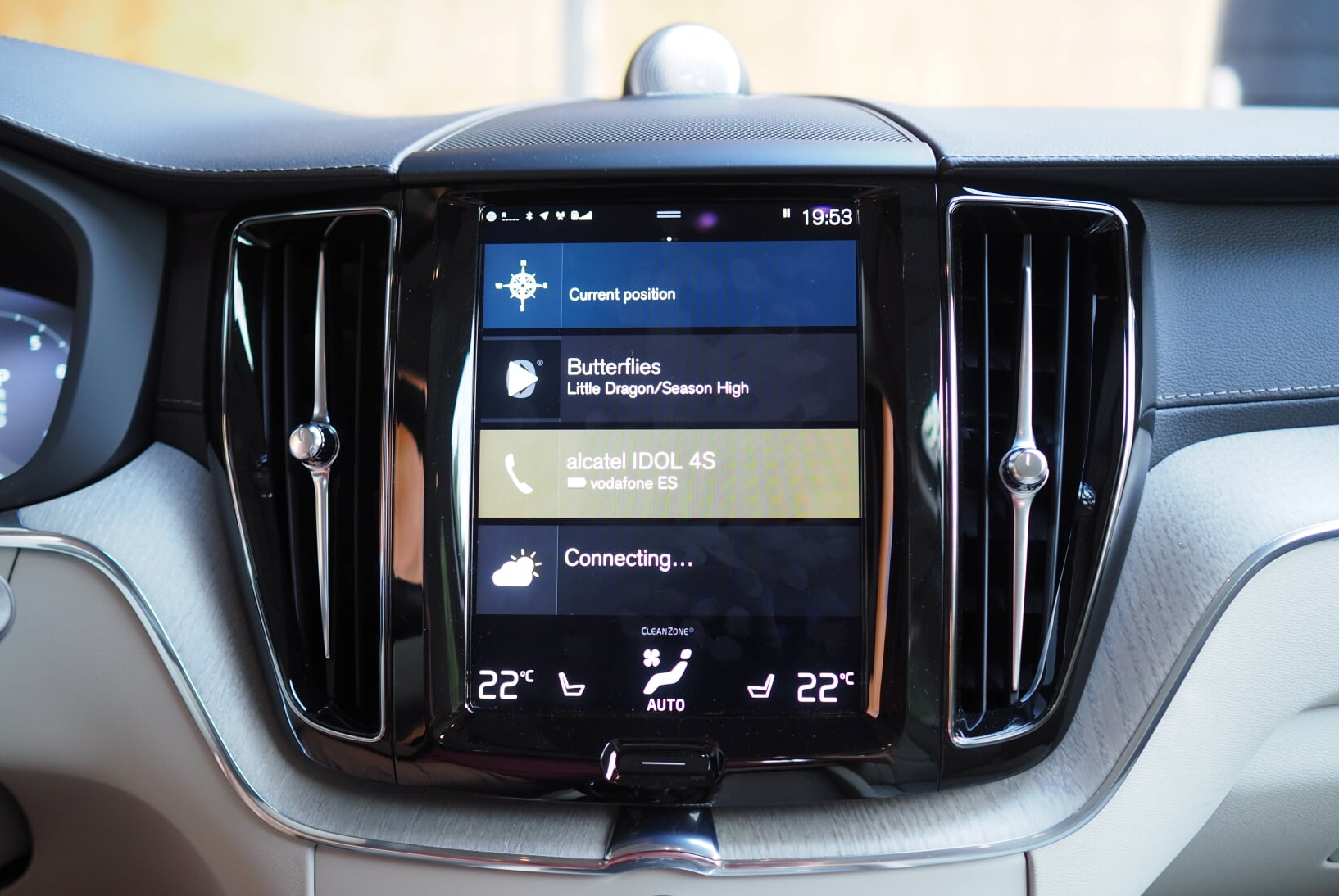 The Sensus screen is also where you control some other cool, upscale (yet standard) features, such as the utterly unnecessary but totally-addictive-once-you-try-them massaging driver and passenger seats. It's no Inada chair, but the massager's basic mechanics do a decent job of kneading upper and/or lower back at varying speeds that are adjustable via paddles on the side of the seat. Meanwhile, a typically optional four-zone zone climate control system for drivers and passengers to set the temperature that suits them individually is also standard on the XC90.
Ditto Volvo's CleanZone feature, which detects when the air outside (in a tunnel, for example) is full of harmful pollutants and automatically switches to recirculation mode. The air system's filter is also capable of minimizing pollen and said pollutants both inside and outside the car.
The 1,100-watt, 15-speaker Bowers & Wilkins sound system is top-notch. On Goldfrapp's "You'll Never Know," I heard new timbres and detail in the synths and clear channel separation, with sound swinging from left to right, and an ability to handle high-pitched voices and bass with equal aplomb—an impressive, premium experience that makes it hard to go back to most standard audio systems.
There are many other cool or handy little tech features that I don't have space to go into here—the special compartments for tablets under the back seat cushions come to mind—but there's one that deserves special because in typical Volvo understated style: microscopic holes drilled into the windshield wiper blades shoot out just the right amount of cleaning fluid to avoid too wide of a spray or waste. It won't change the world, but it's subtle, thoughtful, and will probably make your day just a little less stressful.
Couple that with beautiful Nappa leather seats, stylish bespoke-like stitching in the dashboard and seats, and a sleek "Driftwood" inlay and paneling, and, at a base price of $41,500, which includes all the aforementioned features minus BLIS, and you have the safest bang-for-your buck luxury car on the market today.